4V 3-Speed Screwdriver
is rated out of
5
by
60
.
3 Year Warranty
30 Day Guarantee
Details
4V cordless screwdriver features 3 torque settings to tackle all common driving functions.
Conveniently charges via USB-C port.
Dual LED light on cordless screwdriver illuminates dark workspaces.
Compact ergonomic design with soft grip allows user to operate easily and get into tight spaces.
12 accessory bits included with 4V screwdriver to complete every day driving tasks.
Lithium Ion battery holds charge of cordless screwdriver up to 18 months.
MAX Hard/Soft Torque
44/22 in-lbs
No Load Working Time
45 min.
(1) - 4V 3-Speed Screwdriver
(1) - USB-C Charging Cable
(3) - Phillips Head (1, 2, 3)
(3) - Slotted Head (4, 5, 6)
(1) - 1/4 in. Magnetic Bit Holder
The LED lights come on when the screwdriver trigger is activated. When the trigger is released, the lights go off after a few seconds.
The shaft will not turn when the trigger is not activated. Therefore, the driver can be used as a manual screwdriver if needed.
The chuck is magnetic and will attract and hold steel screwdriver bits with ¼ in. hex shanks.
The Worx WX240L Screwdriver is charged with a standard USB-C cable (provided). No additional charger is needed.
This display indicates the level of torque, or turning force, to which the driver is set. 1 light = 22 in-lbs, 2 lights = 33 in-lbs, 3 lights = 44 in-lbs.
To prevent damage, use the lowest setting for small and delicate screws. Use the middle and upper settings when working with larger screws or harder materials.
While charging, the same light display that indicates torque level will indicate charge level. All three lights solidly illuminated indicates the internal battery is fully charged.
Frequently Purchased Together
When a Drill Isn't Needed
3-Gear Torque
3 settings to handle delicate jobs without stripping the screw or heavier duty jobs requiring more torque.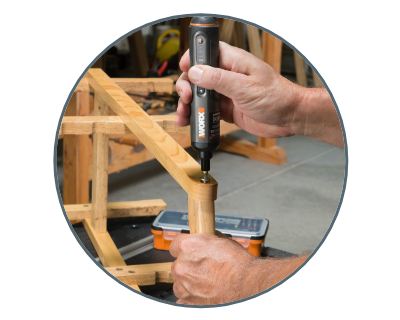 Put it Together Easier
This screwdriver is perfect for driving small screws and fasteners of all kinds and ideal for putting together furniture, grills, and toys.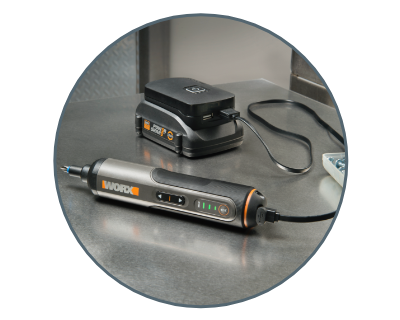 Convenient USB Charging
The Worx Engineers knew you didn't need another charger lying around, that's why we made this scewdriver conveniently charged via USB. And the 12V battery can hold a charge up to 18 months.