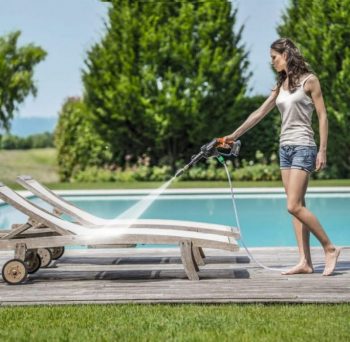 by Kim Toscano
The portable, adaptable WORX Hydroshot can tackle all your outdoor cleaning needs and more. How will you use it?
Keep the tool shed clean. Quickly spray off mower decks and wash mud from garden tools.
Hose down your boat after a day of fishing.
Like mud? Leave it on the trail and keep your mountain bike looking new.
Powerful enough to wash grime off a picket fence, yet gentle enough to leave the paint behind.
Leave sand at the beach: rinse coolers, chairs, umbrellas, surf boards – even Rover.
With 5X the power of a garden hose, Hydroshot makes short work of cleaning the patio – furniture and all.
Those windows aren't going to clean themselves.
Bring the portable Hydroshot on your next campout to clean gear, rinse the RV, hose off the dog, wash dishes, clean the…
No more dragging hoses. Water the vegetable garden and wash the kids' swing set without breaking a sweat.
Switch from power-washing the bird bath to re-filling it with the push of a button.
The WORX Hydroshot is the first-of-its-kind. It's a lightweight, portable power cleaner that draws from any fresh water source. It uses minimal water to easily remove dirt, dust and grime — only 1/2 gallon of water per minute!
The extended lance delivers up to 5x the pressure of a typical garden hose and its versatile 5-in-1 pressure (320 Psi) nozzle lets you switch from a light shower spray for watering to a targeted sprayer for routine cleaning.
It's perfect for around the home, campsite, marina, pool or lake tasks — anywhere fresh water is available!
Check out the new WORX Hydroshot and other innovative tools in the WORX line-up at worx.com