5 Vines Hummingbirds Love
Attract more hummingbirds to the garden with these gorgeous flowering vines.
Vines are the secret to lush gardens, filling vertical space with stunning blooms and radiant foliage. They also provide an abundance of nectar for hungry hummingbirds. These beloved birds are drawn to the color red and also commonly feed from orange or purple blooms. To attract more jeweled fliers to your garden, try planting one of these 5 vines hummingbirds love.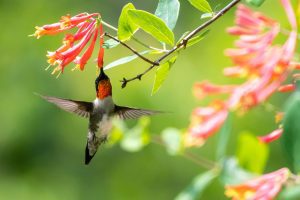 Coral Honeysuckle (Lonicera sempervirens)
A stunning native vine with clusters of trumpet-shaped blooms that erupt in spring and continue throughout summer, coral honeysuckle is a hummingbird magnet. Blooms are red to coral-pink on the outside, with a yellow throat, all set against waxy blue-green foliage. There are also some all-yellow cultivars available commercially. Small red berries develop late in the season, attracting fruit-feeding birds to the garden. Coral honeysuckle is evergreen in the deep South, and semi-evergreen to deciduous in cooler climates. Don't confuse this gorgeous Southeastern native with the invasive Japanese honeysuckle (Lonicera japonica).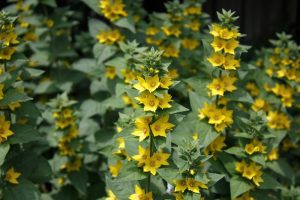 Snapdragon Vine (Maurandya/Asarina scandens)
This heat-loving vine blooms in vivid lavender, pink, violet, and indigo hues from May through September. The compact, fragile-looking vines are tougher than they look and perfect for hanging baskets or climbing up a trellis. Snapdragon vine makes an excellent hummingbird plant for the Southwest and lower California, where plants are visited by a variety of species. Vines can be grown along the ground, covering an area of 3 feet by 3 feet, or as a climber where they reach heights of 6 to 9 feet. Snapdragon vine is hardy to zone 9 and can be grown as an annual in cooler regions. Also look for the Southwest native snapdragon vine species Maurandya (Asarina) antirrhiniflora.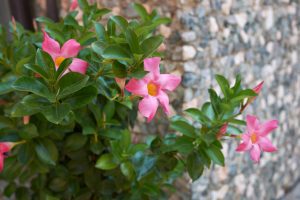 Mandevilla (Mandevilla hybrids)
Even the smallest gardens have room for a mandevilla. While old-fashioned mandevilla vines can grow to lengths of 15 to 20 feet or more, newer varieties have been selected for compact growth, many maxing out around 8 feet. The smallest cultivars grow as a small mound two feet around – without sacrificing those tropical-looking blooms. These compact varieties are perfect for growing in containers or hanging baskets, bringing hummingbirds to patio gardens and balconies. Mandevilla is grown as an annual in all but the most tropical regions but can be brought indoors before the first fall freeze and grown as a houseplant over the winter.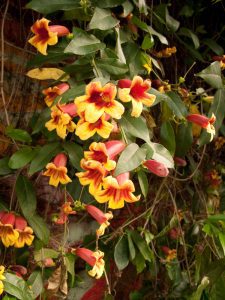 Crossvine (Bignonia capreolata)
This native beauty blooms early in the season, providing an important nectar source to returning hummingbirds. Large, trumpet-shaped blooms up to three inches long nearly cover the vine in early spring, with intermittent flowering throughout the summer. Blooms are commonly bi-color, orange-red with a yellow throat, with some solid colored cultivars available. This aggressive grower quickly covers fences, walls, and arbors – it grows 20 to 30 feet long and 6 to 9 feet wide – so give it plenty of support. And keep an eye out for unwanted suckers and seedlings. In mild climates, the glossy green foliage remains evergreen. In cooler regions it turns reddish purple in autumn before falling.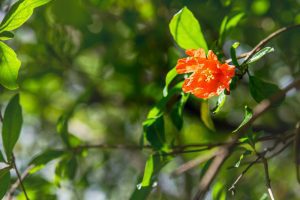 Candy Corn Vine (Manettia luteorubra)
Aptly named for its resemblance to the Halloween treat, the candy corn vine blooms all season long. The tubular red-orange flowers are tipped in yellow and adored by hummers. Also look for the closely related Firecracker Vine (Manettia cordifolia), which erupts with bright red-orange tubular blooms in late summer through fall. A perfect selection for fueling up migrating hummingbirds. Both species are relatively compact (for a vine), growing 6-12 feet long and add exotic flair to the garden. In most parts of the country, they are grown as annuals. Candy corn and firecracker vines are easy to grow on a fence or trellis.
Summary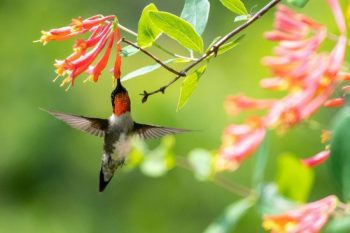 Article Name
5 Vines Hummingbirds Love
Description
Vines are the secret to lush gardens, filling vertical space with stunning blooms and radiant foliage. They also provide an abundance of nectar for hungry hummingbirds.
Author
Publisher Name
Publisher Logo