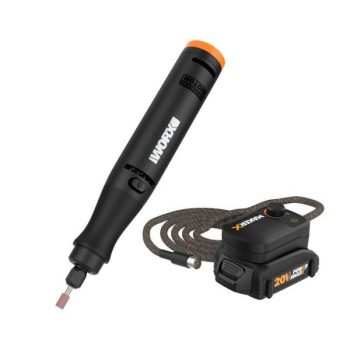 Looking for an Alternative to Dremel Rotary Tools? You're Going to Love MAKERX
For all DIY projects, using the right tools is essential to successfully completing the job. The Dremel® Rotary Tool is one piece that has become popular in the toolkits of many hobbyists and crafters. It is a power tool with a high-speed rotating shaft that fits a range of accessories and attachments for different purposes.
While the Dremel Rotary Tool is a popular product, the innovative features of the new MAKERX™ Rotary Tool by Worx can expand your crafting possibilities. If you are looking for a rotary tool similar to a Dremel tool, the MAKERX 20V Rotary Tool is an excellent addition to your kit.
In this post, we are going to look at the new alternative to the Dremel Rotary Tool – MAKERX. We will also cover other crafting tools that are part of the MAKERX platform.
Uses of a Rotary Tool
A rotary tool is a versatile piece of craft hardware. With the right accessories, you can use it for a wide range of craft projects. Beyond crafting, a rotary tool can also do things like cut drywall, remove seized bolts, remove rust from metal, and several other tasks.
A rotary tool is perfect for making precise cuts. With the right bits attached, you can use a rotary tool to cut through wood, metal, plastic, and other materials. The design not only makes it good for intricate, precise cuts, but it also works well for cutting in tight spaces.
Rotary tools also work great for grinding. With a grinding attachment, a rotary tool like Dremel or MAKERX can put an edge on or remove an edge from a metal surface. This makes it excellent for sharpening bladed tools, and for tasks like sharpening lawn mower blades.
A power tool with a rotating blade is a craft tool that is ideal for polishing. With a polishing attachment, both MAKERX and Dremel Rotary Tools can be used to polish metal and other surfaces. The design also makes the tool particularly good for when you need to polish in corners or around surfaces that are not perfectly flat.
Sanding accessories can make rotary tools especially useful for crafters and hobbyists who work with wood. This is another application where the design of a rotary tool can come in handy. If you can't sand using conventional methods because space is limited, a MAKERX or Dremel Rotary Tool can get in the space and do a great job.
These are just a few of the uses of a rotary tool. Depending on the tools and accessories you have, a rotary tool can also be used for things like carving, etching, drilling, glass working and more.
MAKERX vs Dremel Rotary Tools: Power, Portability & Versatility
The MAKERX Rotary Tool works with the MAKERX Hub from Worx®. The MAKERX Hub is a portable power supply/adapter compatible with every tool in the MAKERX platform. The Hub is powered by any Worx 20V Power Share battery and has a 4ft cord that attaches to the Rotary tool. This means that the 20V MAKERX Rotary tool features both more power and more portability than the 12V Dremel Rotary Tool.
The MAKERX Rotary Tool operates at speeds up to 35,000 RPM, and the speed is controlled from the MAKERX Hub. The MAKERX Rotary Tool has a universal fit system, so it is compatible with bits from other brands, including those designed for Dremel Rotary Tools. If you are looking for power, precision, portability, and versatility, MAKERX is the best rotary tool available.
MAKERX vs Dremel Rotary Tools: Ergonomics & Ease of Use
Part of what makes the MAKERX Rotary Tool one of the best alternatives to Dremel on the market is how easy it is to handle. Its micro-ergonomic design features a 3 in. finger grip circumference, 4.25 in. body grip circumference, and weighs just 0.29 lbs. giving it a feel that is almost like a pencil. The design is both thinner and lighter than the Dremel Rotary Tool and offers a level of control that cannot be matched.
While the MAKERX rotary tool is considered a cordless tool, the battery is not on the tool itself. Instead, the battery connects to the Hub and power is transferred from the Hub to the tool. This takes the weight and the bulk of the battery off the tool without compromising its portability. Not only does this make the MAKERX Rotary Tool easier on the user's hand, but it also makes it easier to handle while in operation.
MAKERX vs Dremel Rotary Tools: Efficiency
Unlike the Dremel Rotary Tool, the MAKERX Rotary Tool features a brushless motor which helps it to achieve maximum efficiency. The brushless motor provides improved power and significantly longer runtime in a lightweight, compact design. This allows the user to get more done at one time.
With the MAKERX Hub, you do not have to worry about needing an outlet nearby when using the rotary tool. This means complete portability of the tool, as previously mentioned. Additionally, the Hub features a speed control dial allowing the user to precisely adjust the speed of the rotary tool from 5,000 to 35,000 RPM. With this level of control, you can work on a wider range of projects while ensuring that you get the best results from your rotary tool.
Other MAKERX Attachments
On its own, the rotary tool is enough to make the MAKERX platform very attractive for crafting. With that said, the MAKERX Hub can power a wide assortment of crafting tools, including the MAKERX Angle Grinder, Air Brush, Mini Heat Gun and Wood and Metal Crafter.
If you are looking for an alternative to the Dremel Rotary Tool that can take your crafting to the next level, the MAKERX Rotary Tool from Worx is what you have been seeking. It offers a combination of power, precision and efficiency that can't be beat, and its portable design means you can literally take it anywhere. And if that isn't enough, it also includes the expanded possibilities that come with the other crafting tools in the MAKERX platform.
Interested in learning more about the MAKERX Rotary Tool and Hub? Check it out here.
®Dremel is a registered trademark of Robert Bosch Tool Corporation