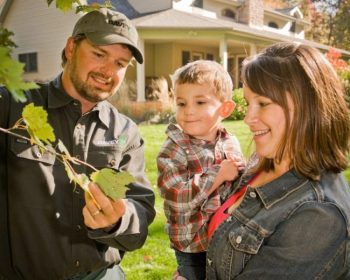 DIY isn't just for adults. With easy backyard ideas, you and your kids can work on projects together. You can use DIYs for kids to start teaching your children about how to use tools and to help them build the DIY skills they will need as they grow. Along with that, DIY projects for kids can offer a good opportunity to spend time doing something constructive with your little ones.
Even if your kids are a little too young to start working with tools like a cordless reciprocating saw, there is no shortage of DIY backyard ideas for you to start with. Many of these projects will be good backyard ideas on a budget, so they can also be a good way to spend time with your kids without having to spend a lot of money. Some of our favorite DIY projects for kids include building a bird feeder, raised garden, scarecrow, or bucket potato farm.
Build a DIY Bird Feeder With Kids
Making a bird feeder is a great place to start if you are looking for fun and easy DIY ideas for kids. Depending on the DIY bird feeder plans you choose, you have options that can be good for working together and there are some that are so simple that children can do the work on their own. 
Bird feeders offer a good starting point because some of them are extremely simple to make. It is also a fun DIY for kids because it will provide the opportunity to work on building something, and when they are done, they will be able to see birds coming to use the feeder they built.
Raised Garden
Building a raised garden can be a good DIY for people of all ages. As long as you select the right plans and consider the different tasks, this DIY project will have plenty of work to offer a child. 
Adults should handle jobs like cutting wood with the 20V ExacTrack 6-1/2" Circular Saw, but there are simpler tasks that are perfect for kids. You can let your little ones add and work the soil in your raised garden. They can also plant vegetables and help to tend the garden as the plants grow. Since it is something children can continue working on, a raised garden is one of the best backyard ideas for kids.
DIY Backyard Ideas Include Building a Scarecrow
If your new raised garden has a problem with birds, there is another simple kids DIY that can help. Building a scarecrow is a good DIY project for kids because it is fun and creative, plus it can work to protect your garden from birds. 
You have a variety of DIY scarecrow ideas you can choose from, and most are relatively simple to make. The BladeRunner Portable Table Top Saw is perfect for cutting the posts and then you can let your children pick clothes and stuff the scarecrow.
A Bucket Potato Farm is an Easy DIY Project for Kids
If you are looking for cool DIY projects for kids, try starting a potato farm in a bucket. You just need the bucket, soil, gravel, some bricks and wire mesh. 
Using a cordless drill with a half-inch bit, put holes spaced about an inch apart around the bottom edge of the bucket and line the inside with wire mesh. Once the bucket is ready, have your child pour about two inches of gravel in the bottom and then top the gravel with four inches of soil. Have them add a few seed potatoes with fertilizer and then place the bucket on some bricks. 
From there, you can have your child check the bucket regularly to see if the sprouts are starting to emerge. When they can see the sprouts, tell them to add a little soil to fill the bucket. This is another one of those DIYs for kids that has a lot to offer because they can keep working with the potato farm after they help build it.
With these DIY backyard ideas for kids, you can give them a start on learning how to build things and work out in the yard. In time, your children will develop DIY skills and you can move on to working on projects that are more complex.
Get all the tools you need to have your backyard looking its best at WORX!
Summary
Article Name
Backyard DIY Projects to Do With Your Kids
Description
DIY backyard ideas can be a good way to spend time with your kids without having to spend a lot of money. Some of our favorite DIY projects for kids include building a bird feeder, raised garden, scarecrow, or bucket potato farm.
Author
Publisher Name
Publisher Logo