Best Battery-Powered Lawn Mowers from Worx
What makes a cordless mower one of the best battery-powered lawn mowers? Well, to begin with, it needs to be better than a gas-powered mower in almost every respect. It needs to run quieter, it needs to be easy to start, and most importantly, it needs to have enough power and runtime to leave you with a lush and healthy lawn when you're done. Worx battery-powered lawn mowers clear that bar and then some. They're also less expensive to operate than gas mowers (no more running to the pump, less time in the shop), and they're lighter and thus easier to maneuver. And what makes Worx cordless lawn mowers better than those from other brands? Worx tools and lawn & garden products are known for their cutting-edge tech and ergonomically-friendly design, and these mowers are no exception. You shouldn't look like you're returning from battle after mowing the lawn, smelling like gasoline and covered in clippings. It can be a pleasant experience if you have the right type of mower. These 5 battery-powered lawn mowers below are packed full of features to take what used to be an enormous chore and turn it into a walk in the park.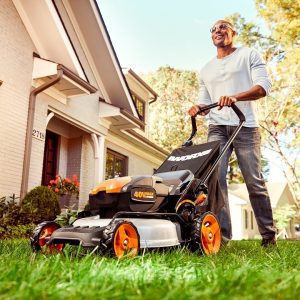 When you want performance, premium durability, and a nice wide path from your battery-powered lawn mower, this big-battery and larger deck model is what you're looking for. With a 20 in. cutting deck, you'll need fewer passes to finish the lawn. Combine that with its higher-capacity 5.0Ah batteries, and this is the mower you want for larger lawns. The steel cutting deck means it's more durable and is ideal for yards with rougher terrain. So what makes this one of the best battery-powered lawn mowers out there? Power, durability, and the capability to cut larger lawns on a single charge.
Click here to learn more about the Worx WG751 Battery-Powered Lawn Mower.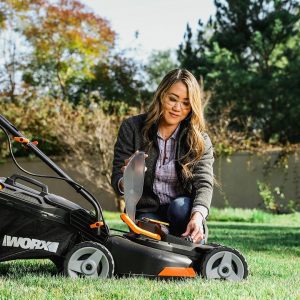 Lighter and easier to control than its bigger brother above, this Worx cordless lawn mower is still large enough at 17 in. wide to get a lot done. Plus, its cut-to-edge design does exactly what it sounds like: it cuts closer to the house, the deck, the driveway, the road and sidewalks, trees and shrubs, fencing, or landscaping, so you have less edging and trimming to do later. The blade is placed closer to the outside of the deck than other cordless lawn mowers, giving you that added benefit. So what makes this one of the best battery-powered lawn mowers? At 17 in., it's large enough to get the job done but nimble enough with that cut-to-edge feature to mind the details of your yard.
Click here to learn more about the Worx WG743 Battery-Powered Lawn Mower.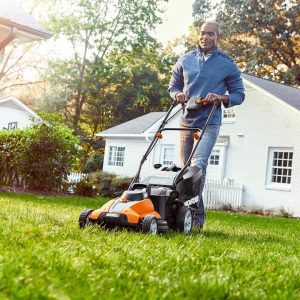 Let's chat about INTELLICUT™. This Worx battery-powered lawn mower, as well as the models directly above and below (WG743, WG779), can be correctly categorized as "smart mowers." INTELLICUT senses when the grass is thicker and it turns up the torque automatically so you can power through. Then once it's back to clear sailing, these cordless lawn mowers dial it back down to save battery. You get ultimate efficiency, both power & extended battery life each time you take it out, making the WG744 one of the best battery-powered lawn mowers on the market.
Click here to learn more about the Worx WG744 Battery-Powered Lawn Mower.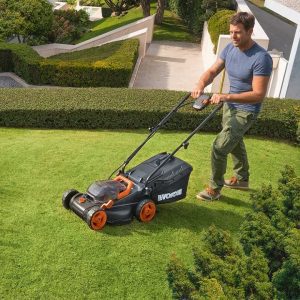 So maybe you have a lawn with more landscaping than most. Maybe you have more trees and shrubs to dodge around than your neighbors, who can get by with a few dozen straight lines when they mow. This Worx lawn mower was made to dance between flower beds, encircle ornaments, and slalom through unusually shaped yards, with its lighter weight and narrower 14 in. cutting deck. And like every one of the push mowers mentioned in this blog, its collapsible handle makes this cordless mower easy to store and easy to transport. So if you're one of those remarkable sorts that are willing to cut other people's lawns, you can throw it in the trunk and dazzle friends and family members while you make quick work of their tricky yards, too. So is this one of the best battery-powered lawn mowers that's out there? It is if your yard requires more than just mowing in a straight line.
Click here to learn more about the Worx WG799 Battery-Powered Lawn Mower.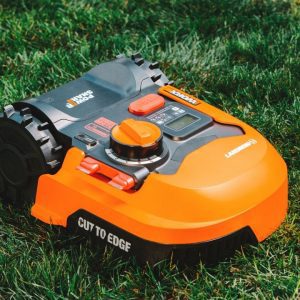 C'mon, let's be honest. You really just want a robot to cut your lawn for you, right? Sure, some of us like to be outside, some of us enjoy the exercise, some of us appreciate the value of putting in a hard day's work and all that… blah, blah, blah. But some of us just want to lay on the couch and watch football while Landroid does our chores for us. These battery-powered lawn mowers are from the future. You just lay down the boundary wire once, fill in some info on the Landroid app on your phone, and Landroid does the rest. It charges itself, figures out the best mowing schedule for your lawn type based on the weather and the soil so you have the healthiest lawn possible, and it even does the dishes when it's done.* (*Landroid doesn't really do dishes). Stop cutting into your weekends, let Landroid mow for you. What makes this one of the best battery-powered lawn mowers? Duh. It might be the best gift ever for the person in your family that has to mow every weekend.
Click here to see the entire Landroid collection.
That's our roundup of the Best Battery-Powered Lawn Mowers from Worx. 5 cordless lawn mowers that are either big and durable, cutting-edge, smarter than your average bear, light and mighty, a combination of all of those things, or the next generation of how we'll all be cutting our lawns in the future. Worx lawn mowers are quieter than gas-powered mowers, much easier to maintain and start, easier to use overall, less expensive to operate, and the 40V push mowers use two 20V batteries to do twice the work. Whether you're looking to purchase your first battery-powered mower, upgrading from your current machine, or making someone else's weekends easier with a gift, these user-friendly, cost-effective, high-performance mowing marvels are sure to revolutionize your life! Well, at the very least, they'll revolutionize your lawn.
Want to learn more? Check out the full collection of Worx battery-powered lawn mowers today.