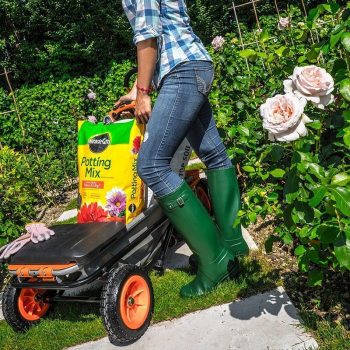 The Best Garden Cart with a Seat: Worx Aerocart
Your best new gardening buddy, the Worx Aerocart 8-in-1 Wheelbarrow does all the heavy lifting for you, and with the Wagon Kit Attachment (sold separately) it quickly turns into a four-wheel garden cart with a seat. Gardening is rewarding but hard work. Save your knees and pull up this rolling garden seat while you're pruning, picking fruit, or pulling weeds. The sun is hot, grab a hat and plop your favorite cool beverage in the drink holder that's attached to this garden seat with wheels, and enjoy your yardwork. There's no reason gardening needs to be such a chore. And when you've got a garden wagon with a seat like this one, it isn't.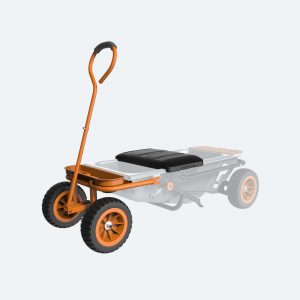 A Garden Seat with Wheels That Pulls Up to 300 lbs. with Just One Hand
The Worx Aerocart on its own already lets you tote 80-pound rocks across the yard or up to 300 lbs. of whatever when using two hands and some good leverage behind it. But when you attach the Wheelbarrow Wagon Kit Garden Cart with a Seat (no tools required for the attachment), you turn this two-wheeler into a four-wheeled rolling garden seat for more stability and more load capacity. And you need just one hand to pull all that weight behind you. Fill up this rolling garden seat with plants and supplies, or raise the extension arms for taller loads and transfer firewood from the pile to the house, hay from the barn, or anything that weighs up to 300 lbs. Not only is it the best garden cart with a seat on the market, it's a heavy-duty tool that makes chores easier for everyone in the family.
Carry a Load, Then Take a Load Off with the Worx Aerocart
Think of how much more likely you are to spend all day in the garden doing those long repetitive tasks if you have a garden cart with a seat to do it. Think of how much more enjoyable it's going to be. Sure, this 8-in-1 wheelbarrow is a workhorse with the capability to do all the tough stuff around the yard, but when it's quickly transformed into a garden wagon with a seat, it's like the better version of a lawn chair, one purpose-built for gardening. Start living the garden-seat-with-wheels lifestyle.
Perfect for Tailgating and Family Outings
We like to use our rolling garden seat before football games in the fall or on the sidelines at soccer games in the summer. And it's great for toting a portable grill and up to 300 lbs. of brats (we're only kind of joking) from the car to the backyard or down the block to watch the game with a group of friends. Once the snow melts, we fill up this rolling gardening seat with sports drinks, water, and ice to keep the players and the parents cool during the kids' sporting events. And sometimes on a warm Saturday night, we'll have friends over for a movie night on our projector in the backyard, where this 8-in-1 wheelbarrow/garden cart with a seat transforms into an adult beverage cooler on wheels. We should probably start calling it a 9-in-1, or a 10-in-1, maybe a 12-in-1.
To learn even more about the Wheelbarrow Wagon Kit, or to pick one up for yourself or for a gift, click here.
8x the Tool: More Than a Garden Wagon with a Seat
The Wheelbarrow Wagon Kit Garden Cart with Seat Attachment is clearly a great add-on, but the Aerocart is no slouch all in its own. This marvel of engineering makes a 200 lbs. load feel like just 17 lbs. How? It's all about wheel placement. The design of the Worx Aerocart's wheels shifts the center of gravity to a place that is optimum for hauling. And why is it called an 8-in-1 wheelbarrow, anyway? Let's count:
Flip down the bottom flap to turn it into a hand truck capable of carrying 300 lbs.
The mesh rock holder supports 80-pound rocks.
The potted plant mover lets you change the placement of enormous planters all by yourself.
It has arms that fold out, making it an extended dolly for transporting really big loads like refrigerators.
The bag holder is an easy way to take leaves to the curb.
The cylinder holder was made to secure buckets, barrels, trash cans, and water jugs.
And sure, the Garden Cart with a Seat attachment makes it even more useful, but the Aerocart works as a yard cart on its own, too. (It's just not a garden wagon with a seat, providing the luxury of having four wheels to tote heavy loads). It even has a trailer hitch so you can pull it behind an ATV or other vehicle.
And finally, it's also a good ol' reliable wheelbarrow, albeit one specifically designed to significantly increase the strength and capabilities of everyday people.
Plus, both the Aerocart and the Garden Seat with Wheels Attachment feature flat-free tires that never need inflating and ensure a smooth ride. Padded hand grips make it more comfortable to use for long stretches. And the collapsible support legs allow you to set down heavy loads when keeping the Aerocart stationary.
Learn more about the best garden cart with a seat: The Worx Aerocart combined with the Wheelbarrow Wagon Kit Attachment.
Pull Up a Seat and Stay Awhile
When combined, the Aerocart and the Wheelbarrow Wagon Kit Garden Cart with Seat Attachment transform gardening and yardwork into much less taxing and much more enjoyable activities. Having an 8-in-1 wheelbarrow around makes tasks that were once impossible to perform by yourself easily manageable. And adding the rolling garden seat attachment not only gets you off your feet, the four-wheel functionality makes moving a load around your property even smoother. Having a garden wagon with a seat is a simple addition to any lawn & garden tool collection, but it makes a world of difference. What's more, it comes with a 30-day money-back guarantee, so you can see if a garden cart with a seat is right for you, and the 3-year limited consumer warranty means Worx stands behind it.
Experience the difference the 8-in-1 Worx Aerocart can make in your life, then add on two more wheels and a place to sit down with the Wheelbarrow Wagon Kit and garden the easy way.