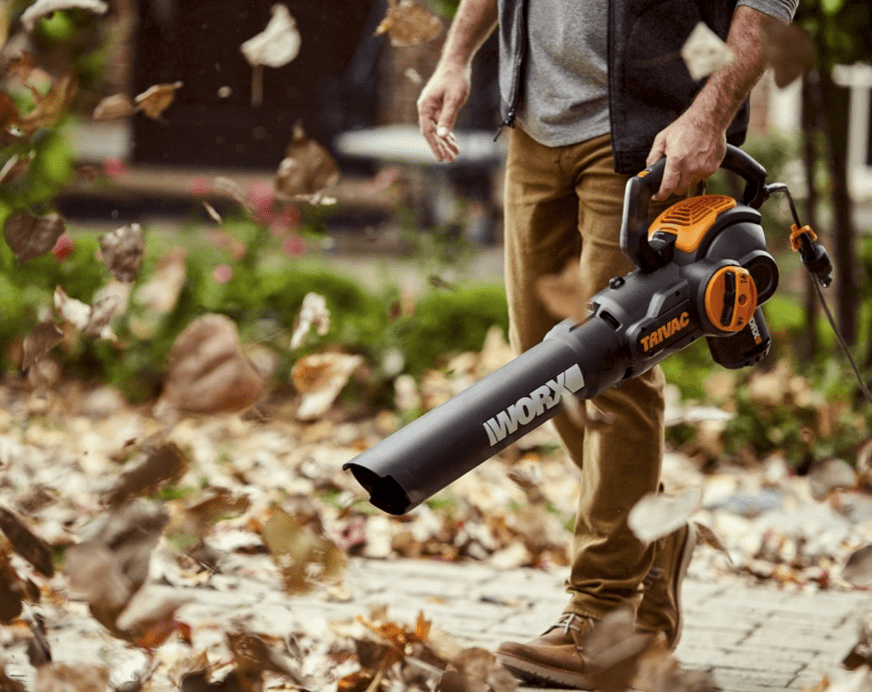 There's no denying that a cordless leaf blower can take a lot of the work out of clearing leaves from your yard. While collecting leaves might be the first thing you think of when it comes to using an electric leaf blower, there is no reason to leave this outdoor power tool in the shed until fall. With a little imagination, you can find a number of ways to use your battery-powered leaf blower during summer.
When it comes down to it, a leaf blower moves air and that airflow can be used for a wide range of purposes. In this post, we are going to look at some of the ways you can use your cordless leaf blower this summer. These include cleaning your yard, garage, shed, or gutters, drying your car, or maintaining other outdoor power tools.
Clear Your Yard With a Cordless Leaf Blower
Leaf blowers are designed to collect leaves, but that doesn't mean that it can't be used to clear other types of debris from the yard. Even during summer, you might have some fallen leaves or small sticks that accumulate in the yard. A heavy storm can cause all sorts of debris to land in the yard. You might also leave a lot of debris behind after using a piece of outdoor power equipment like hedge trimmers. 
You could always clean this yard debris up by hand, but a tool like the 20V TURBINE Two Speed Leaf Blower makes the work easier. At just 5.7 lbs, it is very easy to handle and the two speeds make it perfect for a range of outdoor cleaning tasks.
Cleaning Your Garage or Shed
If you are planning to clean your garage or shed, your cordless leaf blower can help. Once you have most of the space empty, you can grab your leaf blower to clear out all of the dust and dirt. It will make clearing the floors easier and you can also use the air to remove cobwebs from the high corners of the garage or shed.
Use an Electric Leaf Blower to Clean Your Gutters
Are you tired of lugging a ladder around to clean your gutters by hand? With a leaf blower, you can clean your gutters with less effort and you can also make this chore safer. All you need is a gutter cleaning kit for your leaf blower and you can do the work without ever having to leave the ground. 
Clean Up Grass Trimmings
If you don't like leaving leftover grass trimming in your yard, you can use a cordless leaf blower to collect the trimmings when you are done mowing. Much in the same way that you would use this piece of outdoor power equipment to collect leaves, you can use it to move grass trimmings into a pile and then put them in a bag for collection.
Drying Your Car
A nice DIY carwash can get your car looking nice, but you need to dry it to achieve that spot-free finish. You could get a towel to dry your car by hand, but your cordless leaf blower could do the work even faster. Just start at the top and work your way down to get your car looking like new when you finish washing it.
Cleaning Outdoor Power Tools
It doesn't take long for outdoor power equipment to get dirty. Whether it is dusty from being in the shed for a long time or dirty after a long day of yard work, you can use your electric leaf blower to clean your outdoor power tools. It doesn't matter if they are gas- or battery-powered yard tools or tools that use a cord; your leaf blower makes it easy to keep them clean.
A cordless leaf blower can be one of the most versatile outdoor tools you own. Even outside collecting leaves, it can be used to clear your yard of other types of debris and make a range of outdoor chores easier. You just need to use a little bit of imagination and always remember to follow the safety precautions for using a leaf blower.
Shop our best-selling electric leaf blowers today!
Summary
Article Name
Best Ways to Use Your Cordless Leaf Blower During Summer
Description
Some of the ways you can use your cordless leaf blower this summer include cleaning your yard, garage, shed, or gutters, drying your car, or maintaining other outdoor power tools.
Author
Publisher Name
Publisher Logo