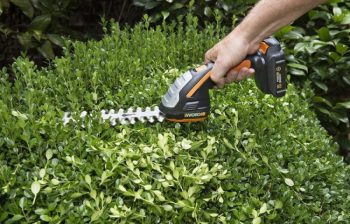 With the start of spring, many of us are looking forward to getting out in the garden. You have plans to work the soil and care for new plants, but you should make sure your garden tool kit is in good shape before doing anything. That means you are going to need to put a little time into garden tool maintenance before you can get to work on your plants.
Staying on top of tasks like cleaning garden tools is important because it will make the tools easier to use and protect them against damage. Proper garden tool maintenance means you can get more use out of your equipment. Among the basic gardening tips, you will need to know things like how to clean hand tools, sharpen garden tools, and oiling tools.
Cleaning Garden Tools
It doesn't take any special skills to learn how to clean garden tools. For the most part, you can just gather up tools like your shovels, trowels, garden forks, and rakes and use the garden hose to remove any dirt. If they are particularly dirty, you might want to consider scrubbing the tools with a wire brush. 
The 20V Hydroshot Portable Power Cleaner can be useful for jobs like cleaning garden tools. The powerful spray makes it easy to remove caked-on mud and other types of grime, and you can also use a range of Hydroshot accessories to do things like apply detergents and scrub as you spray.
Sanding
Once your tools are clean and you have given them time to dry, your next task for garden tool maintenance is using sandpaper to work on smoothing any rough areas on wooden handles. Just look for any spots that are rough or splintered and use the sandpaper to smooth them down. After working on the handles, you can also use the sandpaper to remove light rust from some of the metal surfaces. If there is heavy rust, you might need to use steel wool to achieve a rust-free surface.
How to Sharpen Garden Tools
You probably have several garden tools that may need sharpening. Depending on what you have in your tool kit, you might need to learn how to sharpen garden shears, axes, and saws. Beyond the tools that have an obvious blade, you should also consider sharpening things like shovels, hoes and mattocks. Most of these tools can be sharpened using a mill file, but you will want to learn the process of sharpening different garden tools.
Additionally, you should make sure everything is secure before you sharpen garden tools, as you could get injured if the tool slips while you are working on it. One option is to secure it in a bench vise, but you could also use the clamps on the Jawhorse Portable Clamping Work Support Station. With up to 1,000kg of clamping force, it can hold your tools securely as you work, and it is also portable, so you can take it out to your backyard shed when you are working on garden tool maintenance.
Oiling Garden Tools
When it comes to oiling tools, you have a few points to cover. You need to lubricate any hinges for smooth operation and apply oil to metal surfaces and wooden handles. Along with keeping the hinges working smoothly, the oil can prevent rust on the metal and condition the wood to protect against moisture. 
Now that your garden tools are in good shape, you should try to do a little work to prevent issues in the future. Make sure you are storing your tools properly and clean them regularly. With frequent care, you won't have to spend as much time on garden tool maintenance when you get the equipment out next year.
Find the tools you need for lawn and garden maintenance at WORX!
Summary
Article Name
Cleaning, Sharpening & Oiling Garden Tools: DIY Tips
Description
Proper garden tool maintenance means you can get more use out of your equipment. This includes knowing how to clean hand tools, sharpen garden tools, and oiling tools.
Author
Cleaning, Sharpening & Oiling Garden Tools: DIY Tips
Publisher Name
Publisher Logo