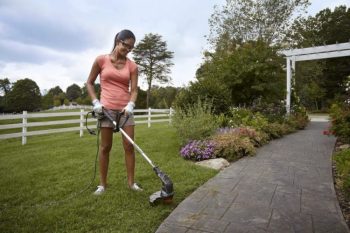 In the past, having electric or battery powered lawn equipment meant making significant compromises in performance. However, what these tools are capable of has gotten much better over the years. Battery powered lawn equipment is more powerful than ever before, and the batteries can now do a lot more work on a single charge.
With the improved performance, electric and cordless yard tools are now the better option for most homes. If you are ready to forget about things like maintaining a gas-powered lawn mower, now is the time to start looking at electric yard tools like lawn mowers, string trimmers, leaf blowers, chainsaws, and more. The only question you need to ask is whether you are better off with cordless yard equipment or electric tools that need to be plugged in.
Is an Electric Cordless Lawn Mower Right for You?
When comparing electric cordless lawn mowers to those that plug in, the main consideration is the size of your yard. Standard electric lawn mowers will offer unlimited runtime as long as they're plugged in, but its range is going to be limited by the length of your extension cord. With electric cordless lawn mowers, you need to make sure you get one that can cover enough space on a single charge, but the advantage is that it is not held back by needing to be plugged in.
The WORX 56V Cordless 20" Lawn Mower with Mulching Capabilities and Intellicut is one piece of battery-powered lawn equipment that is up to the task of covering large areas. This electric cordless lawn mower is easy to maintain and it offers a range of easy to adjust cutting heights. With its two 56V removable batteries, it also has the ability to 9400 square feet in one charge.
String Trimmers are Ideal Cordless Yard Tools
Most homeowners will probably prefer a string trimmer to be part of their cordless yard tools arsenal. Being free of a cord makes it easier to use when you are doing yard work, and most cordless string trimmer models will offer more than enough runtime for tasks like edging your yard and trimming areas your lawn mower can't reach.
If you are looking for the best battery powered trimmer for the average yard, a tool like the 20V GT Revolution 12" 4 Ah String Trimmer/Edger/Mini-Mower should be a good fit. With the 4 Ah battery, you should have no problem getting your trimming done with a single charge. This model can also convert to a wheeled edger, making it easy to get a nice, clean edge on your yard.
Corded vs. Battery Powered Leaf Blowers
When choosing which type of leaf blower to get, consider how often you intend to use it. If you are just moving leaves or cleaning up after mowing the lawn, a cordless leaf blower is probably your best option. If you are looking for features like mulching or vacuuming, one that plugs in would probably be more useful.
For a battery powered leaf blower, the 20V Turbine 4 Ah Cordless Two Speed Leaf Blower is a good choice. The lightweight design makes this cordless yard tool easy to handle, and it comes with two speeds for switching from lighter to heavy-duty work.
Choosing the Right Chainsaw
It might not be exclusively used as a lawn tool, but a chainsaw can be good for keeping your yard in good shape. While there are still gas-powered models that are much more powerful, an electric chainsaw is great for work around the house.
If your objective is to cut some branches or fell small trees, a cordless chainsaw like the 10" Cordless Chainsaw with Auto-Tension should work well. It is compact and lightweight, which makes it easy to handle. Along with that, this cordless yard tool has tool-free chain tightening and automatic chain lubrication.
If you need a wider cutting diameter or just have a lot more wood to chop, then you may want to consider a model like the WORX 15 Amp 18" Chainsaw. The 18" bar gives you a wider cutting diameter for working on larger trees and branches, and the 15 Amp motor offers the performance needed for these tougher tasks.
Electric and cordless yard tools can do a lot to make your life easier. They now have the capabilities to compete with some of the gas-powered tools, and they are easier to maintain and easier to handle. When you go with battery powered lawn equipment from the WORX Power Share line, you have a range of tools that can share the same batteries, making them more convenient than other battery powered lawn tools.
If you're looking for a the best corded or cordless yard tools, choose WORX!
Summary
Article Name
Corded Electric vs. Cordless Yard Tools: What's Better for Your Lawn?
Description
If you are ready to forget about things like maintaining a gas-powered lawn mower, now is the time to start looking at electric yard tools like lawn mowers, string trimmers, leaf blowers, chainsaws, and more.
Author
Publisher Name
Publisher Logo