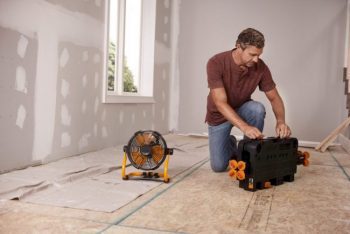 Some of the most passionate people in the world are sports enthusiasts. Many bleed their team colors or have an intense passion for their favorite sport. 
Luckily, there are a host of DIY projects you can undertake around the house to keep your fandom close even when live sports are taking a hiatus. Whether you enjoy soccer or baseball, football or cricket, these are easy home improvement projects that can convert your home into a quick sports lounge in no time.
Display a Collection
Nothing shows your love of a team or a sport than a collection of memorabilia. Whether it's jerseys, posters, autographed balls, or anything with the team logo, there are ways to incorporate those items into a room, tastefully.
Try setting up bookcases or hooks to display signed memorabilia. Building shelves is an easy DIY project. Depending on the amount of space you have, you can complete with the help of an oscillating multi-tool or circular saw. Both of these options create a simple and easy way of showing off what you've spent all that time collecting.
Create The Traditional "Sports Cave" 
One of the most common renovation projects for the sports fanatic is the building of the traditional "sports cave" as a getaway space. Most basements or dens can accommodate the needs. But, it helps to have a plan.
Use a Theme
Pick your style and materials. Some modern themes look toward an industrial appearance with metals and sharp corners, or a more traditional look can use hardwoods and dark tones. If your existing hardwood floor has a light stain, you can use a multi-sander to remove the existing varnish. Once done, simply apply your new stain and seal the floors. When creating your space, try to avoid using a lot of glass as it can be too reflective in a small space and is quite fragile.
Choose a Central Game Table
If your game is poker, foosball, pool, or another table-based game, make it the main attraction in your room, adding some spotlighting so everyone has great visibility. You can base the rest of your theme/decor to complement the game. But, make sure there's enough space leftover for seating and displays.
Place Seating in an Open Arrangement 
Be sure not to place all your seating in the middle of the room. This creates dead zones and unused space. When possible, have the seating along the walls, using the space behind your gaming chairs for storage. Keep the seating as open as possible so the room doesn't seem cramped.
Include a Built-in Bar or Refrigeration Area
If you're looking to really kick your sports cave up a notch, include a bar section with several stools for seating. Or, add a refrigeration cabinet for storing your beverages and dips. A good set-up will help keep the trips to the kitchen at a minimum.
Make a Golf Simulator Room
The cheaper price of an indoor golf simulator means it's now more feasible than ever to realize your dreams of playing year-round in the comfort of your home.
With an in-home golf simulator, you can golf anytime you want with your friends and family, without concern for the weather outside or a crowded golf course. Start dialing in your distances better than ever before! 
If you want to get even more serious about knocking a few strokes off that handicap, pair the simulator with a high-performance launch monitor. The setup can be one of the best investments in your golf game you have ever made.
Decorate with Quotes
Find your favorite player or coach's quotes and display them on the walls. This can be done in both the sports cave and the golf simulator room. Quotes can even be easily incorporated into the decor of various other rooms around the house.
Being a sports fan is usually a big part of many people's lives. Having that passion displayed throughout your house with one (or more) of the DIY home decor ideas above is a fun way to share it with your family and friends.
Find the tools you need to build your perfect sports display at WORX!
Summary
Article Name
Easy Home Improvement Ideas For A Sport Fanatic
Description
Whether you enjoy soccer or baseball, football or cricket, these are easy home improvement projects that can convert your home into a quick sports lounge in no time.
Author
Publisher Name
Publisher Logo