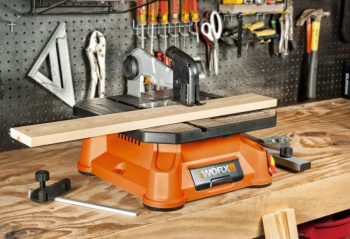 Every house should have a DIY toolkit. With a good set of tools, you can do some of your own repairs and you can also work on projects to build and upgrade things around the house. 
In this post, we are going to give you a list of the best DIY tools to keep around the house. With this DIY tools list, you will have everything you need to do basic home repairs and to work on a wide range of home DIY projects. These must-have power tools for DIY include a hammer, cordless drill, circular saw, screwdrivers, wrenches, pliers, work supports, and sanding tools.
Screwdrivers
A set of screwdrivers is among the essential DIY tools. They will be used for everything from simple tasks like changing a doorknob to more complex DIY projects like building a shed. Start with a basic set that includes a few flatheads and a few Phillips screwdrivers. In the future, you should also look into getting some long-handled screwdrivers, mini screwdrivers, and less common head designs like the Torx or Robertson screwdrivers.
Keep a Hammer in Your DIY Toolkit
Every DIY toolkit needs a hammer. This is another tool that you will need for a wide range of projects. For most homes, a 16-oz. claw hammer should be perfect. When shopping for a hammer, try holding a few in your hand to find one with a comfortable weight and grip.
Cordless Drill
When you start looking for DIY power tools, a cordless drill should be at the top of your list. You'll find a number of projects that require drilling holes or driving screws, so this is one of the best power tools for DIY. Along with the drill, you are also going to need a good set of drill bits for working on a diverse range of projects. 
If you are just getting started with DIY, check out the 20V Switchdriver Cordless Drill. It has quick-change chucks that make it possible to change bits with ease, and the dual-chuck design allows you to switch between two different bits quickly when you are working on a project.
Put Wrenches on Your DIY Tools List
Wrenches are a key part of any DIY tools list. Get an adjustable crescent wrench if you are just looking to get one wrench to start with. The adjustable head makes it a versatile tool that can tackle a wide range of DIY repairs and projects. Beyond that, a good set of combination wrenches will ensure you can tackle any project that comes your way.
Include DIY Power Tools Like a Circular Saw
A circular saw is one of the must-have power tools for DIY. The stock blade alone will be great for making a wide range of cuts as you work on various projects. However, you can expand the versatility of these DIY power tools with an assortment of blades. You can cut all sorts of lumber with a circular saw and you also have blades that are good for cutting tile, metal, plastics, stone, brick, and concrete. 
The Versacut 3-3/8" Compact Circular Saw is a good option for any home DIY toolkit. It is light and compact, but it also has plenty of power. This saw is very easy to handle and it has a laser guide that can help to ensure straight cuts every time.
Pliers are Essential DIY Tools
You can't forget pliers if you are building a DIY tools list. A pair of slip-joint pliers should be in every tool collection, but you may also want to get some channellock pliers and a pair of needle nose pliers.
Must-Have Power Tools for DIY Include Sanding Tools
You will need sanding tools if woodworking projects are a part of your DIY plans. Instead of getting a bunch of specialized sanders for different tasks, a multi-sander is a good option for most home DIYers. These sanders are meant to take on the work of several different sanders, so they can reduce the cost of building your toolkit while still providing you with the functions you need.
Add Work Supports to Your DIY Tools List
Having a good work support tool will come in handy for a variety of projects. Start with a set of clamping sawhorses. With built-in clamps, it is easy to keep your workpiece stable when you are working on DIY projects. 
With the items listed here, you have the foundation of a good DIY toolkit. As you build your tool collection, don't forget to consider tool box organization. You will be spending good money on these tools, so you want to make sure they stay in good shape and that you can find them when you need them.
Shop must-have power tools for DIY at WORX!
Summary
Article Name
Every DIY Tool We Think is Essential for Our Toolkits
Description
Must-have power tools for DIY include a hammer, cordless drill, circular saw, screwdrivers, wrenches, pliers, work supports, and sanding tools.
Author
Publisher Name
Publisher Logo