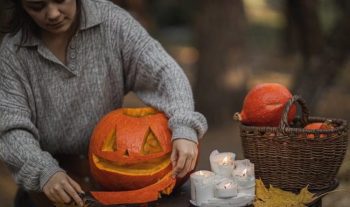 For seasonal DIY projects, it is hard to beat carving pumpkins. Easy pumpkin carving is a fun project you can do with your kids and it offers a lot of opportunities for creativity.
Of course, you can go with the old method of carving with a knife, but there are pumpkin carving tools that can offer more options. With the MAKERX Rotary Tool, you not only get easy pumpkin carving, but the precision of the tool makes it possible to achieve even better designs. 
As long as you know rotary tool basics you will be able to do everything from scary pumpkin carving ideas to silly jack-o'-lantern faces. In this post, we are going to look at how to easily carve a pumpkin using a rotary tool.
Find a Design
The first thing you need to do is find a design. You can find plenty of easy pumpkin carving ideas online. There are templates you can copy and there are instructional videos you can watch for specific designs. If you are creative and have the skills, you can do your own pumpkin drawing to create a template. 
Select Your Bits
Once you have a pumpkin drawing template in mind, you will be able to select bits that will help you achieve the design. Depending on the look you are going for, by using the rotary tool as your pumpkin carving tool, there are several rotary tool bits that might work. Cutting wheels can work well for carving a pumpkin. You also have a range of precision bits for tasks like carving and cutting that can be good for etching fine details in the pumpkin. Sanding wheels can also work well for smoothing out surfaces and trimming off small layers from different areas.
Mark Out the Design
You can either mark the design out freehand using a marker or you can use a template and a metal skewer. If you are using a skewer to mark the design, first secure the template on the face of the pumpkin using a few push pins. Then follow the lines with the skewer by pushing into the surface of the pumpkin.
Engrave the Outline
Once you have the design marked out, it is time to use your pumpkin carving tools. You can start by tracing the outline of your pumpkin drawing using an engraving bit in your rotary tool. Just follow your marks with the engraving tool until you have the entire outline cut out.
Etch Out the Spaces
With the outline cut out, you can now start etching away the spaces where you want the pumpkin to have a glow. This can be done easily with a speed-cutting bit. 
Smooth it Down
With the pumpkin drawing design cut out and the right areas etched away, you now want to smooth down any bumps or rough areas using a sanding drum. Once the surfaces are smoothed out, the pumpkin will be ready to be lit up and used as a Halloween decoration.
With its micro-ergonomic design and precision control, the MAKERX system offers the best rotary tool for easy pumpkin carving. It has a universal fit to use bits from other manufacturers and you can control the speed from the MAKERX Hub. Whether it is a scary pumpkin drawing design, jack-o'-lantern faces or something fun, the MAKERX Rotary Tool is one of the most versatile tools for easy pumpkin carving.
Summary
Article Name
Fun & Easy Pumpkin Carving With Your MakerX Rotary Tool
Description
In this post, we are going to look at how to easily carve a pumpkin using a rotary tool.
Author
Publisher Name
Publisher Logo