Garage Organization Tricks To Make The Car Fit!
20 Garage Organization Ideas to Make Room for a Parking Spot
By: Alexa Erickson
The garage holds a lot of value. It's a storage unit, a parking spot, a workshop, and even an entertainment space. But too often does it end up looking like one giant junk drawer. The problem with the garage is that it offers too much space to play with. And it doesn't matter the actual size. A small garage may end up being used solely for storage as opposed to a parking space or a workshop. A large garage seemingly has no limits, until one day you find yourself having to manually move things out of the way to make way for your vehicle.
Decluttering is the first step in making room for a parking spot. Going through all the items you thought you needed stowed away in the garage and donating what's never been touched is a good place to start. Then, it's time to evaluate the items on the floor that you thought you needed easy access to for regular use. If they're only used sometimes, with more time spent moving them out of the way as opposed to using them, then it's time to reorganize them off the floor, or flatten them and put them against a wall. Finally, you need to decide how you want to value your garage. If it's for working out and parking a car, then take entertainment equipment out of there. If you prefer it to be a workshop and a parking spot, perhaps rethink where you want to exercise.
At the end of the day, the garage is a major hub of the home, holding valuable, necessary items. It should be easy to maneuver your car in and out of the garage. It should also be easy to access items on the floor, and effortless to find items that have been stored up high. If it's not, then you've come to the right place! We've rounded up 20 garage organization ideas to make room for a parking spot.
1. Use a Rolling Utility Table
If you value your garage as a workshop, but want to keep it tidy enough to park your car, try a rolling utility table. You can easily roll it to the center of the garage when working, and then back to a corner again when the car needs room. A rolling utility table with drawers will add even more storage.
2. Try Wire Racks
Slim wire racks are great for the garage as they take up little room while allowing you plenty of storage opportunities. Plus, you can always see what you have!
3. Purchase a Pegboard
Utilize wall space with a pegboard. You can easily mount various items neatly within the holes, allowing you to see what you have and providing easy access while freeing up floor space.
4. Install Wall Tracks
Another way to transform a wall is using wall tracks. Gladiator GearTrack Channels are a great option. The panels keep awkward items like rakes and hoses securely on the hooks. The system makes maneuvering items on the tracks a cinch.
5. Put Up Overhead Racks
The garage ceiling is an often overlooked opportunity for storage. Install an overhead storage rack for bulky, large bins that would otherwise take up too much space when jutting out from the wall or placed on the floor.
6. Mount Bikes
No matter how organized you make your bikes look when leaning them against a wall or using kickstands, there's no denying the valuable floor space they take up. Plus, moving one bike out of the way for another can get complicated and frustrating! Instead, mount bikes using individual heavy duty hooks or a rack on the wall.
7. Hang a Canvas Wall Organizer
Miscellaneous tools and gardening supplies can get very cluttered in the garage. Give them (and your garage!) the organization they deserve by hanging like items in pockets within an aesthetically pleasing canvas wall organizer.
8. Try Storage Tubes
Long items like fishing rods, golf clubs and umbrellas require vertical storage options in order to avoid taking up valuable garage space. Mount storage tubes on the wall and place like items within each one.
9. Use a Tool Tower
Big shovels, brooms and rakes don't do the best job when leaning against the wall. They tend to fall and create clutter on the ground. An attempt to stack them neatly on the floor just ends with you constantly having to rearrange them! Instead, keep them organized with a free-standing tool tower storage unit.
10. DIY Corner Shelves
While you may be well aware of the benefits of wall storage by now, have you considered the corners? Try wrapping a row of wire racks around a corner to combat the awkward area. The corner area is great for storing small baskets that can hold items that often get lost in bigger storage holders, such as rags, waxes, polishes, etc.
11. Get a Sports Gear Organizer
A rolling basketball, a loose baseball bat, a plethora of tennis balls and a stack of sneakers are easy to trip on, and can be very hazardous! Use a free standing sports gear organizer or install baskets on a wall that can hold like items.
12. Hang Ladders
Ladders can be dangerous if not stored properly. If they're stored loosely upright, they could easily fall, while storing them on the ground on their sides takes up valuable space. Try a double ladder ceiling rack instead.
13. Stack Bins Efficiently
While plastic storage bins are ideal for storing all kinds of items out of the way, they also store them out of sight! Having to pull bins out and hunt for a specific item is frustrating and messy. Even clear bins can be problematic. Try color coordinating, using a different color bin for each group of items.
14. Storage Bin Index
If you want to go one step further with the storage bin organization solution, you can label bins with numbers as well! Perhaps you have a few bins of one specific color and they all have camping gear, but one is for headlamps and solar lights, one is for cooking gear, and another is for sleeping equipment. You can label each one with a number. Each number gets its own page in a binder that describes the items inside.
15. Make Use of Double Duty Shelf Brackets
Reimagine the shelf brackets used in your closets to support hanger rods as a solid solution to your garage organization. There are a variety of options available at hardware stores to suit your needs. The hooks on the brackets are ideal for neatly storing items like hoses that would otherwise be a bulky mess on the garage floor.
16. DIY Chair Holders for the Wall
Lawn and beach chairs are nice to have easy access to, but even when they're leaning against the wall, they tend to fall, and generally just take up valuable space. Solve the problem by DYIng chair holders on the wall. Grab some scrap lumber and cut into 7-3/4 in. long boards with a 30-degree angle on both ends. Screw the boards to the exposed wall studs and you can hang your chairs!
17. Consider Outdoor Storage
The side of your garage may not be of much use for gardening or displaying curb appeal of any kind, but it is a great place to add an outdoor shed, storage unit, or even a small locker! Place everything from bikes to landscaping equipment out of the way.
18. Utilize the Underside of Shelves and Benches for Installing a Small Table
Often overlooked is the underside of mounted shelving units or floor benches. If you need a place to display small items without scattering them everywhere, such as small tools, drill a hole in the handle of a beach paddle or a cutting board paddle and screw it to the underside of a workbench or shelf. You can swing it out when needed!
19. Create a Recycling Bin Wall Rack
There's no denying the space bulky storage bins take up in the garage! If you find yourself constantly moving them out of the way to park your car, it's time to do some damage control. Create a recycling bin rack that frees up floor space by attaching bin holders to the wall.
20. Take Advantage of Joist Space
Who knew joist space was the perfect solution to your storage woes?! Simply screw wire shelving to the underside of the joists. The space between joists is the perfect nook to hold baskets, bins and more.
Summary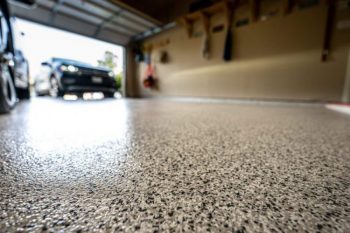 Article Name
20 Garage Organization Tricks To Make The Car Fit!
Description
The garage holds a lot of value, but too often it looks like one giant junk drawer. Here are 20 garage organization ideas to make room for a parking spot.
Author
Publisher Name
Publisher Logo