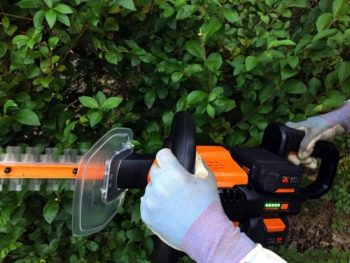 If you have a small yard, you might look around and think that there isn't much you can do to improve the space. While having a large area will open up more options, there are many small landscaping ideas that can make a big difference. 
Landscape design for small spaces is all about making the most of the area you have and finding the landscaping ideas that will have the biggest impact. You don't even need to spend a lot to enhance a small backyard. Homeowners can do a lot with a small space and landscaping ideas on a budget. 
In this post, we are going to look at landscape ideas for a small area. These ideas can help you create a yard that looks bigger while also having more to offer. Some of the best landscaping ideas for small yards include getting creative with paving, using your vertical space, including privacy features, and sectioning your yard.
Get Creative With Paving
Instead of going with a standard concrete patio, build one that is made from a mix of materials or that has some type of design. Use pavers or bricks that are differently shaped or go with stamped concrete. You could also consider lining part of the patio area with decorative stone. When it is done right, the mix of materials or designs can create the illusion of more space.
Use Vertical Space to Achieve Your Small Landscaping Ideas
One of the problems with small space landscaping is that you might not have a lot of room for planting. To overcome this issue, you should use the vertical space in your yard. You could put up a trellis or build a garden arbor to get more from the vertical space in your yard. Hanging baskets can be another small landscaping idea for adding more life to a yard that does not have a lot of space for a garden.
Include Privacy Features
Small yards are often the result of houses being close together. For this reason, backyard privacy can be an issue for landscaping a small space. A fence is one obvious solution to backyard privacy. If you want more privacy and a place for plants, a trellis with climbing plants can be a good way to add privacy and some plant life to your small backyard.
Create Sections for Small Space Landscaping
One of the best small landscaping ideas is to section the yard off for different purposes. You could set up different areas for things like sitting, activities, and gardening. Once you decide on the different areas you want, you can then use a variety of techniques to make the divisions clear. 
As an example, you could use shrubs to border one area or you could use mulch to create borders. If you set up a garden, it could help to use a tool like the GT Revolution String Trimmer to establish a crisp clean edge that separates the garden from the rest of the yard. With the ability to be a string trimmer or a wheeled edger, it can be one of the best and most versatile tools for keeping your small space landscaping work neat.
Trim Your Shrubs and Hedges
Shrubs and hedges can play a role in your landscape ideas for a small area, but you will need to keep them trimmed. Using them to border different areas can be good for privacy or just to establish boundaries, but if they get overgrown, they will make the space feel cramped. With a cordless hedge trimmer, it should be easy to keep the shrubs and hedges from getting overgrown in your small yard.
Landscaping Ideas Include Creating a Focal Point
A focal point can be a good way to distract the eye from the smallness of the area. When you set up a focal point for small space landscaping, it attracts eyes away from the boundaries of the yard. By doing this, it can make the area seem bigger. Some focal points to consider for small space landscaping could be a small sitting area, a fountain, a fire pit, or anything that will draw people's eyes away from the edges of the yard. 
These are just a few of the small landscaping ideas that can have an impact. As a final tip, remember to keep your yard neat. A lack of upkeep will be much more noticeable in a small area than in a large yard. Remember to run your lawn mower regularly, clean up leaves soon after they fall, and to trim bushes, shrubs, and trees when they need it.
Find the tools you need for small yard upkeep at WORX!
Summary
Article Name
Get Maximum Impact With These Landscape Ideas for a Small Area
Description
Some of the best landscaping ideas for small yards include getting creative with paving, using your vertical space, including privacy features, and sectioning your yard.
Author
Publisher Name
Publisher Logo