Helpful Hints to Take the Stress Out of Spring Cleaning
These outdoor spring cleaning tips will help you stay on task and make your yard look like new.
Just like the inside of your home, your landscape needs a deep cleaning at least once a year. With all the plants still emerging, and trouble spots easy to identify, spring is the perfect time to do it. But after a long winter, it's easy to get lost in the moment of a beautiful spring afternoon. The warm sunshine and sweet smells of the season attack your senses, and soon enough you're infected with full blown spring fever. You just need a plan.
It's easy to let spring cleaning take the entire season. Put off the parts you don't really enjoy, spend too much time on those you do, and the next thing you know it's Fourth of July. Use this landscape spring cleaning checklist to tackle your outdoor chores without getting sidetracked.

Landscape spring cleaning list
Out with the old.
When new shoots appear in perennial flower beds and the first tiny leaves begin to open on trees and shrubs, it's time to clean up yard debris. Along with any winter weeds that have cropped up, go ahead and remove last year's dead stems, fallen leaves, and twigs that came down during winter storms. No need to bag it up. Shred the small stuff and either add it to the compost bin, or spread it on garden beds as natural mulch.
Prune this…not that.
It may be tempting to give all of your trees and shrubs a spring trim, but pruning at the wrong time could wipe out flowers or cause excessive sap leakage. As a rule of thumb, spring and early summer bloomers like flowering quince, lilac, forsythia, azalea, and the big pink or blue flowering hydrangeas, are best pruned after they bloom. Summer and fall bloomers like crape myrtle, butterfly bush, and shrub roses can be pruned in spring. Hedges and other plants grown primarily for their foliage, like boxwood, holly, and yew, should be pruned a little lower than normal in spring to make way for season-long growth.
(Don't) scalp the lawn.
After cleaning up the landscape beds, mow and edge the yard to give the whole landscape a fresh, tidy appearance. The second or third mowing in spring is a good time to cut the lawn extra short in order to remove dead grass and stimulate lush, new growth. Do not cut so low as to damage the grass roots. Simply lower the deck one notch below the normal maintenance height. If your grass grows densely, you may want to bag the clippings for this cut so that the excess doesn't damage the lawn. Afterwards, allow the grass to grow back to normal height for the next mowing.
Propagate perennials
The early or middle part of spring, after most plants have begun growing, is a good time to divide fall blooming perennial plants. Dividing perennials is a way to maintain plant vigor, control the size, and add new plants to your garden. Dig up the plant with a spade or fork, knock off loose soil, and remove it from the ground. Separate the large parent plant into several small divisions by pulling apart the roots by hand, cutting through the root crown with a sharp knife, or wedging them apart with two garden forks inserted through the crown back-to-back. Each new division should have three to five strong shoots and a bountiful supply of roots. Keep the divisions moist and shaded until you can replant them.
Make the beds.
Annual flowers are like icing on the cake. If you want to kick off summer with great looking seasonal color, spring is the time to prepare. Start by tilling a 1 inch layer of compost into established beds. Then cover the empty beds with a 2 inch layer of fresh mulch until planting time. Then, when the weather is right, you can easily scoot the mulch aside to pop in the new flowers. In areas where winter annuals are a thing, you'll have to decide when to remove the cool season annuals – which may still look great – in order to make way for warm season annuals. Otherwise, wait to plant until all danger of frost has passed.
Topdress mulch.
Late spring is the best time to refresh mulch throughout the landscape. The moist conditions of winter and spring cause it to break down, even as weed seeds begin to germinate. Apply a 2 to three inch layer of fresh mulch to smother weeds before they grow, and to make the beds look their best.
Clean the home exterior and hardscapes.
As soon as the weather warms up, it's time to pressure wash hard exterior surfaces, including the house, patio and deck surfaces, driveway, sidewalks, fences, and retaining walls. A WORX Hydroshot Portable Power Cleaner is the perfect tool for all kinds of outdoor cleaning, including hard to reach areas. Late spring, when the most intense season for pollen production is over, is a great time to check these items off your list.
Spruce up outdoor furniture.
Before outdoor living season kicks in, you'll want to make sure the outdoor entertaining area is all set. Use the WORX Hydroshot with brush attachment to clear away loose dust and dirt that have accumulated on plastic, metal, wood, and wicker surfaces. Then attach the soap dispenser to wash away heavy dirt. Treat mold with full strength white vinegar. Consult the manufacturer's instructions regarding care and cleaning of fabrics such as hammocks, umbrella covers, and furniture cushions.
Note maintenance issues.
As you spend time working through the landscape, note any areas that may require repairs. Watch for things like depressions along the driveway, uneven pavers or flagstones, patches of dead grass, broken fence panels, loose fence posts, and more. There's no better time to make detailed observations and plan to tackle problems early on.
After all that work, why not treat yourself and your helpers to the first cookout of the season. Spend less time cleaning and more time enjoying your home this year.
Summary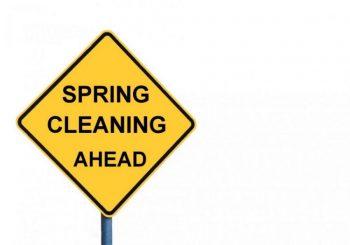 Article Name
Helpful Hints to Take the Stress Out of Spring Cleaning
Description
These outdoor spring cleaning tips will help you stay on task and make your yard look like new.
Author
Publisher Name
Publisher Logo