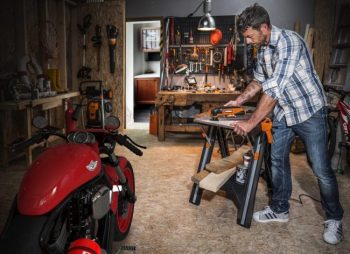 Your time in quarantine has probably made you more aware of flaws around your house and maybe even inspired you to take action. Whether you've been planning for repairs and home renovations for months, or you've just now been inspired, the uncertain times can pose some unique obstacles.
A health or economic crisis will likely impact your project. But, if you're prepared with both the right DIY tools and know what to expect, you should still be able to complete whatever home improvements you had in mind. If you're considering renovating during the current pandemic, here are a few tips to keep top of mind: 
Expect To Deviate From Your Home Renovation Timeline
Even if you've already settled on a project timeline, you should be prepared to deviate from your original plans. Many suppliers are experiencing backorders, which means it might take more time than usual to receive materials or equipment. Be patient, as the pandemic has slowed down production for many suppliers, and be sure to order materials promptly to minimize your wait time. Luckily, WORX has many of your favorite tools in stock and ready to ship. Customer favorites like the Landroid M 20V Cordless Robotic Lawn Mower are available immediately to make your home maintenance easier. 
During economic hardships, you may also want to be more conservative with your spending. That means you might need to suspend a few discretionary projects. You can continue with the planning process for each, but you should also be patient and hold off on projects until you're positive you can actually afford to complete them. 
Ramp Up Planning for Future Projects
As you wait on materials and supplies, you can still keep the ball rolling on home renovations and stay active during quarantine by using this time to craft detailed plans for future projects. Use any spare time you have to research your project, consult with professional designers, and explore your financing options. 
You should take note of any building materials you will need, as well as estimates for how much each will cost. When you shop at WORX, you can be sure you're getting the best quality at the most affordable prices. With PowerShare technology like in our 20V Power Share GT Revolution 12″ Cordless String Trimmer & Edger, you can share batteries between power tools and save a significant sum. Having a detailed plan in place will ensure you're logistically and financially and prepared to move forward with renovations during the pandemic and once it's over.
Organize Your Finances
During a crisis, you may not have as much money to put toward renovations. Of course, your funds should go toward living expenses first, but you can also have peace of mind in knowing there are ways you can finance project costs without putting yourself in a poor financial position. 
For instance, you could take out an equity loan or open a line of credit, which would grant you access to money that you can put toward materials or tools and pay back over time. Or, if you only need a few small items, you could dip into savings or open a credit card, so long as you're sure you'll be able to pay it off promptly. 
Take Matters Into Your Own Hands
If you were originally planning to outsource a few home renovation projects, consider taking matters into your own hands. Quarantine presents a great opportunity to try out some DIY projects around your house. Taking on projects yourself can not only save you money but also the hassle of working around contractors' schedules. With multi-purpose tools like the Aerocart: 8-in-1 Wheelbarrow, Yard Cart & Dolly at your disposal, get ready to complete home projects faster, easier, and safer than ever. 
Painting, landscaping, and deep cleaning are all simple projects that take relatively little time and few tools while still adding value to your home. Evaluate any projects you may have put off over time and determine which ones you have the time and money to complete on your own. 
A global pandemic can leave you wondering how you'll be able to carry on with renovations. While you can expect some aspects of your plans to change, you can still improve your home during a crisis. If you're renovating during these troubled times, be sure to keep these tips in mind and equip yourself with the best tools from WORX so you can ensure a smooth process.
Summary
Article Name
A Homeowner's Guide to Renovating During Uncertain Times
Description
A health or economic crisis will likely impact your project. But, if you're prepared with both the right DIY tools and know what to expect, you should still be able to complete whatever home improvements you had in mind.
Author
Publisher Name
Publisher Logo