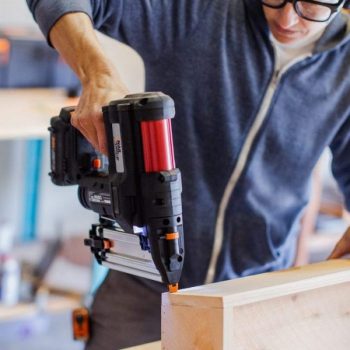 A nail gun can be one of the best pieces to add to your DIY toolkit. They take most of the work out of driving nails and can save you a ton of time on DIY projects. Along with that, nail guns can help you drive nails with greater accuracy and they can also be good for driving nails in hard-to-reach places. 
While it is true that a nail gun can be an awesome addition to your tool box, it isn't as simple as going out and picking up the first one you see. There are different types and the right one will depend on the type of projects you plan to work on. With that being said, you might wonder, what kind of nail gun do I need?
Since finding the right nail gun will depend on what you plan to do, you need to assess your needs. In this post, we will go over some of the points to consider to help you learn how to choose a nail gun.
Different Types of Nail Guns
The first step in picking the best nail gun for DIY projects is to learn about the different types of nail guns. While there are different specialty nail guns, we will cover the three most common types: finish nailers, brad nailers and framing nailers.
Finish Nail Guns
As the name suggests, a finish nail gun is for finish carpentry. This could include projects like installing crown molding, baseboards or decorative trim. They fire 15 or 16-gauge nails because they are strong enough to hold these types of pieces in place but they are small enough to be covered over for a nice finished product.
Brad Nail Guns
Brad nail guns are smaller and lighter than finish nail guns. Nail guns like the Worx 18GA Cordless Brad Nail Gun use 18-gauge nails for finishing projects that require more precision and thinner nails. If you are working with a thin piece of trim, a brad nail gun is ideal because the thinner nail presents less of a risk for splitting the wood. If you need to go even thinner, you could go with a pin nailer. Pin nailers use thinner 23-gauge headless nails.
Framing Nail Guns
Framing nail guns are the heaviest option and they are used for tougher construction applications. The primary use is framing, but they can be good for projects like securing wood sheathing, building a deck and building fences. They tend to be bulkier and heavier than other nail guns, but they pack the power to drive longer, thicker nails.
Strip Nail Gun vs. Coil Nail Gun
When you are learning about how to choose a nail gun, you might notice that some feed the nails from a strip in a magazine and others use a coil of nails that fit into a drum on the unit. Most experienced users already have a preference, but for someone new to owning a nail gun, you might wonder which is better.
If you are worried about reloading, a coil nail gun is effective.  Most strip nail guns will hold anywhere from 50-100 nails per load. Compare that to 200-300 for a coil nailer and you can see that it could save time on reloading. If you are working on a project that requires driving hundreds or even thousands of nails, it can make a big difference. 
If you are looking at weight and bulk, you might want to avoid a coil nail gun. When fully loaded, they can be much heavier than strip nail guns. The width of the drum can also make them a little bulky and trickier to handle.
When it comes to loading, the strip nailers tend to have an advantage as they provide for easy release and loading. Simply release the magazine, load the nails, and slide it back into the gun.
Power Source
The power source can also make a big difference when trying to choose the right nail gun for DIY projects. When it comes to power, you have the option of pneumatic nail guns, cordless nail guns and gas-cartridge nail guns. 
Pneumatic nail guns use pressurized air from a compressor to drive the nails. This can offer enough pressure to drive any type of fastener, but you do need the compressor and other accessories. Along with that, the nail gun needs to be attached to a hose, so it can limit your mobility and make the work more difficult in some situations.
A cordless nail gun is the best option if portability and mobility are at the forefront of your concerns. Cordless nail guns are lighter and easier to handle than pneumatic nail guns, and the cordless design makes them great for working anywhere without having to worry about a cord. And some of today's cordless nail guns are equipped with enough power that you won't notice a difference compared to their gas-cartridge and pneumatic counterparts. For one of the top cordless nail guns on the market, check out the WX840L 20V 18-Gauge Cordless Nail Gun from Worx.
A gas-cartridge nail gun is also a good option if you need power comparable to pneumatic nail guns without a compressor. These models use combustion to create the force that drives the nail. The gas is supplied by a small disposable cartridge and a rechargeable battery provides the spark to ignite the gas. They offer the freedom of a cordless tool, but tend to be more expensive for both the gun and the nails.
Features to Consider
Modern nail guns can come with a range of features that will make the tools more convenient and easier to use. The following are some of the features you might want to consider when shopping for a nail gun for DIY projects:
Depth Adjustment:

With this feature, you can control how far the nail will be driven into the material.
Ergonomics:

Different nail guns will fit in your hand better and feel more comfortable when you use them. If you plan to use it for hours at a time, an ergonomic design can make a big difference. 
Jam Clearing:

Many nailers come designed with a quick and easy system for clearing jammed nails.
Nails Per Load or Charge:

Depending on the type of nail gun you get, you should know how many nails are used before you have to stop. Consider how many nails fit in one load, and if you are using a cordless model consider how many nails can be fired in a single battery charge.
Lights:

Many nail guns come with onboard lights to help you work in dark rooms or locations with poor lighting. 
A nail gun can be a nice addition to your tool set, but you want to make sure you are getting one that will serve you well. Consider how you plan to use the nail gun, the types of projects you do the most, and the factors outlined in this post to help you pick the nail gun that will do the most for you.
Summary
Article Name
How To Choose A Nail Gun For Your Next Project
Description
While it is true that a nail gun can be an awesome addition to your tool box, it isn't as simple as going out and picking up the first one you see. There are different types and the right one will depend on the type of projects you plan to work on. With that being said, you might wonder, what kind of nail gun do I need?
Author
Publisher Name
Publisher Logo