How to Prepare Your Yard for Winter
To cut or not to cut – is the question many homeowners and gardeners wrestle with when putting the yard and garden to bed for the winter. Some folks take the easy road and blow the leaves off the lawn into the garden beds, waiting to do the big cleanup in spring. Others prefer to tidy up in fall.
Annuals and perennials, such as impatiens and hosta, that turn to mush after a hard frost are cut back to ground level and raked up. If none are diseased spent plants go on the compost pile. Diseased plants go in the trash.
Some perennials, including Shasta daisies and penstemons, produce basal growth – leaves at the base of the plants that remain green all winter. In this case, the dead portions of the plants, such as stalks with leaves, are removed, but the green growth is left intact. A pair of sharp hand pruners will allow you to get in close and do a neat job of cleaning up. If time is short, to get the job done quickly, whack the tops off with hedge shears.
Birders leave the seed heads of cone flowers, black-eyed Susans and asters standing to provide food for winter birds.
A group of perennial plants, such as coral-bells, creeping phlox (P. subulata), dianthus and lamium are evergreen types that require photosynthesis in winter to stay alive. Leave them intact, removing only dead leaves and stems.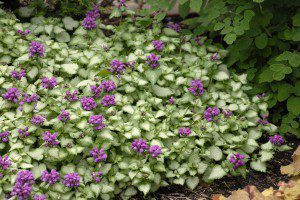 When the flowers of mums have faded, remove only the spent blooms leaving about 6 inches of stem in place. In spring shear them back to the green growth at the base of the plant.
Shrubby perennial herbs, such lavender, sage and thyme, are left intact over the winter. They are pruned back and shaped in spring, just as new growth begins to appear.
Ornamental grasses, valued for winter interest, are pruned back in late winter or very early spring before the new growth begins to emerge. Wrap them with a bungee cord to keep them standing tall throughout the winter.
The time to cut back and prune roses is when the forsythia bloom in spring. In fall clean up and dispose of dead foliage and mound up 6-inches of garden soil or a mix of compost and mulch at the base of the plants.
After cleaning up the garden, follow the lead of Mother Nature and mulch the garden and landscape with several inches of shredded leaves.
Timely Tip: The WORX TRIVAC 3 –in-1 electric compact Blower/Mulcher/Vac makes cleaning up autumn leaves from the lawn and garden a snap. It's lightweight and converts from a blower to a vacuum with just a flick of the toggle switch. The finely chopped leaves can be used to mulch landscape and garden beds and added to the compost bin. It also makes a great holiday gift for any homeowner.
To learn more about WORX tools, visit WORX.com