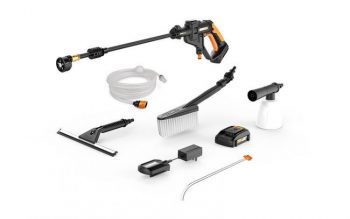 A garden hose is fine for watering plants and rinsing off dust, but it lacks the power required for serious cleaning jobs. And a pressure washer has plenty of cleaning power, but is far too powerful for watering landscapes. Striking a happy medium between a garden hose and pressure washer is the ingeniously designed WORX Hydroshot Portable Power Cleaner.
At first glance, the Hydroshot appears to be little more than a high-tech garden-hose spray wand, which it is, but it's so much more. Here are a just a few of its unique features:
It's powered by a rechargeable 20-volt battery that delivers five times more water pressure than a typical garden hose.
Two-speed motor produces water pressure between 58 and 94 PSI on low speed for garden watering, and 200 to 320 PSI on high speed for power cleaning. (When used for watering, the battery lasts about 30 continuous minutes.)
The unit's precision pump delivers ½ gallon of water per minute, saving water without sacrificing performance.
The Hydroshot can be connected to a garden hose or to the included 20-ft. siphon hose, which allows you to draw water directly from a bucket, pool, lake, river or any other fresh water source.
It comes with a wide range of quick-mount accessories for tackling various cleaning and landscape watering jobs.
The optional Turbo Nozzle ($30) delivers 360° of oscillating power for blasting away the toughest, grimiest messes.
The Hydroshot provides a quick, easy way to wash cars, trucks, boats, RVs, and motorcycles. It's also great for washing windows, rinsing house siding, power-cleaning fences, decks, patios and outdoor furniture. And the adjustable nozzle allows you to water the most delicate plants without causing any damage.
Here's What You Get
The Hydroshot Value Bundle (about $160) includes the Hydroshot Portable Power Cleaner, 20-volt battery, battery charger, and nine time-saving, grime-busting, accessories: adjustable multi-spray nozzle, gentle-spray short wand, pressure-enhancing extension wand, 20-ft. siphon hose, soft-bristle cleaning brush, soap-mixture container, window squeegee, durable mesh carrying bag, and bottle adapter that allows you to attach a two-liter soda bottle to the Hydroshot and then siphon liquid soap directly into the pressurized water stream. For more information, visit www.worx.com.