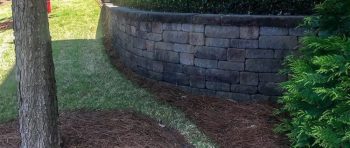 by Mark Wolfe
Living on the Edge
When it comes to your yard, how often do you think about the edges? The edges, whether intentionally defined or not, help define lawn, foundation planting, borders and island beds. They can accentuate the architecture of the building or soften the hard lines of paved areas. They draw the eye of the viewer to the key focal points or away from those areas that you would prefer hidden. So when developing the look of your landscape, it is important to consider the edges, and the type of edging to use.
There are nearly endless landscape edging materials to choose from. Conventional categories include metal or synthetic edging strips, concrete, stone, wood and natural edge. Each of these categories has its own set of strengths that lend it to specific applications. One key to landscaping success is to match the design requirements and conditions on the site with the edging material that best addresses these issues. With that in mind, here are a few thoughts on the various categories of edging.
Natural Landscape Edge
The simplest and least expensive landscape edging is a natural edge. The WORX 12 Amp Electric 7.5" Lawn Edger/Trencher is the perfect tool to dig and maintain a natural edge or trench along the border of the area to be edged. The trench has one vertical side (on the grass side) and one tapered side (on the mulched, or bed side). Most landscapes will employ a natural edge for the bulk of edging because it is simple and there is no material cost. Maintaining a natural edge involves defining the edge with a string trimmer and possibly re-digging a trampled or eroded edge on occasion.
Landscape Edging Strips
Another option is landscape edging strips. These strips may be plastic rolls, metal "sticks" or lengths of synthetic lumber often called "bendy board". These strips are designed to flex so that they may be staked into a natural edge. They are not meant to provide ornamental value on their own, instead simply reinforcing the vertical wall of a natural edge in areas where natural edges may degrade quickly, such as slopes, high foot-traffic areas or soft soils. They may also help slow the creep of turfgrass into beds. Edging strips may be heaved from the ground by frost or tree roots, otherwise maintenance is very similar to that of a natural edge.
Wood Edging
Wood is used in limited circumstances for landscape edging as a border between paved or gravel areas and the rest of the landscape, or to border elevated beds. Pressure treated lumber may last fifteen years and requires only minimal maintenance.
Concrete Landscape Edging
Concrete edging is a great way to add ornamental value to the edge. It can provide continuity by complementing colors and textures within adjacent paved areas or the architecture of the house. Because of the uniformity of concrete products, they are relatively simple to install in a formulaic fashion. Concrete is inexpensive, durable and easy to match from project to project. Maintenance simply includes trimming around it. Concrete edging may be susceptible to occasional frost heave and tree root disruption.
Stone Landscape Edging
Stone edging offers the durability of concrete with an organic look. The choice of stone can greatly enhance the feel of the landscape by adding elements of color and texture not available with any other material. Similar to concrete, stone edging may be disrupted by frost or tree roots.
Give Your Landscape an Edge
Any time the ground is not frozen is a good time to define landscape edging. Identify the areas which need greater definition. Consider the material choices that best suit your needs, including your style and color preferences. Consult local nurseries and landscape supply stores for specific materials and brand availability, as well as installation tips and tricks. Giving your landscape an edge may be as simple as giving your landscape an edge.
Shop for the WORX 12 Amp Electric Lawn Edger and other tools to give your lawn the edge at worx.com!