Meet Worx Nitro 40V Leafjet
WORX Nitro 40V Leafjet: Compact Blower
Leaf blowers, once used only by professional landscapers, have become an indispensable lawn-care tool for millions of homeowners. There's simply no quicker, easier way to clear away leaves and lawn debris than with a blower. And that's why I'm glad to report that the clever engineers at WORX recently introduced a revolutionary new blower that delivers the two most important requirements of a leaf blower: air speed and air volume.
The WORX Nitro 40V Leafjet Blower (Item WG585) delivers gas-like power and performance in a revolutionary new design that's extremely compact, lightweight and portable. This cordless blower is driven by two 20-volt, 4.0-Ah Power Share Pro lithium-ion batteries and features sonic turbo-fan technology combined with an inline high-speed brushless motor for enhanced efficiency, dependability and leaf-blasting power. But what really separates the WORX Nitro Leafjet from other leaf blowers is that it's a dual-function machine that allows you to easily choose between high air speed and high air volume.
The Leafjet is equipped with an innovative variable air-control nozzle:
Slide the nozzle forward to employ the large, outer tube, which will draw more air through the secondary air intakes. As a result, the Leafjet will move massive amounts of air up to about 620 CFM, making it the most powerful WORX cordless blower.
Slide the air-control nozzle back to engage the narrower, central tube to move air at speeds up to about 165 MPH. And its three-speed motor allows you to precisely match the power to the job at hand. Crank it up to blast away soggy leaves from your lawn, or decrease the power to air-sweep dust and dirt from your garage. There's even a Turbo button that you can depress to super-charge the motor to blast away particularly stubborn debris.
The Leafjet is also great for quickly clearing away debris from driveways, sidewalks, porches, patios, decks, front entryways, even roofs. And because it weighs just 6.6 lbs.—with both batteries installed—and is perfectly balanced, you won't feel fatigued using it for extended periods of time.
I recently conducted four different tests with the Leafjet:
First, I blew a wide swath of wet leaves and twigs from my front lawn, including across a flat area and up and down a steep hill. By adjusting the air-control nozzle and speed dial I was able to produce the correct air stream to move the debris—without sacrificing battery power. Next, a lot of bark mulch that had gotten washed out of our flowerbeds and onto the lawn. I used the Leafjet to air-sweep the mulch back into place, which was much faster and easier than using a rake. Then I cleaned our garage floor by using the Leafjet to blow out dust and dirt, which took less than two minutes; I'll never use a push broom again.
And finally I used the Leafjet in a most unusual way. My neighbor mentioned that he was going into his attic to remove some loose-fill fiberglass insulation that was blocking the soffit vents. I suggested a quicker, easier way: I stood outside under the eave of the house and used the Leafjet set on its highest speed to blast the insulation off of the vents and back into the attic. It worked perfectly!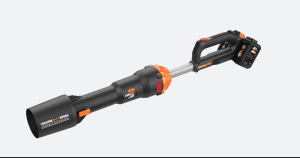 Other worthwhile features include:
Maintenance-free, brushless motor that runs cooler with less friction and heat buildup
Measures just 38 in. long with air-control nozzle fully extended
Vibration-absorbing rubber over-molded grip on handle
Three-speed control dial is conveniently built into the handle
Dual air intakes deliver high-volume airflow
Intelligent battery management system monitors each cell to enhance, power, performance, and runtime
Battery power indicator lets you know when to recharge the batteries
Runtime is typically between 30 and 45 minutes, depending on usage
The WORX Nitro 40V Leafjet Blower (WG585, $220) comes complete with two 4.0 amp-hour batteries and a dual-port battery charger. It's available at worx.com and Amazon. A bare tool version of the Leafjet is also available (WG585.9, $200), minus the battery and charger. And its batteries are compatible with any of the many tools in the WORX Power Share family of tools.
Summary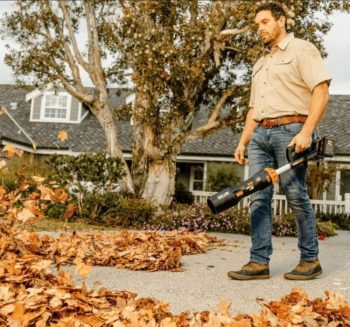 Article Name
Meet the Worx Nitro 40V Leafjet
Author
Publisher Name
Publisher Logo