Pegasus Times Two: Spacious, Space-Saving Workbench
Do you need a workbench?
Of course you do! But do you have space for one? Probably not. Most of us simply don't have any extra room in our already crowded garages, basements and storage sheds to install a permanent workbench. And even if you manage to clear a little space, you'd have to either buy a ready-made workbench for several hundred dollars, or build one from scratch—if you've got the tools, time and skills.
If none of those options sound appealing, consider this creative solution: Purchase two WORX Pegasus Folding Worktables and join them together to create one sturdy, spacious workbench (below).
For those not familiar with Pegasus, it's a multi-functional, super-versatile worktable that can be set up on virtually any flat surface, including the garage, driveway, patio, deck, or lawn. It easily converts to a sawhorse and, best of all for those of us with limited space, the Pegasus collapses down to a compact 5 in. x 25 in. x 35 in. for easy storage.
And while one Pegasus is plenty useful, owning two allows you to create a sturdy workbench that you can set up in a matter of minutes, and breakdown and store away just as quickly. Each Pegasus comes with Link Locks, which are small figure-eight-shaped rubber fixtures that fit tightly over round pegs molded into the surface of the worktable. To create a spacious workbench, just butt together two Pegasus worktables, rotate the Link Locks across the joint and snap them down to secure the two worktables together.
When joined together end-to-end, two Pegasus worktables create a workbench that's about 25 in. wide x 62 in. long. You can also connect the worktables side-by-side, forming a 31-in.-wide x 50-in.-long workbench. The double-team workbench is perfect for tackling all sorts of DIY tasks, such as sawing, sanding, drilling, routing, painting, staining, and furniture repair and refinishing.
The WORX Pegasus Folding Worktable (Item WX051; $99) also features two metal tracks that accept 18 3/8-in.-capacity trigger clamps, which are included. The clamps can be removed from the table and used separately, and when not in use, they store beneath the worktable. Also included are four bench dogs that press-fit into any of the 16 holes in the worktable's surface. Below the worktable is a 15-in.-wide x 18-in.-long shelf that's handy for storing tools and accessories. There's even a dedicated place to mount a power strip should you choose to electrify the Pegasus.
The worktable has two hinged, collapsible wings that fold down, converting the worktable into a rough-and-ready sawhorse. And molded into the upper rail of the sawhorse are two 1½-in.-wide slots that accept 2x4s (below) for supporting plywood, drywall and other large sheet goods.
Pegasus is constructed primarily out of super-resilient nylon composite, and weighs just 30 lbs. When set up as a worktable, it has a load capacity of 300 lbs. With its wings folded down into the sawhorse mode, it can support an impressive 1,000 lbs.
The WORX Pegasus WX051 is available at www.worx.com, and other online retailers, including Lowe's, Walmart and Amazon.
Summary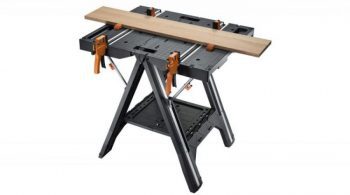 Article Name
Pegasus Times Two: Spacious, Space-Saving Workbench
Description
The WORX Pegasus Folding Worktables join together to create one sturdy, spacious workbench. Here's how you can use them in your home!
Author
Publisher Name
Publisher Logo