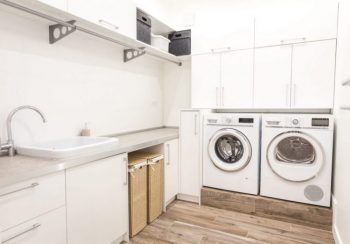 It can feel a little overwhelming when you have a number of DIY home repair projects that need to be completed. You look at all of the repairs and home improvement ideas you have, and you feel like you will never be able to get to it all. 
While it might seem like a lot, it is not hopeless. You just need to work out a system for how to prioritize home projects. When you get organized with your DIY ideas and set priorities, it will be much easier to work your way through the different home improvement projects you need to do. Determining how to prioritize your home projects can be done by making a list of all repair projects, setting a budget, and organizing by need and return on investment.
Make a List of DIY Home Repair Projects
If you want to learn how to prioritize home improvement projects, you need to start by figuring out what needs to be done. Walk through your house with a pen and paper and list every project that you need or want to do for the space. 
Check out everything from the condition of your roof to any issues that may exist in the basement. Inspect every room for repairs that may need to be done or for things you would like to update, refresh,  or improve. 
Once you have all of your home improvement ideas listed, you should then separate the tasks based on whether they are things you can do yourself or that you will need to hire a contractor for. Even if you have DIY skills and quality tools like the BladeRunner X2 Portable Table Top Saw, there might still be a few tasks that are better left to the professionals.
Set a Budget
With a list of your home repair needs, you can now start working on a budget. Take each task individually and find a price estimate for your home improvement projects. 
When you are looking at your list of projects that will require a contractor, try to find an average estimate for what it would cost to have the work done in your area. When you are looking at the price of DIY home repair projects, the materials will represent most of the spend.
In addition to materials, you may also need to consider the cost of buying new tools for some of your DIY ideas. If you need something like an oscillating tool for some of your projects, you may need to add the cost of the tool when considering your budget. However, for some larger or more expensive tools, you might prefer to look into renting or borrowing what you need.
Prioritize DIY Ideas By Need
Now that you have a list of your home repair needs and an idea of your budget, you can start setting priorities. When you are assessing priorities, you are going to want to put your needs above your wants. As an example, you would put something like repairing a leaky roof before a project like hanging crown molding. 
If you are having trouble figuring out how to prioritize your home projects, the following questions can help determine which projects should be at the top of your list:
Is the repair a safety issue?

Does it have an impact on the livability of the home?

Will the problem get worse if you wait?

Will the project make your home more efficient?
If the DIY idea gets a yes to one or more of these questions, it should have a higher priority than projects that do not address any of these concerns.
Prioritize Home Improvement Projects by Return on Investment
If you plan to stay in your home for more than a few years, ROI is not as much of a concern. However, if you are planning to sell your home in the near future, the impact on resale value should be a priority. In this case, the larger projects might get more attention from buyers, but it is often the smaller DIY home repair projects that offer the best ROI.
As an example, something as simple as refinishing your front door can provide a good return. With a tool like the 20V Sandeck 5-in-1 Multi-Sander and some finishing supplies, this is a simple DIY that can be done at a low cost and it will offer a good return on your investment. 
Don't feel discouraged if you have a long list of home improvements to do. If you take the time to get organized and develop a plan, you can work through them one by one. Before you know it, you will have all of the important items under control, and the remaining issues won't seem so bad.
Find the tools you need to get your next DIY job done at WORX!
Summary
Article Name
How to Prioritize Multiple DIY Home Projects
Description
Determining how to prioritize your home projects can be done by making a list of all repair projects, setting a budget, and organizing by need and return on investment.
Author
Publisher Name
Publisher Logo