Real Simple Magazine "The Drill That Boosts My Skills"
Worx Switchdriver giving confidence to Real Simple Magazine's October issue!
Real Simple Magazine's Rory Evans has a husband who builds cabinets. He taught her that hammers generally stink and that "if you really want to get something done right, you use a drill"… just not her husband's.
Rory says she found her husband Jamie's pro-style drill a bit daunting and that it had a "Demogorgon-like" chuck. She struggled with it, and so he bought her a Worx Power Share cordless Switchdriver! Immediately upon using the new gift Rorys fears subsided, and she now says that the Worx Switchdriver has made her a "capable badass – not merely the wife of one" 
Read the entire article by clicking here or on the photo below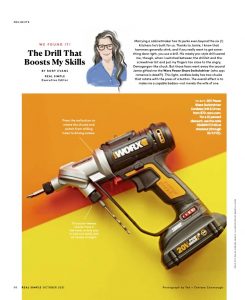 Learn more about the Worx Switchdriver below!