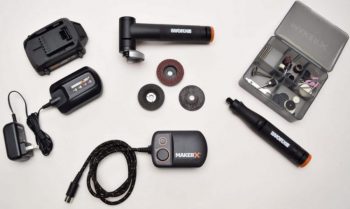 MAKERX: Revolutionary Multi-Purpose Tool
By Joseph Truini
For more than nearly 30 years, Worx has been designing and manufacturing some of the world's most versatile and innovative cordless power tools, including the Switchdriver, Hydroshot Ultra, and ExacTrack Circular Saw. And for the past eight or so years, I've had the pleasure of testing and then writing about many Worx tools. In all those years, I've never seen anything quite like the revolutionary new MAKERX. It's known as a precision power tool, but that doesn't remotely describe all that this multipurpose tool has to offer. With the introduction of MAKERX, Worx has created a new category of cordless power tools.
MAKERX is a line of ultra-compact, highly precise tools that are designed for use by woodworkers, jewelers, metal workers, machinists, model makers, wood carvers, fine-detail painters, hobbyists, and anyone else who's practicing an artistic or creative craft.
This initial launch of the MAKERX line includes five tools: high-speed rotary tool, angle grinder, heat gun, airbrush, and wood and metal crafter. However, the most exciting feature of the MAKERX line is that each tool is powered by the 20V Power Hub (shown above). Here's how the system works: A 20V lithium-ion battery slides onto the hub, which is about the same size as a deck of playing cards. The hub has an on/off button, speed-adjustment knob, and 4 ft. long flexible power cord that plugs into each tool. The result is a totally portable, cordless power tool system that you can use anywhere. And because the battery is attached to the power hub — not to the tool — each tool is super-lightweight, very compact, and easy to maneuver.
I recently tested the MAKERX two-piece combo kit (Item WX990L; $130), shown in top featured photo, which includes a 20V lithium-ion battery, battery charger, angle grinder, grinding wheel, sanding disk, cutting wheel, rotary tool, 47-piece rotary-tool accessory kit, and Power Hub.
The MAKERX rotary tool measures 1 in. dia. x 7 in. long, weighs about four ounces, and has a brushless, adjustable-speed motor that runs between 5,000 and 35,000 RPM. Its collet accepts all standard 1/8 -in.-shank rotary tool accessories. I installed the sanding drum to remove the stained finish from a decorative wood bracket. In just seconds, the drum sanded down to bare wood, leaving the contoured edges of the bracket perfectly smooth. The kit also includes accessories for buffing, polishing, grinding, etching, carving and cleaning virtually any material, including wood, metal and plastic.
The MAKERX angle grinder accepts 2 in.-dia. wheels and is used primarily to cut and grind metal, sand wood and remove paint and rust from metal. It's powered by a brushless, adjustable-speed motor that runs between 14,000 and 24,000 RPM. Weighing just over one-quarter pound, I found the angle grinder very comfortable to hold and to use, especially for extended periods of time. And I was pleasantly surprised by its power. I was able to slice through metal conduit in a matter of seconds without the tool bogging down.
When fitted with the appropriate accessory, the rotary tool can be used to polish tarnished doorknobs, sharpen knives, grind off corrosion from rusted tools, and engrave decorative designs in metal and plastic.
The angle grinder is handy for sanding paint off of wood moldings, slicing through bolts and screws, removing rust from corroded shovels, and cutting metal and plastic tubing.
Worx MAKERX tools are sold individually and in two-piece and three-piece combo kits. They're available online at worx.com and at Amazon.