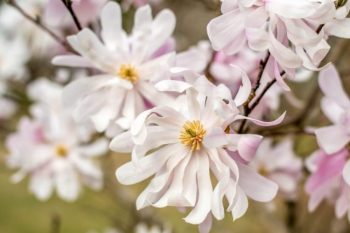 by Mark Wolfe
Spice up your landscape this spring with the addition of fragrant blooming shrubs. Whether you need a living screen, hedge, accent or focal point, these plants offer hardy, low maintenance characteristics that are pleasing to the senses as well.
Magnolia stellata, also known as star magnolia, is a perfect specimen for small landscapes and woodland gardens. It grows well in full or filtered sunlight. The snow-white or pink-flushed white blooms are borne in early spring and absolutely cover the plant and fill the air with a softly sweet aroma for up to several weeks prior to the leaves emerging. Magnolia stellata is adapted to USDA hardiness zones 4-9.
Syringa vulgaris, the common lilac, is well known for its intensely perfumed flowers which bloom at the end of spring. Available in shades of blue, purple, pink and white, there is a lilac variety to suit most any taste. This multi-stemmed deciduous shrub is well adapted for use as a screen or hedge, and is particularly effective as a backdrop for smaller, contrasting garden partners. Syringa vulgaris is suited for zones 3-7.
Philadelphus, mock orange, is a group that includes several species and hybrids offering citrus scented flowers in late spring, some varieties continuing until fall. These white blooming, deciduous shrubs vary greatly in size, bloom form and fragrance. The smallest forms may be tucked into a foundation planting or perennial bed, while the largest may substitute as small trees. Plant them in full to partial sun, in zones 4-8.
Daphne x Burkwoodii bloom in mid spring with an intensely sweet aroma. Perhaps the most commonly planted variety, 'Carol Mackie' has soft green foliage edged in white and bears pink flower clusters. It attains four feet in height and spreads to six feet or greater if unpruned, making it suitable for intimate settings such as seating areas, near entrances and along walkways. Moist, well-drained soil is a must. Hardy in zones 4-9.
Viburnum carlesii, Korean spice viburnum offers a spicy sweet scent in mid spring. Reddish buds open to reveal pink flowers which mature to white. Korean spice viburnum is a deciduous shrub which reaches eight feet tall and wide, a fantastic addition to a mixed shrub border or natural area. Viburnum carlesii is hardy in zones 4-7.
Rosa species, or roses, should be included on any list of fragrant bloomers. Look for "heirloom" roses for the most intense fragrances. Many "hybrid tea" roses offer varying degrees of fragrance, with repeat blooming as well. All roses are deciduous. Use them as specimen plants, or informal hedges; climbing roses may be used to cover fences, trellises or arbors. Roses are hardy in zones 3-9.
Curb appeal is important, but fragrance is an intimate part of your landscape that you will appreciate most of all. Treat yourself to something sweet.
Complement your yard's fragrant blooms with easy-to-use yard tools from worx.com