Winter Bouquets: Forcing Woody Cuttings to Bloom Indoors
Dormant branches yield beautiful blooms when brought indoors during winter.
Enjoy fresh blooms from the garden even in the middle of winter by forcing woody cuttings to bloom indoors. Forcing is term used to describe the process of encouraging a plant to bloom out of season. Flower bulbs are commonly forced to bloom at specific times for holidays and indoor decorating. When it comes to woody branches, the process of forcing simply involves coaxing plants out of dormancy a little early.
How to Force Woody Cuttings
Many plants need a period of cold before they bloom, but once flower buds have chilled long enough, they can be fooled into blooming indoors. Collect cuttings from woody trees and shrubs in late January and throughout February, after plants have experienced around six weeks of cold temperatures. The closer a plant is to its natural bloom time the faster the flower buds will open. 
Use proper pruning techniques to take cuttings by pruning branches back to an outward facing bud or cutting back to a natural branch point. Look for branches that need removal due to crowding or inward growth. Stems with a lot of fat, round flower buds will produce the most blooms. Place cuttings in a bucket of water as you work.
Bring the cut branches indoors and make a fresh cut at the base of the branch before arranging cuttings in a vase filled with warm water. Remove any buds that will be under water. Water flow into the stem and the warm indoor temperatures will encourage flower buds to open. Flower buds can take several days or even weeks to open, depending upon species and timing. Keep the water fresh by replacing ever few days.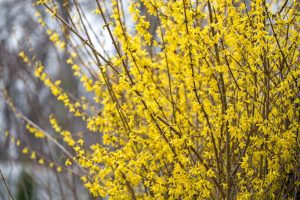 Which plants Work Best for Winter Forcing
Spring-flowering trees and shrubs work wonderfully for winter forcing, as these plants develop their flower buds during the fall of the previous year. Plants with smaller flowers are more likely to fully open their buds when brought indoors. Try forcing several different species until you find success. You might also experiment with timing, taking cuttings at weekly intervals until you get the timing right.
You can collect woody cuttings over several weeks, starting with the earliest bloomers: forsythia (Forsythia x intermedia), witch hazel (Hamamelis vernalis), fothergilla (Fothergilla species) and flowering quince (Chaenomeles speciosa). The colors of these blooms combine well for a beautiful arrangement.
As the season progresses try forcing cuttings of dogwood (Cornus species), redbud (Cercis canadensis), spirea (Spirea species), and magnolia (Magnolia species). Many fruiting trees are also great candidates for forcing and look stunning in a vase. Peaches (Prunus persica), plums (Prunus domestica), and flowering cherries (Prunus species and cultivars) are especially lovely.
Forcing woody branches to bloom out of season is a great way to brighten up a long winter day. Experiment with different combinations of plant material. Flowering branches look wonderful in combination with evergreen foliage. You can also create colorful arrangements using stems of yellow- or red-twig dogwoods. Enjoy the bounty of the winter garden as you get a jump on spring.