WORX Nitro 80V Self-Propelled 21″ Lawnmower Review
"I wanted to find out if this WORX walk-behind mower would deliver on the "gas-like power and performance" hype. This is what I learned."
As a freelance product tester and e-commerce writer, I have spent a lot of time researching and testing dozens of the most popular battery powered lawn mowers. Today's most capable models offer gas-like power and performance, easily tackling a half acre of lawn per charge, along with comfort features like adjustable self-propel systems, ergonomic handling, and convenient fold-down storage capability. I recently had the chance to try out the new WORX Nitro 80V Self-Propelled 21-inch lawn mower to find out how it measures up. Here's how it went.
WORX Nitro 80V Self-Propelled Lawnmower At A Glance
The WORX Nitro 80V Self-Propelled 21-inch Lawnmower is designed to compete with the top performers in the industry. It features an efficient brushless motor, and is powered by a high-capacity power pack. The rear wheel drive self-propel system with large 10-inch drive wheels offers excellent traction in varied terrain, even with a loaded bagger. Comfort and performance features include:
A 21-inch steel cutting deck with dual stage mulching capability
Single-lever control to switch between mulching, bagging, and side discharge
2-bushel bagger capacity
Single-lever, 7-position cutting height adjustment from 1.5 to 4.0 inches
High efficiency brushless motor
Auto-IntelliCut system adjusts mowing power to the mowing conditions
Variable speed rear wheel drive
Powered by (4) 20V 5.0Ah Power Share PRO high-capacity batteries
Battery power indicator
LED headlight
One-touch collapsible handle for compact storage
Performance Results
Right out of the box, getting started with the Nitro 80V lawn mower was easy. It came fully assembled with the exception of the bagger or side discharge chute, and the batteries. I inserted the four batteries into the Base Camp battery pack and plugged them in to charge overnight. I normally mulch my grass clippings, but since I wanted to try out all the features I assembled the bagger and brought the side discharge chute along for testing.
Regular Mowing
I used the Nitro 80V lawnmower in my own yard, which includes about 20,000 square feet of grass with rolling terrain. The mower was comfortable to work with, easily climbed slopes, even with a full bagger, and kept a steady pace on the downhills without feeling like it was pulling away. The bagged clippings were finely cut, and the finished lawn looked really clean. Brand new batteries fully charged delivered just enough run time to do the whole yard. Full disclosure here, my yard has a linear orientation that limits turning and helps to maximize battery efficiency. Other layouts or steeper terrain will probably reduce runtime.
Controls And Comfort Features
The Nitro mower's controls worked easily and intuitively. The deck height adjustment lever is conveniently located on the left side of the deck and includes a height indicator arrow for easy reference. The mulch, discharge, bagger mode lever is located at the rear of the deck and clearly labeled. At the handgrip, the starter button, wire bails for motor and drive wheels, self-propel pace adjustment lever, and headlight button are conveniently organized and comfortable to operate.
Another convenient aspect of the Nitro mower is the Base Camp powerpack that simplifies battery handling. Base Camp holds four 20V Power Share PRO batteries and can be removed from the mower for charging as a unit, or easily installed onto the Nitro 80V Cordless Backpack Leaf Blower to complete yard cleanup, all with the same set of batteries.
Heavy Duty Mowing
After cutting the lawn I wanted to see how the Nitro mower would handle more extreme mowing conditions. I recharged the batteries, removed the bagger, installed the side discharge chute, and headed for an overgrown area behind my vegetable garden that had not yet been mowed this spring. The area was about 1,000 square feet of overgrown grass and coarse weeds up to 12 inches tall.
The Auto-IntelliCut feature kicked in immediately. The motor ran noticeably harder to deliver stronger blade power for the dense grass and tall weeds. With the self-propel adjustment on the lowest setting, and the deck on its highest setting, I eased my way through the tangled mess. The mower did a great job, at least as well as my 150cc gasoline powered push mower. Battery run time was more than enough to mow the area a second time, this time one notch lower and switched into mulching mode with the discharge chute removed.
My Recommendation
Overall, the WORX Nitro 80V Self-Propelled 21-Inch Lawn Mower proved that it does indeed offer gas-like power and performance in a wide range of mowing conditions. It was comfortable and extremely easy to use in terms of adjustments and normal operation. When not in use, it conveniently folds flat for either vertical or horizontal storage. Bottom line, if you're shopping for a clean, quiet battery operated lawn mower, the Nitro 80V Mower would be an excellent choice.
Summary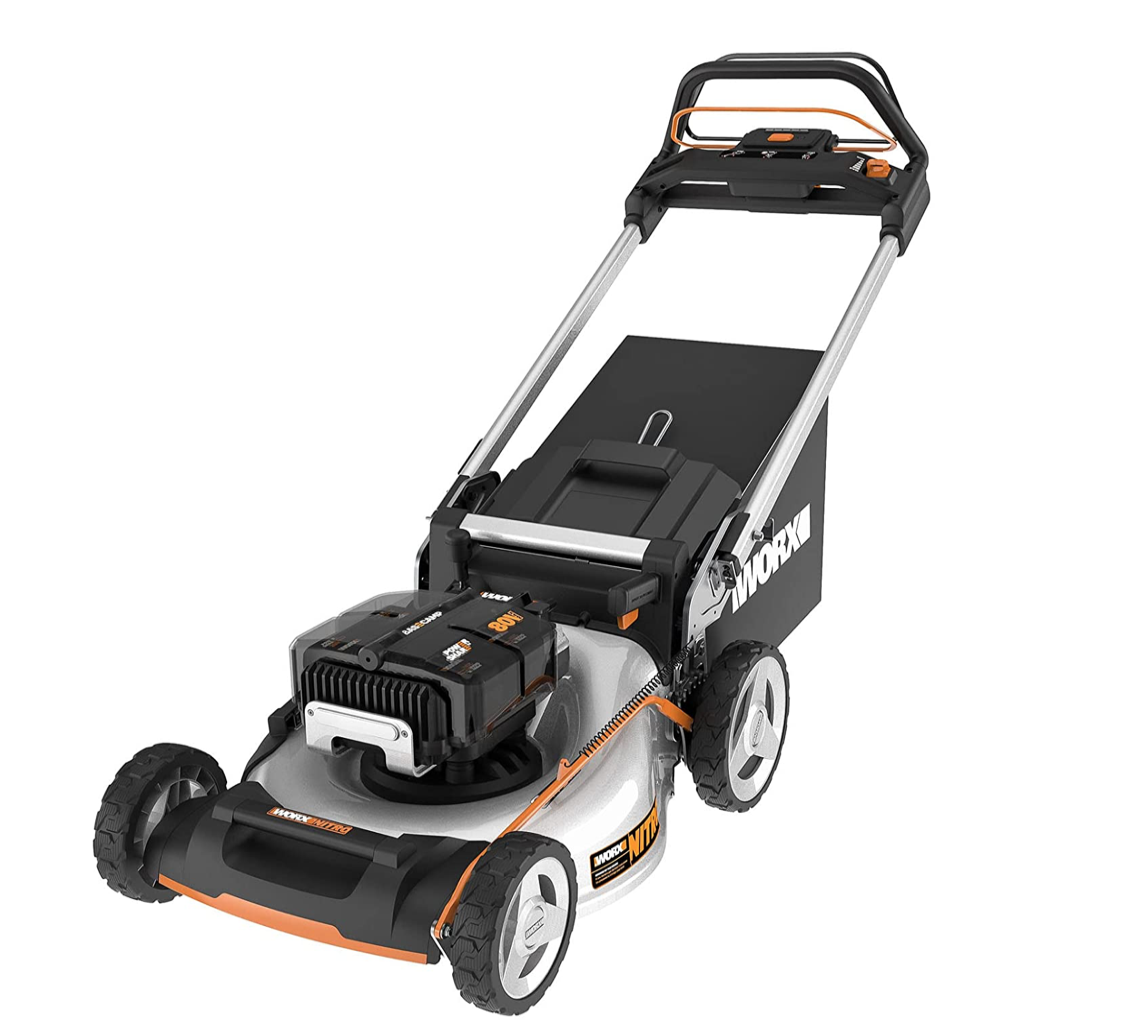 Article Name
WORX Nitro 80V Self-Propelled 21" Lawnmower Review
Description
"I wanted to find out if this WORX walk-behind mower would deliver on the "gas-like power and performance" hype. This is what I learned."
Author
Publisher Name
Publisher Logo