WORX Nitro Backpack Blower: 80 Volts of Leaf-Blasting Power!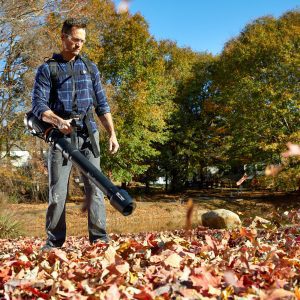 There's no quicker, easier—or more fun—way to clear away leaves than with a backpack blower. The problem is that gas-powered blowers are incredibly loud, emit noxious fumes, and require constant mixing and messing with oil and gasoline. However, you can avoid all those hassles without sacrificing power or portability with the new WORX Nitro 80-volt Brushless Backpack Blower (Item WG572, $640).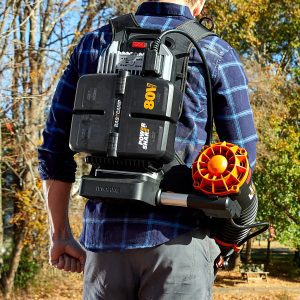 The Power..
This impressive machine is powered by four 20-volt, 5.0-Ah Power Share PRO lithium-ion batteries, and features a super-efficient brushless motor that runs 50% longer, is 25% more powerful, and has 10% longer life than a traditional brushed motor. As a result, you get gas-like power and performance from an eco-friendly, virtually maintenance-free blower. And the way the engineers at WORX designed the battery-charging system is nothing short of genius:
Attached to the rear of the backpack blower is a portable power pack, called Base Camp, which holds the four 20-volt batteries. When it's time to recharge the batteries, simply unclip the Base Camp from the blower and plug it into an electrical outlet with the included power cord. There's no need for an additional charging station. The Base Camp can also be used to power other 80-volt WORX tools, including the new Nitro Self-Propelled Lawnmower. And, of course, the blower's four 20-volt batteries can be used individually or in combination in the 75-plus tools currently found in the WORX lineup of 20-volt and 40-volt tools.  
The Technology..
Designed for homeowners with larger lawns and commercial landscapers, this 80-volt backpack blower utilizes a sonic-turbine fan to produce a remarkable 800 CFM of air volume at speeds up to 150 mph! And the turbine is enhanced by dual intakes that pull in additional air for even greater volume output. The result of all these hi-tech features boils down to one thing: greater blowing power to move even the most stubborn leaves and lawn debris.
Another notable feature is its variable air-control nozzle that lets you select the appropriate amount of air volume and speed for the leaf-blowing job at hand. For example, slide the nozzle forward into Volume Mode to produce high-capacity airflow, which allows you to round-up the most leaves as fast as possible. Slide the nozzle back to switch into High-Speed Mode, which concentrates and accelerates the air stream to blast away wet or compacted leaves. Finally use the Turbo Mode by holding down the trigger whenever you need an extra blast to move especially stubborn leaves and debris, such as when trying to clear sand and damp leaves from a rough concrete walkway or driveway.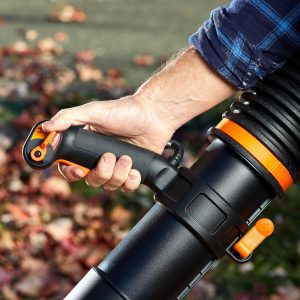 My Demo Experience..
I tested the Nitro backpack blower on my four-acre property, which features several hundred deciduous trees, hilly grass-covered terrain, and stone walls and rock outcroppings that love to trap leaves. It had no problem clearing leaves, twigs and acorns from wide, flat sections of lawn. Next, I found a low-lying patch of lawn that was covered with a thick layer of soggy leaves. The high-speed setting moved the top few layers of leaves, and then I employed the Turbo Mode to blast away the dampest leaves.
Finally for the toughest test, I used the blower to remove leaves, twigs and pine needles from a stone wall and large outcropping of rock. It took a little longer than clearing wide expanses of grass because of all the craggy surfaces and small openings, but by utilizing the blower's variable speeds I was eventually able to blow all the leaves out into a clearing and into a nice, neat pile.
I also used the blower—set to low speed—to clear out dust and debris from my garage and workshop. I first tried the high-speed setting, but in the enclosed space the air stream was too powerful, making it difficult to direct the debris out the door.
And one last, but important observation: this is one quiet machine. Using my electronic noise meter, I found that the WORX Nitro backpack blower operates between 63 (Low) and 83 decibels (Turbo). For comparison, 63 decibels is about as loud as a dishwasher, and 83 decibels is slightly quieter than a blender. (Exposure to any sound over 85 decibels for an extended period of time is considered harmful. Most gas-powered backpack blowers operate between 95 and 105 decibels. )
The WORX Nitro 80-volt backpack blower weighs about 23½ lbs., including the batteries, and it'll run continuously for more than 3½ hours on Low. It's is available at worx.com and Amazon. To see a video of the blower in action, click here.
Summary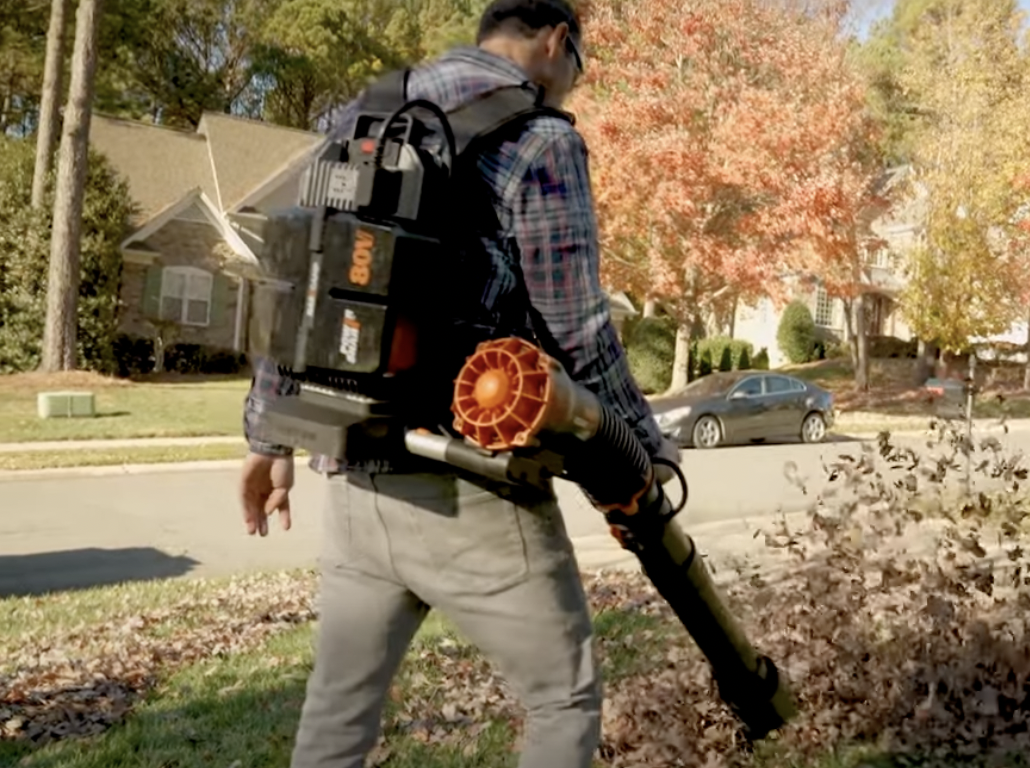 Article Name
WORX Nitro Backpack Blower: 80 Volts of Leaf-Blasting Power!
Description
There's no quicker, easier—or more fun—way to clear away leaves than with a backpack blower. The problem is that gas-powered blowers are incredibly loud, emit noxious fumes, and require constant mixing and messing with oil and gasoline. However, you can avoid all those hassles without sacrificing power or portability with the new WORX Nitro 80-volt Brushless Backpack Blower
Author
Publisher Name
Publisher Logo