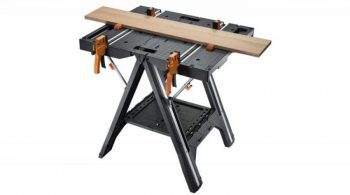 When the fine folks at WORX contacted me recently to see if I'd be interested in testing their latest product—Pegasus—I jumped at the chance. I've been a fan of WORX products for many years and have always been impressed with their innovative, user-friendly designs and technologically advanced engineering. But none of my previous WORX experiences prepared me for the wonder that is Pegasus.
Pegasus is first and foremost a portable worktable that can be used on the jobsite, in the workshop, out in the yard, or wherever you need a flat, stable work surface. It stands at a comfortable working height of 32 in., folds for easy storage and transport, and weighs just 30 lbs.—but that's just for starters.
The 25-in.-wide x 31-in.-long worktable is fitted with two metal tracks that accept 18 3/8-in.-capacity trigger clamps, which are included. The quick-action clamps slide into the tracks from either side of the table, and are easily adjusted for securely gripping workpieces for cutting, sanding, drilling, routing, painting and assembling. The clamps can also be removed from the table and used separately. When not in use, the clamps store beneath the worktable.
Also included are four bench dogs that press-fit into any of the 16 holes in the worktable's surface. The plastic dogs are used in conjunction with the clamps to grip virtually any size or shape workpiece. Below the worktable is a 15-in.-wide x 18-in.-long shelf that's handy for storing tools and accessories. There's even a dedicated place to mount a power strip should you choose to electrify the worktable. And if you'd like to expand the work surface, Pegasus comes with linking tabs that allow you to easily join together other Pegasus worktables edge to edge.
Now, if Pegasus was only a sturdy, portable, folding worktable, that'd be impressive enough, but there's more. The table has two hinged, collapsible wings that fold down, converting the worktable into a rough-and-ready sawhorse.
Molded into the upper rail of the sawhorse are two 1½-in.-wide slots that are designed to hold 2-by lumber, making it compatible with another Pegasus or with a WORX Clamping Sawhorse.
Pegasus is constructed primarily out of super-resilient nylon composite. When set up as a worktable, it has a load capacity of 300 lbs. With its wings folded down into the sawhorse mode, it can support an impressive 1,000 lbs.
The new WORX Pegasus WX051 worktable will be available starting in October at www.worx.com, and other online retailers, including Lowes.