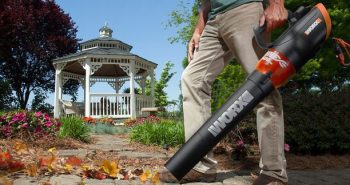 While waiting for the weather to warm and spring rains to pass it's a good time to clean out the potting shed, storage units and the garage.
When cleaning out the garage, a broom or vacuum works best to remove wood or metal shavings, but ditch the broom and consider using a leaf blower, such as the powerful new WORX TURBINE 600 (WG520) 12 amp 600 cfm Electric Blower to turbo blast dust and cobwebs that collect in corners and behind work benches and storage units and other hard to reach places.
Begin by putting way any papers and securing anything else you don't want blown away. Do open the overhead door before you start. Store any bottles of garden chemicals in a cabinet behind close doors so they too will not be blown over. You will be amazed at how quickly the job gets done and clean the floors are after you're finished.
Dress for success when using the WORX TURBINE 600 Electric Blower or any other motorized or machine run yard equipment. Protective eyewear, a dust mask and earplugs are a must. Tight fitting clothing and sturdy closed toe boots or shoes are also the dress of the day.  Do not wear scarves and jewelry, such as neck chains and bracelets and tie back long hair into a ponytail or tuck it under a cap.
The new WORX TURBINE 600 is the perfect solution for those who have larger spring cleanup projects than the amazing light weight lithium battery operated WORX AIR blower can handle, yet don't want to struggle with hard starts and mess with gas and oil that's required of the more powerful gas engine driven engine models. For all its power, the new WORX TURBINE 600 is surprisingly light, weighing in at just shy of 6 ½ pounds, making it easy to operate with one hand.  And, it can be stored away in its sturdy shipping box measuring just 11 inches high by 10 inches wide by 18 inches long – a bonus for those who are short on storage space.
The turbine fan technology delivers forceful, high-capacity air volume and a hyper stream air nozzle is designed for extra tough conditions, such as matted leaves and blowing chunky wood-based mulch that floats out of landscape beds during a heavy rain.  The powerful variable speed control produces air speeds that range from 60 to 110 miles per hour.  And the best news is its value priced at just $59.99!
 Check out the full line of battery and electric TURBINE leaf blowers at worx.com