13 Amp 1600 PSI Electric Pressure Washer (1.3 GPM) (Discontinued)
13 Amp 1600 PSI Electric Pressure Washer (1.3 GPM) (Discontinued)
is rated out of
5
by
161
.
3 Year Warranty
30 Day Guarantee
Details
High-pressure rating for tough cleaning jobs like concrete, brick, and masonry.
Multiple nozzles make it suitable for cleaning a wide variety of things like vehicles and windows.
The wheeled cart makes it easy to move around the yard.
Onboard hose reel to quickly wrap-up when you're done.
Onboard soap tank for simple soap application.
Accessory slots and integrated cord-wrap for organized storage.


MAX Pressure | Rated Pressure
2240 MAX psi | 1600 psi
MAX Flow Rate | Rated Flow Rate
1.93 MAX gpm | 1.3 gpm
Pump | Motor
Axial Cam Pump | Universal Motor
Unit Weight
29.1 lbs. (13.19 kg)
PSI is the pressure (lbs. per square inch) at which the water exits the nozzle. The GPM (gallons per minute) refers to the a
mount of water volume that exits the nozzle during a specified amount of time.
A combination of both PSI and GPM are important in determining the ultimate performance of a pressure washer.
A higher waterflow rate (GPM) helps "flush" out debris from a large cleaning area, while a higher PSI provides a greater "grime"
removal rate, and typically, in a more concentrated area.
The included nozzles have standard ¼" fittings that insert directly into the end of the spray wand by depressing the brass ring
on the wand, inserting the nozzle, then releasing the ring. The nozzle should then "snap" into place.
Aside from the turbo nozzle WA4037, all other hydro accessories are only designed (and rated) for use on the Hydroshot and cannot be used on other pressure washing equipment.
Fill the soap tank with a selected detergent. Secure the soap tank cap. Adjust the dial on the cap to allow for a lesser or greater flow of soap. For best results, the soap nozzle needs to be utilized to draw soap from the soap tank. The soap nozzle allows for higher flow, which in turn pulls the soap through the pressure washer.
Any type of "pressure washer concentrate" can be specified as they're designed to be used with the pressure washer. There are all sorts of variations – multi-purpose cleaner concentrate, boat/rv/auto wash concentrate, etc.
Primarily after initial startup, residual air can still be trapped in the hose. Continue to hold down the trigger of the wand to allow the water to flow through the hose and expel any remaining air.
This is an electric tool and does not use batteries. You will need an extension cord connected to a power outlet to use this tool. You can check for extension cord gauge and length on the grid in your manual.
FREQUENTLY PURCHASED TOGETHER
FORCEFUL & FUNCTIONAL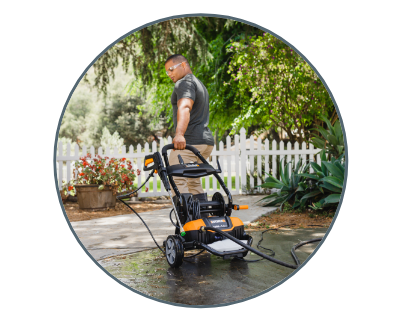 ROLLING CART CONVENIENCE
Lugging a big pressure washer around the yard can be a drag, so we added wheels onto the durable metal frame to make it easier on the user to transport.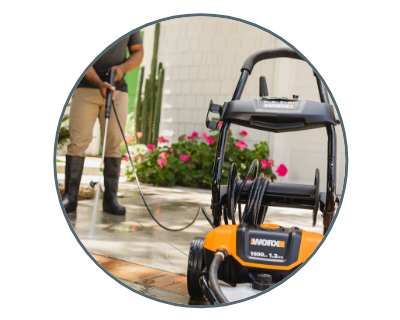 4 NOZZLES
A Turbo nozzle for brick and tougher stuff, then 25° and 40° nozzles for objects that need a little less pressure, and a soap nozzle for the filthy jobs.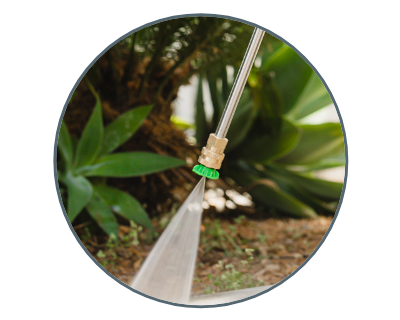 QUICK NOZZLE CHANGES
The metal wand is tipped with a brass M22 quick-connector so you can easily switch between all those nozzles as you move between cleaning tasks.