Hydroshot Bottle Cap Connector
Details
Enhance the portability and convenience of your Hydroshot.
Fits most 2-liter bottles with a 1 in. opening.
Connects easily and instantly – will not drip or leak.
Compatible with all Hydroshot models.
Compatible With
WG620, WG625, WG629, WG629.1, WG630, WG640, WG644, WG649
(1) - Bottle Cap Connector with Draw Hose
The Hydroshot Bottle Cap Connector is an accessory designed to allow you to use most 2 liter bottles as a portable water source for your Worx Hydroshot.
This is designed to connect your Worx Hydroshot to a 2-liter bottle and is not compatible with traditional pressure washers. Without a Hydroshot, this accessory won't work for you, but you can order your Hydroshot here.
First, remove the hose adaptor coupling from the Hydroshot while being careful not to remove the hose filter washer. Insert the bottle cap connector attachment into a 2 liter bottle of ordinary tap water and screw the top on the bottle. Attach the bottle to the Hydroshot and you're ready to go!
The HydroShot is designed for use with fresh water sources, and using chemicals, cleansers, salt water or any other non-fresh water sources in it will void the warranty. For tough cleaning needs, the soap dispenser accessory can be used to mix any after-market cleaning solutions or liquid soaps. After using fresh water from a pool, lake, river or pond, flush the tool with ordinary tap water to ensure its longevity and performance.
Regardless of the tool or job at hand, we recommend that our customers follow standard safety precautions while using our tools, including wearing safety eyewear, gloves, appropriate shoes and clothing, and keeping hair tied back. Always refer to the owner's manual for complete safety information before operating any tool.
If you decide the Hydroshot Bottle Cap Connector isn't the right for you, we offer a 30-day Money Back Guarantee from date of receipt (less shipping and handling). Please call our customer service center at 1-866-354-9679 (WORX) and we'll be happy to assist. For more information, click here.
View more information on our warranty here.
Need a replacement hose filter washer? Many replacement parts are available online under Accessories.
CALIFORNIA PROPOSITION 65 WARNING:
This product can expose you to chemicals including lead, phthalate or bisphenol A which are known to the State of California to cause cancer, birth defects or other reproductive harm. Wash your hands after use. For more information go to www.P65Warnings.ca.gov.
PROPOSITION 65 DE LA CALIFORNIE AVERTISSEMENT:
Ce produit peut vous exposer à des produits chimiques, incluant au plomb, au phtalate ou au bisphénol A, qui sont reconnus dans l'Ètait de Californie comme pouvant causer un cancer, des anomalies congénitales ou d'autres dommages à l'appareil reproducteur. Assures-vous de bien vous laver les mains après usage. Pour en savoir plus, veuillez consulter le site www.P65Warnings.ca.gov.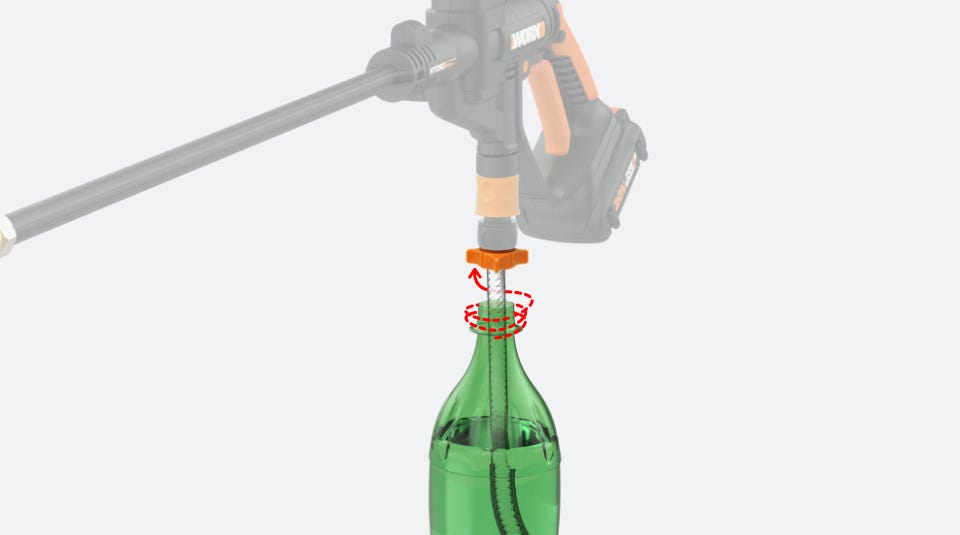 DITCH THE HOSE
Everyone has a 2L bottle lying around. Hook it up to the Hydroshot and carry your water with you for quick spot cleaning.
FREQUENTLY PURCHASED TOGETHER