Nitro 20V Power Share Cordless LED Work Light - Tool Only
Nitro 20V Power Share Cordless LED Work Light - Tool Only
is rated out of
5
by
278
.
3 Year Warranty
30 Day Guarantee
As low as
$89.99
Regular Price
$89.99
Details
Power to Outperform—Worx NITRO tools are engineered to provide greater power, performance, and runtime.
LED work light provides 1500 lumens for vibrant lighting.
Portable and easy to transport anywhere.
Versatile frame with hooks offers multiple options for hanging or standing.
Pivots 360° for maximum versatility.
Share batteries, save money—Worx Power Share intelligent batteries maximize power, performance and run time and are compatible with all Worx 20V and 40V tools, outdoor power and lifestyle products.
(1) - Nitro 20V LED Work Light
This is our tool-only version, which does not include either a battery or charger. Tool-only models allow you to take full advantage of our Power Share platform to save money by using the 20V Worx batteries and chargers you already own.
With the battery installed, the flashlight is only slightly more than 1.5 lbs. Such a lightweight and compact design makes it the perfect light to take anywhere or to keep on hand for household tasks requiring a little extra light or for those unexpected emergencies.
The Nitro 20V LED Work Light has many possible positions which can cause some variation in the measurements. The frame measures 9-3/4 in. wide, up to 8-1/2 in. deep and up to 11 in. tall.
The thumb screws on the Nitro 20V LED Work Light are designed to help hold the light in the perfect position, regardless of the position of the light. Position your light, then angle it to best suit your job, and tighten the thumbscrews to secure it.
The hook is made of durable, reinforced ABS nylon.
While Power Share™ allows you to share batteries between tools within the same voltage family, batteries should only be used with tools of a corresponding voltage. Use your 20V MAX Lithium battery with any 20V WORX tool – even the garden tools – but save your 32V battery for your 32V tools and your 40V battery for your 40V tools.
Yes! Just attach a fully charged battery, and you're ready to go.
Given the unique configuration, the bulb isn't replaceable, but with 50,000 hours of burn time, it's unlikely you'll need to replace the bulb for a long time.
Carefully review the owner's manual for all safety information and guidelines. Follow safety precautions while using any power tools – including wearing safety eyewear, gloves, appropriate shoes & clothing, and keeping hair tied back. See the owner's manual for complete safety instructions and details.
NOTE: The Work Light is designed to be weather resistant, but be sure not to leave your light or battery outside in the rain.
Need an higher capacity battery or a faster charger? Many replacement parts are available online under Accessories.
Frequently purchased together
Light Up the Jobsite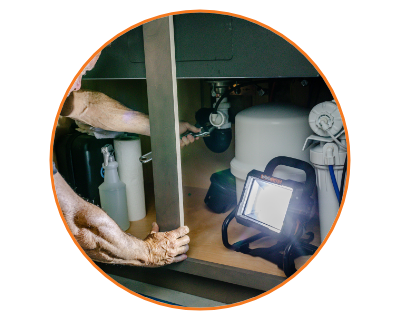 A Bright Light
1500 lumens provides impressive lighting for your workshop, garage, or home.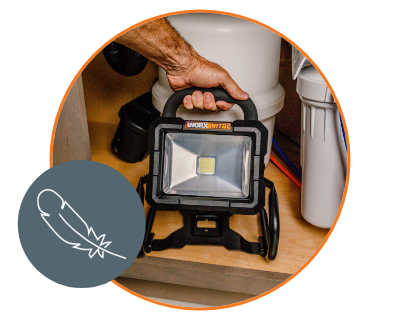 Only 5.6 lbs.
Light, even with the battery attached, but sturdy so you can take it with you. And it's built to last.
Hang Almost Anywhere
Configurable frame & hanging hook will hang the LED work light from almost anything: shelves, hoods, pipes, etc.