Nitro 40V Power Share 20" Cordless Snow Blower with Brushless Motor
5 Year Warranty
30 Day Guarantee
Details
The Power to Outperform—Worx NITRO™ tools are engineered to provide greater power, performance, and run time.
High-efficiency brushless motor runs 50% longer, is 25% more powerful, and has a 10X longer life than brushed motors.
180° rotating chute widens directional control and boasts a snow-throwing distance of 20 ft.
One-touch snow deflector allows for quick adjustment of throw height and distance.
Dual LED lights boost visibility in low-light conditions.
Fully-collapsible handle simplifies storage and saves space.
Convenient carry handle supports easy lifting and portability.
Same Battery, Expandable Power. The same battery powers over 75+ 20V, 40V, and 80V lifestyle, garden, and power tools in the Power Share™ family.
Capacity
2 4.0Ah Batteries
Clearance Width
20 in (50.8 cm).
Intake Depth
10 in( 20.4 cm).
Throw Distance
20 ft (6.09 m).
Unit Weight
35.7 lbs (16.19 kg). I 32.8 lbs (14.87 kg). (bare)
(1) - 40V 20" Snow Blower
(2) - 20V 4.0Ah Batteries
Ensure the batteries have not been sitting out in the cold for an extended period of time as this may cause the snow blower not to start. The batteries operate at optimal performance when at normal room temperature.
The rotating chute handle needs to be removed prior to collapsing the handles. Then, loosen the (4) levers on the handles and fold up the handles on top of the snow blower.
It is recommended to snow blow during, or right after, the snow falls as the snow tends to harden and get icy over time. The snow blower will operate more efficiently during periods of "dry/fluffy" snow, rather than wet/heavy or icy snow.
The LED lights will automatically turn on/off when the operating bail-handle is actuated.
Frequently purchased together
Don't Let Snow Slow You Down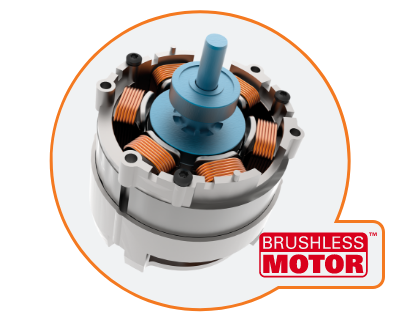 Brushless is Better
The high-efficiency brushless motor boosts power and extends run time so you can get more done on a single charge.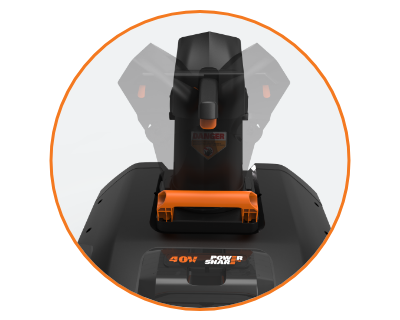 20 ft. Throwing Distance
The 180° rotating chute and the one-touch snow deflector lets you quickly adjust which way you want to blow the snow.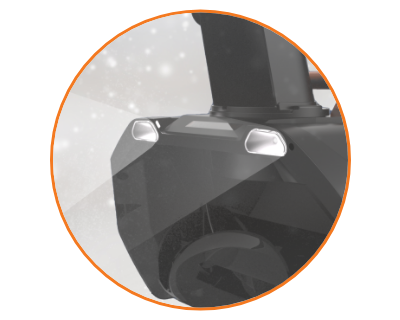 Keep the Snow in Sight
Don't be restricted by short winter days. Long-lasting dual LED lights make it easier to clear paths in the early morning or at night.