Landroid Anti-Collision System
3 Year Warranty
30 Day Guarantee
Details
Uses ultrasonic detection to sense and navigate around obstacles other robotic mowers would bump into.
Helps Landroid navigate without collisions to prevent damage to trees, outdoor furniture and other objects in your yard.
Obstacle avoidance allows Landroid to better maintain your lawn without interrupting its algorithm.
Easy to install, simply screws to the top of your Landroid.
Compatible Models - WR140 and WR150
What is the detection range of the ACS accessory? ACS will detect objects that are 5 inches high, and begin to detect obstacles that are within 8 inches of Landroid.
Typically, Landroid will bump into an obstacle and turn around. Anti-Collision System (ACS) accessory helps your Landroid sense obstacles via ultrasonic detection and navigate around them instead of running over or bumping into them.
ACS will detect objects that are at least 5 inches high. Smaller obstructions that are closer to the ground like dog toys or sticks will get pushed away or run over by Landroid and could get caught in the cutting disc.
Installation is easy, first remove the cap covering the cables inside the mower. Once this cap is removed attached the cables from the ACS accessory to the appropriate cables on the mower. Use the hex screws provided to secure the ACS onto the top of the Landroid. Be sure to enable ACS in the Landroid app.
If you aren't happy with your item you may return it within 30 days for a full refund. All products come with a 2 year limited consumer warranty. Register your product by visiting https://www.worx.com/3-year-limited-warranty/within 30 days of purchase for an additional year, extending your warranty to 3 years. Parts subject to normal wear and tear not covered by the product warranty.
CALIFORNIA PROPOSITION 65 WARNING:
This product can expose you to chemicals including lead, phthalate or bisphenol A which are known to the State of California to cause cancer, birth defects or other reproductive harm. Wash your hands after use. For more information go to www.P65Warnings.ca.gov.
PROPOSITION 65 DE LA CALIFORNIE AVERTISSEMENT:
Ce produit peut vous exposer à des produits chimiques, incluant au plomb, au phtalate ou au bisphénol A, qui sont reconnus dans l'Ètait de Californie comme pouvant causer un cancer, des anomalies congénitales ou d'autres dommages à l'appareil reproducteur. Assures-vous de bien vous laver les mains après usage. Pour en savoir plus, veuillez consulter le site www.P65Warnings.ca.gov.
FREQUENTLY PURCHASED TOGETHER
VISIONARY TECHNOLOGY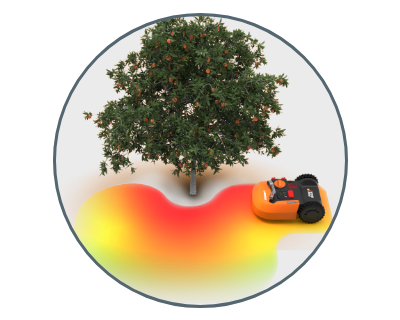 "LANDROID! LOOK OUT!"
Automotive-grade sensors in the ACS steer around trees and obstacles that other robotic mowers run into.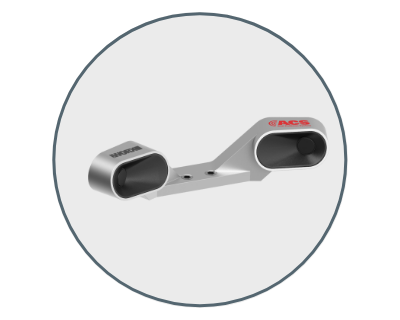 GIVE LANDROID 20/20 VISION
ACS's sensory information makes Landroid see better and work smarter. Landroid is able to better navigate its unique algorithm to give you the best lawn ever.
EASY INSTALL
Just pop off the module cap, slide the ACS into its designated slot, and use two screws to keep it there. Now Landroid has eyes on your yard.