Landroid Garage Protection
3 Year Warranty
30 Day Guarantee
Details
The Landroid garage provides mower with extra layer of protection against the elements like extreme heat, heavy rain or wind.
Easy to install, garage simply screws onto Landroid's charging base.
Made to fit all of the current Landroid models.
Landroid returns automatically to the garage when it is done mowing.
Compatible Models
WR140, WR150, WR794
The Landroid garage is an accessory that protects Landroid from weather such as extreme heat and heavy rain. Although Landroid is meant to live outside, we recommend purchasing the garage as an extra layer of protection for your investment.
The Landroid garage requires some assembly. The only tool you will need from your tool box is a screwdriver. Once assembled, it will fit directly over your charging base and is held by 8 lawn screws (provided in box).
The Landroid garage is designed to fit all Landroid models, current and discontinued.
Although not required, it is recommended that you store away your garage and charging base when you put Landroid away for the winter. Simply unscrew the garage from the base and store away. Be sure to cover any exposed wire.
If you aren't happy with your item you may return it within 30 days for a full refund. All products come with a 2-year limited consumer warranty. Register your product by visiting https://www.worx.com/3-year-limited-warranty/within 30 days of purchase for an additional year, extending your warranty to 3 years. Parts subject to normal wear and tear not covered by the product warranty.
CALIFORNIA PROPOSITION 65 WARNING:
This product can expose you to chemicals including lead, phthalate or bisphenol A which are known to the State of California to cause cancer, birth defects or other reproductive harm. Wash your hands after use. For more information go to www.P65Warnings.ca.gov.
PROPOSITION 65 DE LA CALIFORNIE AVERTISSEMENT:
Ce produit peut vous exposer à des produits chimiques, incluant au plomb, au phtalate ou au bisphénol A, qui sont reconnus dans l'Ètait de Californie comme pouvant causer un cancer, des anomalies congénitales ou d'autres dommages à l'appareil reproducteur. Assures-vous de bien vous laver les mains après usage. Pour en savoir plus, veuillez consulter le site www.P65Warnings.ca.gov.
FREQUENTLY PURCHASED TOGETHER
PROTECT YOUR INVESTMENT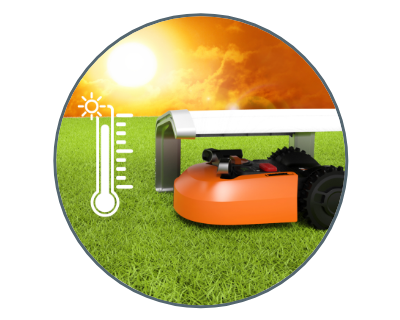 LANDROID IS WEATHERPROOF, BUT...
...the garage protects it against extreme conditions. It's a great way to make your new buddy last longer.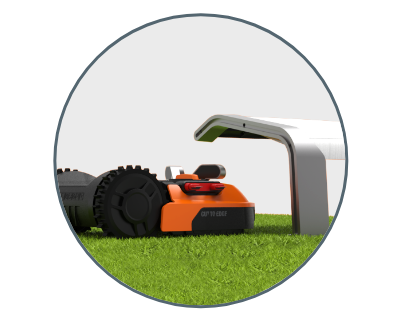 WHEN IT RAINS, IT POURS
Landroid can tell it's raining and returns to the garage to recharge and wait out the storm. You don't want it mowing wet grass, anyway.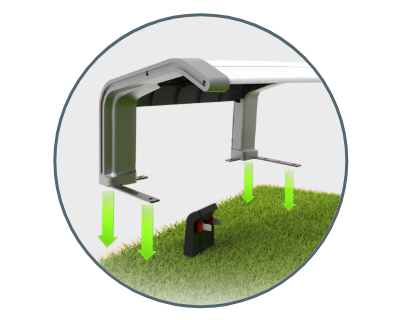 A BREEZE TO BUILD
Just screw the frame to the roof, then screw the feet to the charger. You're done! Now your Landroid has a home.