Beginner
Custom Painted Shoes

Supplies
MAKERX Air Brush
White Canvas or Leather Shoes
High-flow Acrylic Paint, or Air Brush Specific Paint
Painter's Tape
Craft Knife
Cutting Mat
Optional: Gloves, Sealant, Tarp or Paper to protect work surface
Step by step instructions
Prepping the Shoes
---
1. Begin applying painters tape to the soles of the shoes. Be sure to smooth down the tape edges evenly.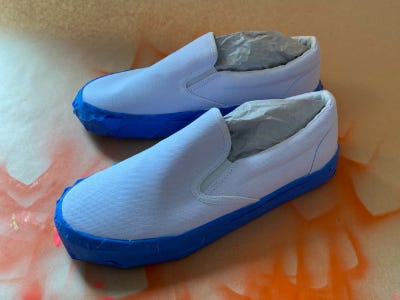 2. Insert scrap paper into the shoes' openings to help keep overspray from getting inside the shoes.
Painting the Shoes
1. If necessary, protect your work surface from overspray.
2. Following MAKERX Air Brush instructions, load the paint reservoir about ⅓ full with the color of your choice (in this case, red).
3. Starting at least 4 inches away from the surface, begin to move the air brush in slow, steady motions, gradually bringing it closer to the shoes. Adjust the air and paint flow as needed for an even application of paint.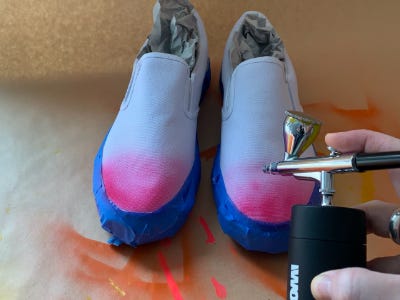 4. It is helpful to work across both shoes at the same time, to help keep the colors consistent.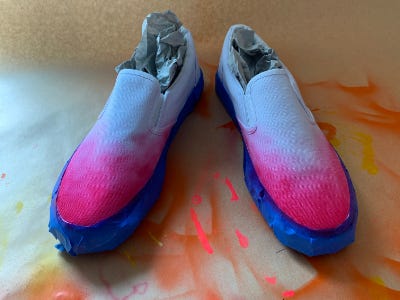 5. After you have applied the first color onto the toes, it's time to change to the second color (orange).
To change colors, thoroughly exhaust the current color, and rinse the reservoir with water. Add the new color to the reservoir and spray on scrap paper or cardboard until the color sprays true.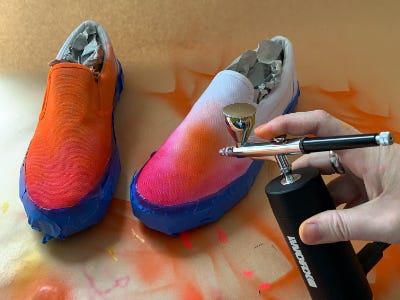 6. Be sure to move the shoes around, to achieve full paint coverage.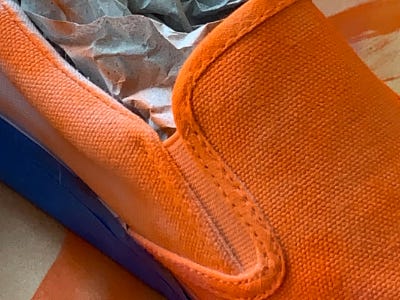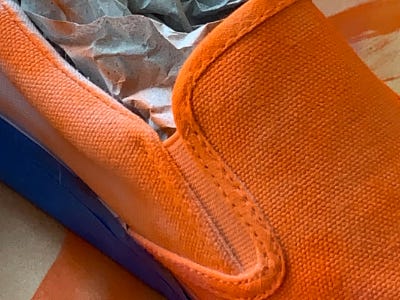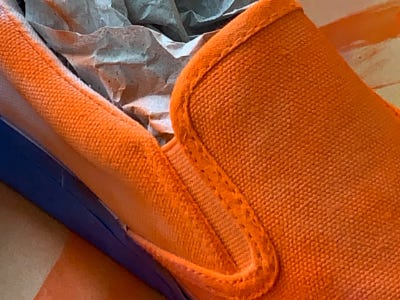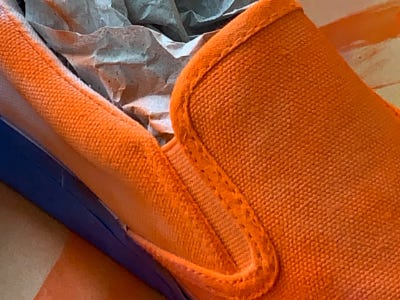 7. As you add the second color, be sure to go over the first one, to create a more even ombre effect.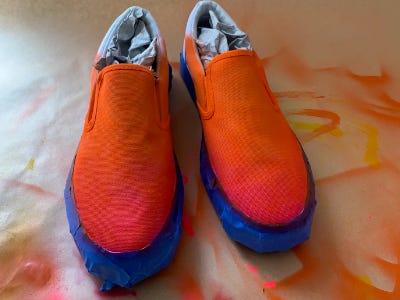 8. From time to time, check on the matching color placement on your shoes.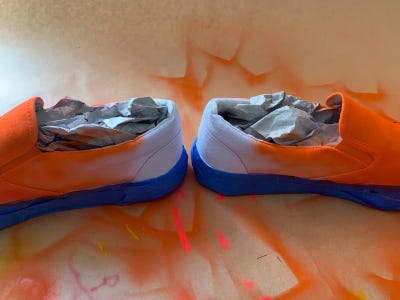 9. Change to the third color (yellow), repeating steps 5-8.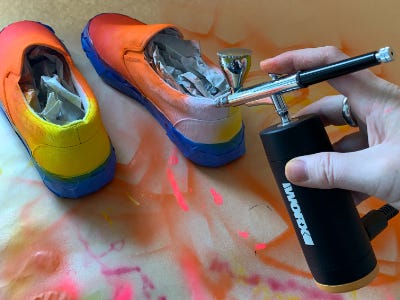 10. If desired, you can create designs by applying the tape to the surface of the shoes.
Put a layer of painters tape onto the cutting mat, overlapping the edges.
Draw your design onto the tape.
Carefully cut out the design with a craft knife.
Gently peel the tape up in one piece, and apply to the shoe, making sure to smooth the edges of the design to avoid paint getting under the tape.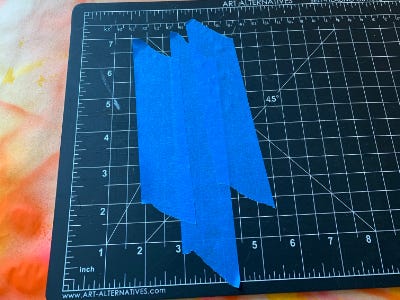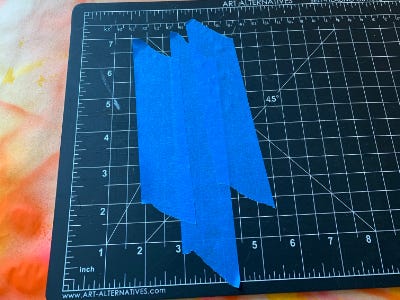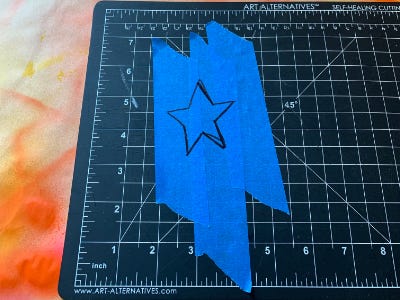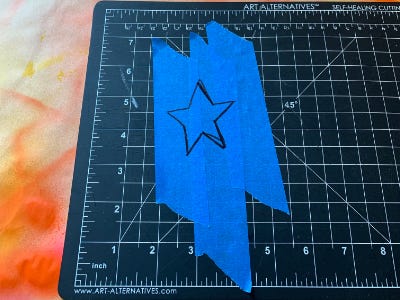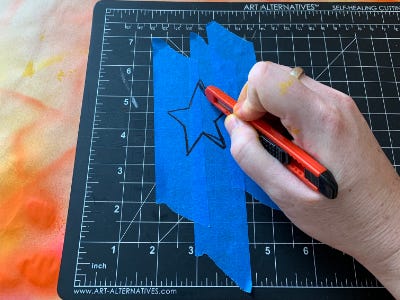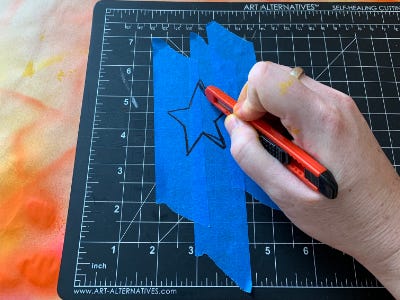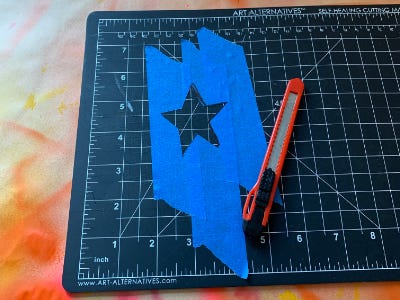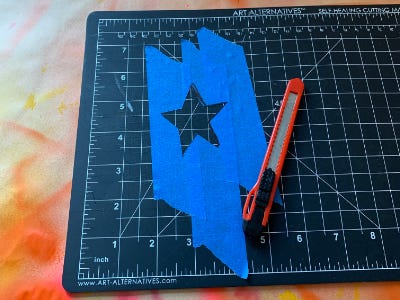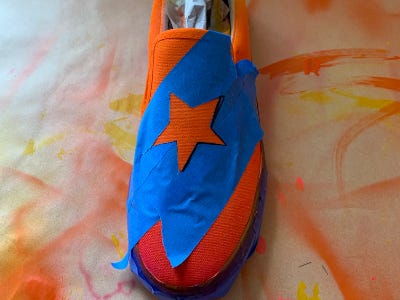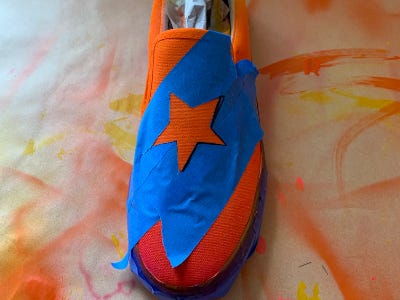 11. Change color again, and spray over the design on the shoes.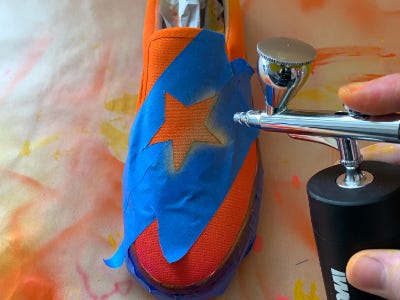 12. Peel the tape off carefully and you can use it again on the other shoe! Otherwise, recreate the tape design in step 10.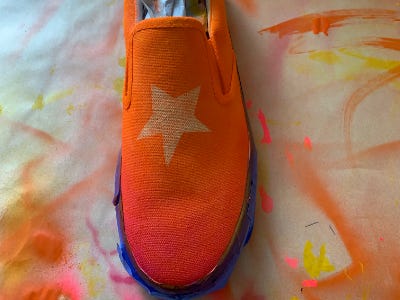 13. If desired, add dots by holding the air brush close to the surface of the shoes, and quickly spraying paint.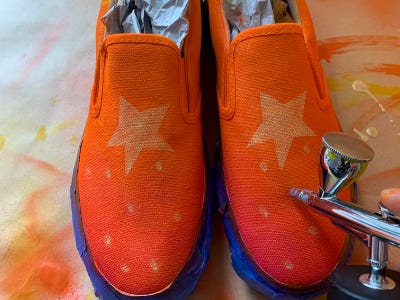 14. When dry, gently peel the tape away from the shoes.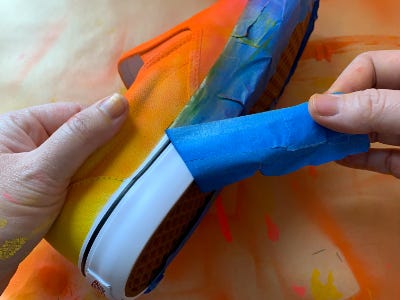 Have fun in your new kicks!