Beginner
DIY Holiday Topiaries

Supplies
3-4 shatterproof ornaments
Base basket or pot for your topiary.
Heavy stone or brick for each basket or plant.
FloraCraft® CraftFōM 8" Half Ball - white
Foam blocks.
Greenery or holiday Garland.
Glue gun & glue sticks
20V Power Share Switchdriver Cordless Drill & Driver w/ 67 PC. Kit
Wooden Dowel Rod
Step-by-Step Instructions
Steps
---
1. First, you will want to set out the ornaments and dowel rod for each topiary. Line them up as you would like to have them assembled.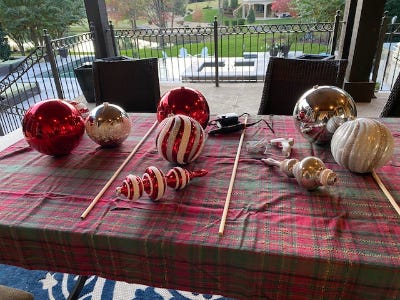 2. Using your drill and paddle bit drill a hole thru the bottom of each ornament. Then drill a hole using the same bit through the top of each ornament EXCEPT the ornament that will be on top.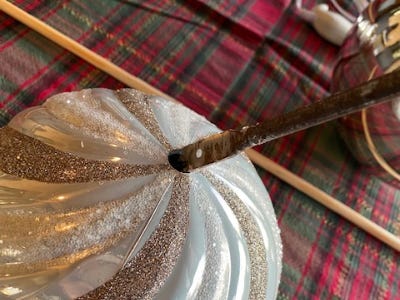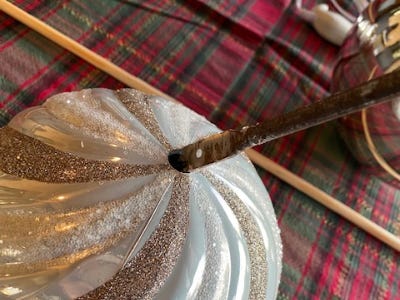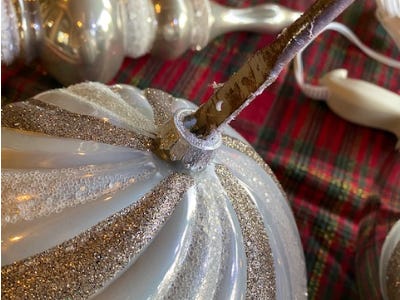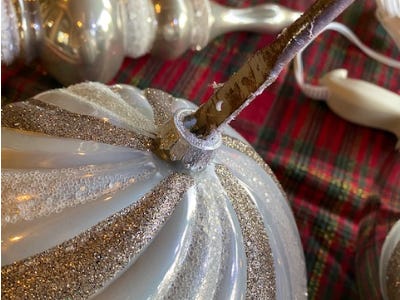 3. Once done drilling holes in ornaments, take MAKERX rotary tool and smooth any rough edges. These will usually be on the tops of the ornaments where you have drilled through.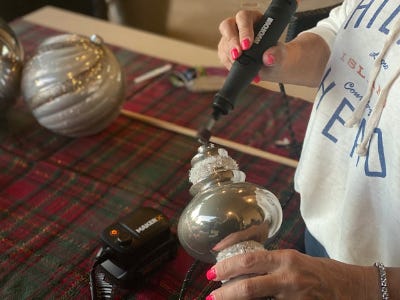 4. Plug in your glue gun. When glue gun is hot you are ready to proceed.
5. Take the ornament that will be at the top of the topiary. Place glue on the top of the dowel rod and place dowel into ornament until it reaches the top. Hold it here for 2 minutes to make sure glue holds in place.
6. Place glue at base of top ornament around the dowel.
7. Place next ornament on dowel rod, this should be done with the top of the ornament touching the bottom of the one already on the dowel. Place additional glue at connection point and hold into place for a couple minutes until connected.
8. Repeat above with next ornament. If this is your bottom ornament you will want to place additional glue at bottom point of final ornament. If it isn't, repeat above until final ornament is on and then place additional glue.
9. Let glue completely dry.
10. While letting glue completely dry you can prep your topiary container by placing stone or brick in it to add weight. (Note: If planter or container is heavy enough you won't need the stone or brick and can skip)
11. Place the foam half ball flat in bottom of container, flat side down.
12. When dry, place topiary into the foam ball. If too high you can always use the MAKERX angle grinder to trim bottom of dowel rod.
13. Add glue to secure in place.
14. Place foam blocks around and under the bottom ornament for extra stability.
15. Using greenery or garland to decorate your topiary/container to your liking.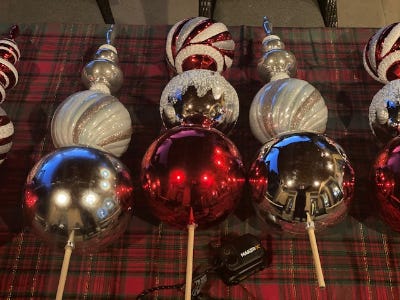 16. Place on porch or in house and enjoy!