Intermediate
Thanksgiving Pumpkin Wine Dispenser DIY

Supplies
Faux Pumpkin
Boxed Wine
Brown Airbrush Paint
Adhesive Stencil
Faux Leaves
Step-by-Step Instructions
Tool Tip
Before airbrushing, test and practice on a scrap piece paper.
---
Steps
---
1. Draw a circle around the top of the pumpkin, just as if you're going to carve a jack-o-lantern. Tip: Make sure it's a big enough hole to put the bag of wine in.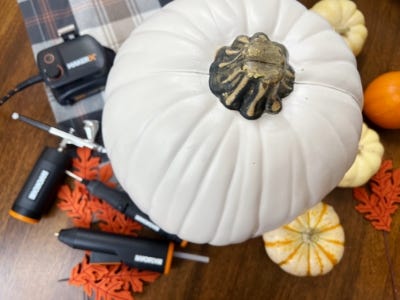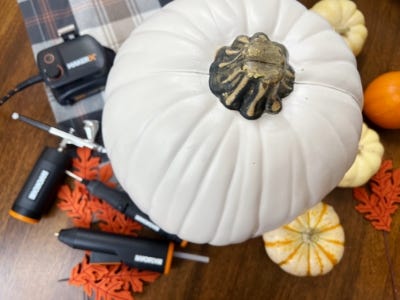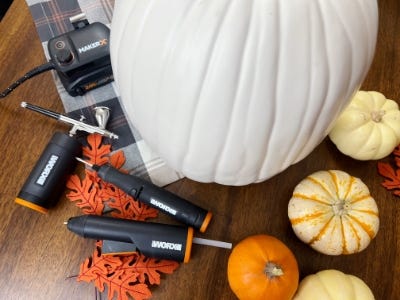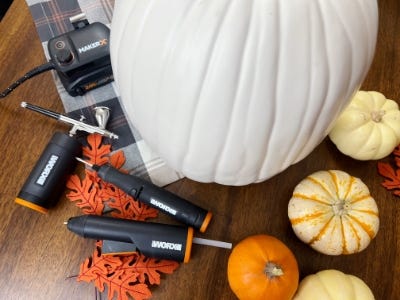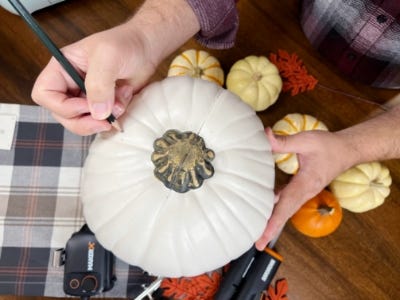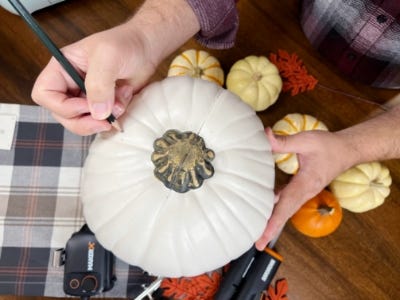 2. Use the cut off wheel attachment on the rotary tool and cut on the drawn line. Tip: It can get a little messy, take it outside if needed.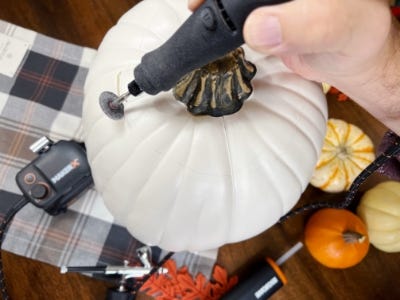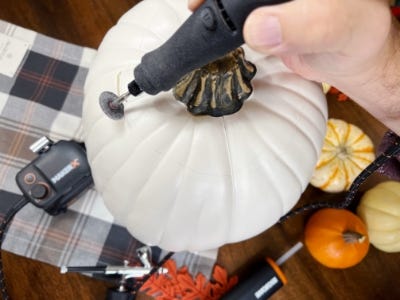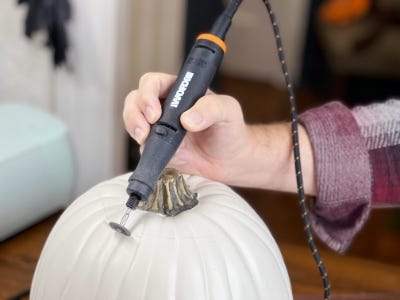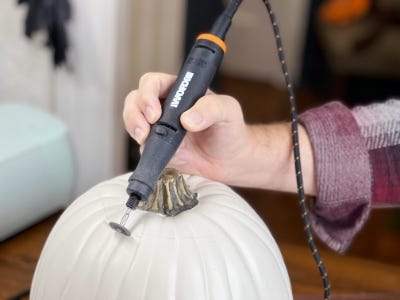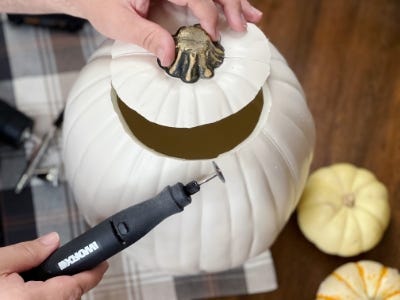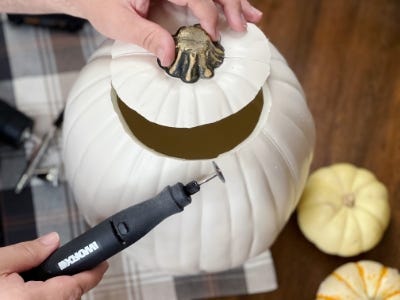 3. Pop out the circle where the dispenser fits through on the wine box. Line up the circle in the center of the pumpkin about four inches from the bottom and trace it. Switch the rotary tool attachment to a triangle tip and carve out the hole, go slightly bigger than the traced hole to help the dispenser pop out of the pumpkin.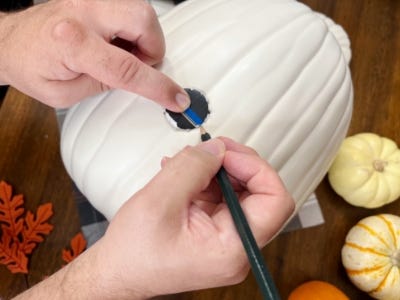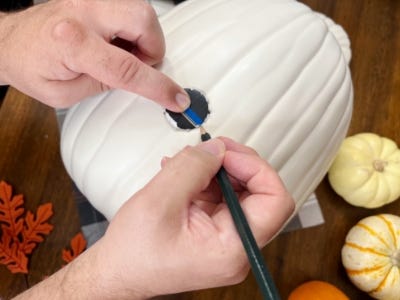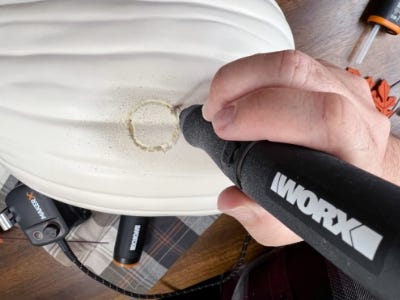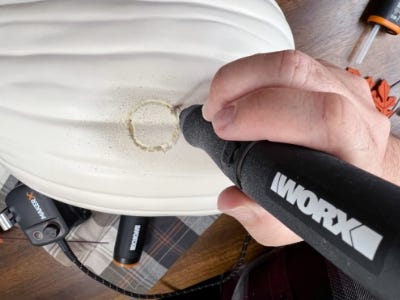 4. Use a cutting machine to cut out a saying such as "Thankful for wine" or use an already made fall-themed adhesive stencil. Wipe down the pumpkin well with a slightly damp cloth to remove any dust from the carving. Apply the stencil to the front of the pumpkin, making sure to press down the stencil in all of the pumpkin creases.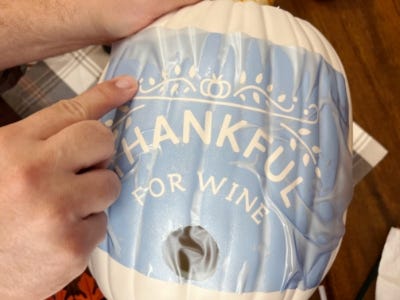 5. Fill the airbrush reservoir halfway with brown airbrush paint. Test on a scrap piece of paper then use the airbrush to paint the stencil. Paint the stencil in stages, start off lightly then continue to paint until it's the desired look. Tip: The more paint you add the more of a chance there is for bleeping, keep it on the lighter side for the cleanest result. Carefully peel while wet. Let the pumpkin fully dry before moving on to the next step.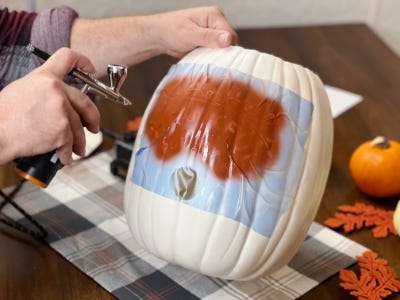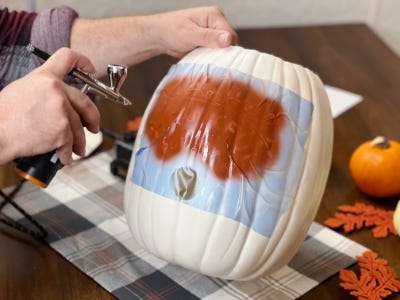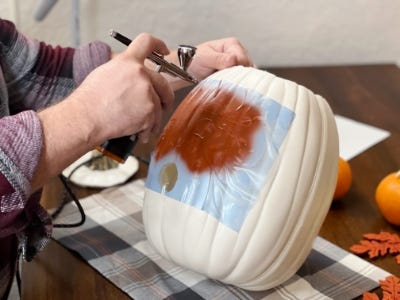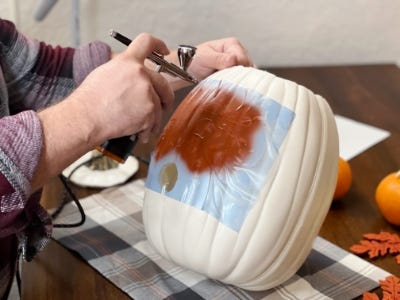 6. Crumple up some stiff brown paper and place it in the bottom of the pumpkin to help prop up the bagged wine. Take the wine out of the box and place it into the pumpkin. Carefully, push the spout through the hole. It might take some wiggling in different directions to get it through. If you're having a lot of trouble, carefully cut the whole a little larger and try again. Tip: If using white wine, add a bag of ice ontop to help keep it chilled.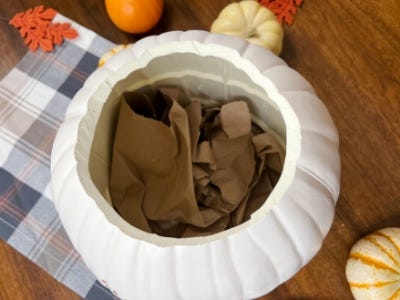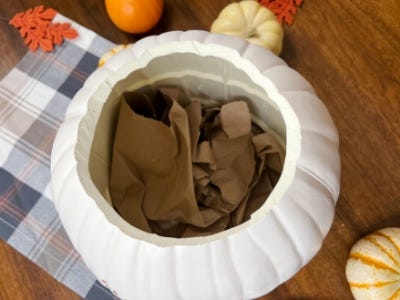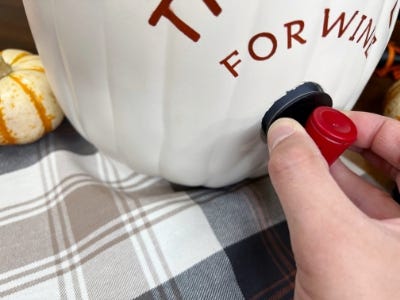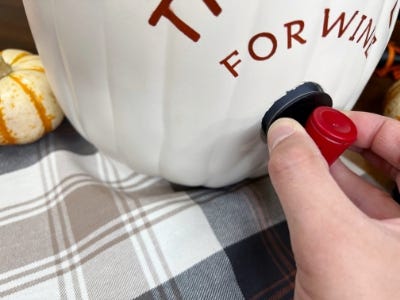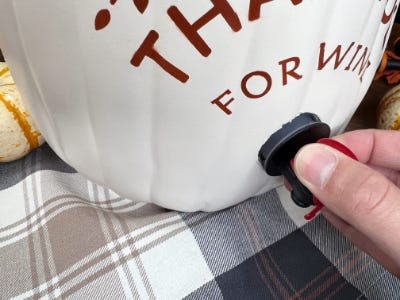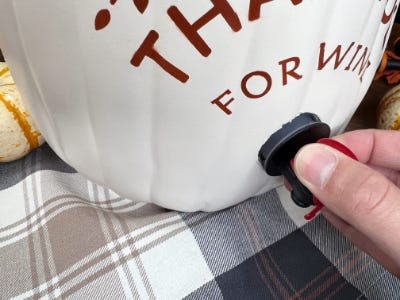 7. Place the lid back on top of the pumpkin and glue a little fall foliage using the glue gun. Place the pumpkin on a wood slice or a few plates to elevate it and make it easier to pour! Have a glass and enjoy!