Beginner
Wooden Stool

Supplies
MAKERX Air Brush
MAKER Rotary Tool
Sanding Bit
Wooden Stool
High-flow Acrylic Paint, or Air Brush Specific Paint
Painter's Tape
Craft Knife
Optional: Gloves, Sealant, Tarp or Paper to protect work surface
Step by step instructions
Prepping the Stool
---
1. Using the rotary tool and a sanding bit, sand any rough or sharp edges. If the stool has a finish already, lightly sand all areas to be painted by hand.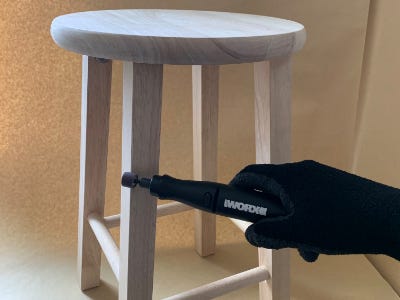 2. With a damp cloth or paper towel, clean the surfaces of the stool.
Painting the Stool
---
1. If necessary, protect your work surface from overspray.
2. Begin applying the painters tape to the surface. Be sure to smooth down the tape edges evenly.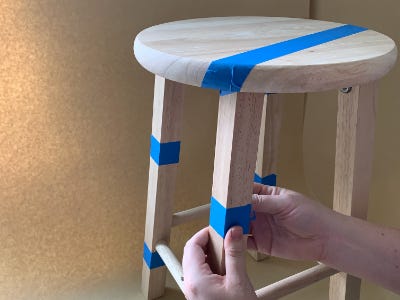 3. When the taping is finished, place the stool on the work surface.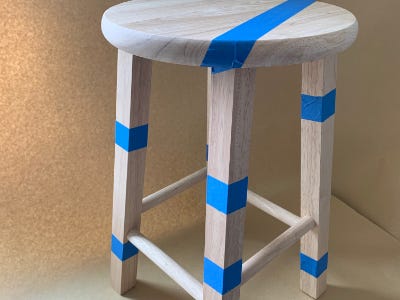 4. Following MAKERX Air Brush instructions, load the paint reservoir about halfway with the color of your choice.
5. Paint all desired leg sections with color 1 (pink). Starting at least 4 inches away from the surface, begin to move the air brush in slow, steady motions, gradually bringing it closer
to the stool. Adjust the air and paint flow as needed for an even application of paint.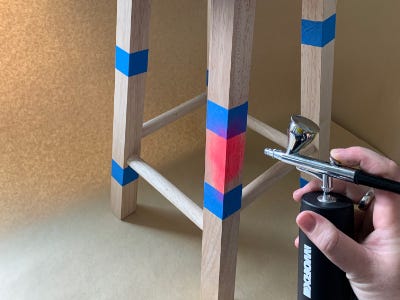 6. When all sections are painted with color 1, change to color 2 (orange).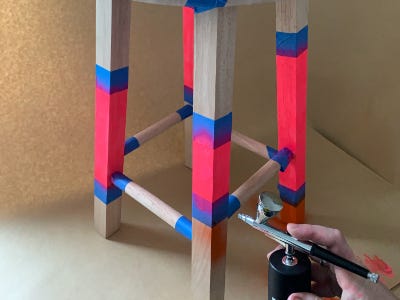 a. To change colors, thoroughly exhaust the current color, and rinse the reservoir with water. Add the new color to the reservoir and spray on scrap paper or cardboard until the color sprays true. (for an interesting ombre effect, you can spray directly on the stool, keeping in mind that it's hard to predict exactly when the paint will change color).
7. Repeat step 6 with color 3 (yellow).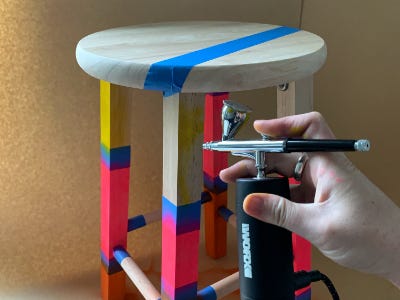 8. Paint the top section with your favorite color of the three used.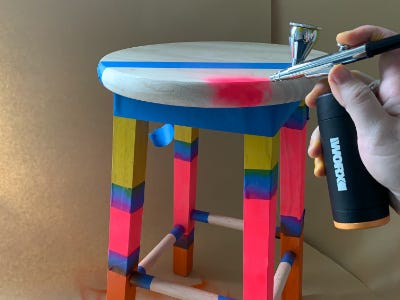 9. When dry, gently peel the tape away from the stool.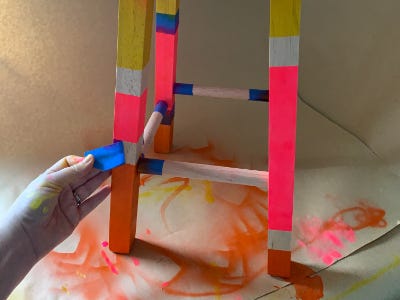 10. To further protect the surface, you can apply a sealer to the stool.
Have fun and enjoy!