Nitro 40V Power Share Cordless Attachment-Capable Driveshare 15" String Trimmer
5 Year Warranty
30 Day Guarantee
As low as
$349.99
Regular Price
$229.99
Details
Worx NITRO™ outdoor tools are engineered to provide gas-like power, performance, and runtime.
Attachment-capable string trimmer features 15 in. dual-exit cutting head for a professional-grade user experience with easy-load trimmer head.
Features an efficient brushless motor, which runs 50% longer, is 25% more powerful, and has 10% longer life than brushed motors.
Driveshare split-shaft design accommodates various attachments for other yard tasks.
Variable-Speed with ECO-mode for the ultimate control & runtime maximization.
Universal compatibility—fits most other brand's attachment-capable trimmer systems.
On-tool charge level indicator for quick reference to remaining runtime.
Worx Power Share™ PRO intelligent batteries deliver extended run times, heat, and impact protection. Compatible with all Worx 20V and 40V tools, outdoor power, and lifestyle products
Battery Capacity
2 x 4.0Ah PRO
Cutting Line Length
20 ft.
Cutting Head Type
Dual-Exit with Easy Load
Technologies
Brushless Motor
Unit Weight
11.9 lbs. | 8.8 lbs. (bare)
(1) - Worx NITRO™ 40V Cordless Attachment-Capable Driveshare 15" String Trimmer
(1) - Driveshare String Trimmer Head (WA0045)
(2) - 4.0Ah Power Share™ PRO Batteries
(1) - 4A Dual Charger (WA3884)
DRIVESHARE is the Worx classification for a grass trimmer that offers a split-shaft design to accommodate various attachments, including a Hedge Trimmer, Brush Cutter, Pole Saw, and Edger.
The WG186 works with various attachments available from WORX, sold separately: WA0220 – Hedge Trimmer, WA0221 – Brush Cutter, WA0222 – Pole Saw, WA0223 – Edger. The WG186 and attachments are also compatible with other attachment-capable systems from other brands, including Ryobi®, Craftsman®, Troy-Bilt®, and TrimmerPlus®.
In addition to being attachment-capable, the Worx NITRO™ WG186 offers gas-like performance with a brushless motor and high-capacity batteries. The easy-load head with 0.095in. The dual-exit trimmer line also provides a true professional-grade user experience.
Although the Worx Power Share™ PRO high-capacity batteries come standard with Worx NITRO™ products, they can also be utilized on the traditional Worx products to achieve longer runtime.
Worx recommends that Power Share™ PRO batteries be used with Worx NITRO™ products to unlock optimal performance.
No. The Worx Power Share™ PRO batteries can be used on all existing WORX 20V MAX chargers (WA3742, WA3881, WA3764, WA3770, WA3884, WA3835).
No. The batteries require the same amount of charge-time as the standard Worx Power Share™ batteries. However, due to the Cell-Cooling Technology in the Power Share™ PRO batteries, they stay cooler, longer. As a result, less wait-time is needed before a battery can start charging, due to high temperature.
The WG186 utilizes an easy-load spool head (WA0045) that is new to the Worx product offering. This spool head must be installed onto the head of the grass trimmer prior to loading it with trimmer line. See product manual for trimmer line installation instructions.​
Since the spool head cannot be pre-wound with trimmer line, the WA0045 replacement spool head is sold without trimmer line.
Frequently purchased together
Gas-Like Power without the Drawbacks of Gas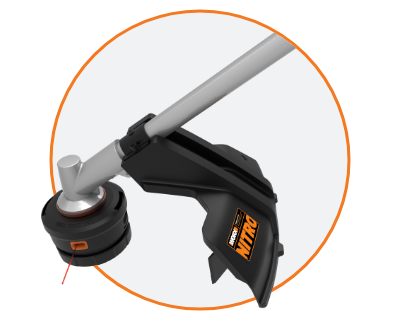 Professional Grade User Experience
The 15" dual-exit easy-load cutting head and premium 0.095" trimmer line combine for ease-of-use and results you could expect from a professional landscaping crew.
Brushless is Better
The Worx NITRO™ Attachment-Capable String Trimmer features a brushless motor for better runtime, better efficiency, more power, and a longer lifespan for the tool.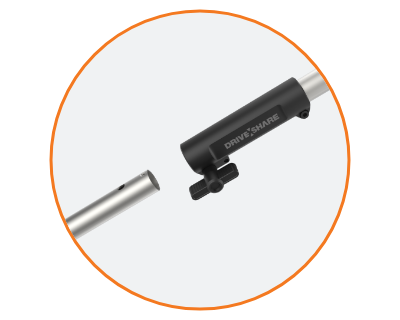 Attachment Capable
Turn your attachment-capable string trimmer into a brush cutter, hedge trimmer, pole saw, and lawn edger with additional Worx attachments (sold separately) or attachments from other brands.