20V Power Share Reciprocating Saw - Tool Only
20V Power Share Reciprocating Saw - Tool Only
is rated out of
5
by
57
.
3 Year Warranty
30 Day Guarantee
Details
Tool-Less blade change system for added convenience.
Pendulum function for improved cutting efficiency.
Adjustable pivot foot plate provides larger contact surface for stability and control.
Variable speed control for working on a variety of materials.
PowershareTM 20V battery is interchangeable with other 20V WORX tools.
LED light for clear cutting sight.
*Battery & Charger Not Included.
(1) - 20V Reciprocating Saw
*Battery & Charger Not Included
This is our tool-only version, which does not include either a battery or charger. Tool-only models allow you to take full advantage of our Power Share platform to save money by using the 20V Worx batteries and chargers you already own.
Before installing the battery, the reciprocating saw is only 4.9 lbs.
The 20V Cordless Reciprocating Saw can handle a variety of materials including wood, aluminum, and PVC, just choose the right blade for the job at hand. This model includes two blades (1 for wood, 1 for steel).
Additional blades or blades for other applications can be found at most hardware and home improvement stores.
Yes, in softer materials (like wood), you can plunge cut.
While typical saws require an Allen/hex key to switch blades, the Worx 20V Cordless Reciprocating Saw features a tool-less blade change you can operate with just one finger. First, secure the saw against accidental starts by clicking the "lock off" to the off position, and remove the battery. Simply push and hold the blade clamp release lever at the cutting head to open the mechanism. Remove or insert a blade. Release the switch to activate the mechanism to keep your blade secure.
ATTENTION: For your safety by preventing accidental starts, we recommend using the safety lock off switch and removing the battery before attempting to change the blade. Whenever touching the blade, we recommend wearing gloves to prevent injury.
The Worx 20V Cordless Reciprocating Saw uses standard reciprocating blades (T or U shank). Customize your saw to the job at hand by picking the type and length of blade most appropriate for the job at hand. These blades can be purchased at most local hardware or home improvement stores.
Yes, the Worx 20V Cordless Reciprocating Saw has three pendulum mode settings. For fine/detail cutting, set the pendulum action control dial to 0. The settings increase from I through III, which delivers the most aggressive cut, best used for pruning or demolition. The cutting capacity for the Cordless Reciprocating Saw varies depending on the material.
Wood – 7" thick
Copper/Steel – 15/32"diameter
PVC pipe – 3" diameter
Yes! The On/Off Trigger Switch is pressure sensitive to give you comfortable control over the speed of the blade. For faster cutting, squeeze the trigger harder, and to slow down, release the trigger to find the right speed for the job at hand.
This tool does not have a vacuum port on board.
Yes! With Power Share, you can share the battery and save money. Your 20V Reciprocating Saw can use any WORX 20V battery you already have. By sharing the battery between tools, you'll always have the power you need to complete any job.
The 20V Worx MAX Lithium battery included with the Worx 20V Reciprocating Saw is the same battery we trust to power the JawSaw, and our Cordless Compact Circular saw, among others, like the Hydroshot and Switchdriver. Since the battery can stand up to those high-powered applications, you can trust it to keep up with you in your reciprocating saw.
Higher capacity batteries and additional fast charging options are available.
Carefully review the owner's manual for all safety information and guidelines. Follow safety precautions while using any power tools – including wearing safety eyewear, gloves, appropriate shoes & clothing, and keeping hair tied back. See the owner's manual for complete safety instructions and details.
ATTENTION: For safety, remove the battery when changing the blades or changing the tool between modes. When changing the blade, we recommend wearing gloves to avoid a pinch hazard. When cutting into a wall, shut off water and electricity before working to avoid injury and/or damage. Know where wiring and pipes are before cutting into the wall to avoid unintentional damage.
If you decide the Worx 20V Reciprocating Saw isn't right for you, we offer a 30-day Money Back Guarantee from date of receipt (less shipping and handling). Please call our customer service center at 1-866-354-9679 (WORX) and we'll be happy to assist. View more information here.
We know your tools are indispensable, so we cover each tool with a 2 Year Limited Consumer Warranty. You can extend your warranty to 3 years by registering online within 30 days of purchase. Already have your Cordless Reciprocating Saw? Register now!
Parts subject to normal wear and tear are not covered by the tool's warranty. View more information on our warranty here.
Ready for a faster charger? Need a higher capacity battery? Many replacement parts are available online under Accessories.
FREQUENTLY PURCHASED TOGETHER
CUT WITH EASE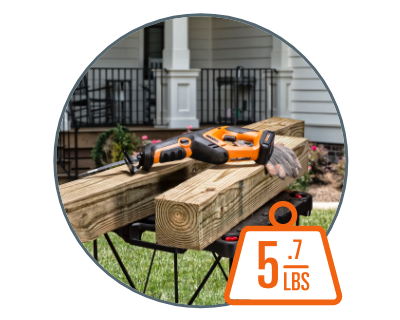 ULTIMATE PORTABILITY
At only 5.7 lbs with the battery attached, this saw provides ultimate safety and portability.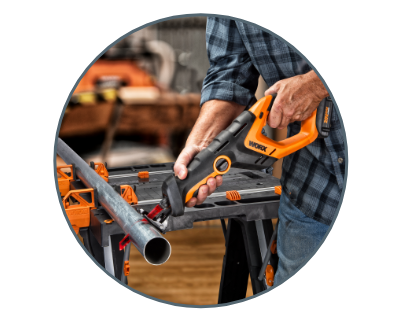 TWO SPEEDS
The variable 2-speed control adjusts the speed and power for the task at hand and the material you are cutting.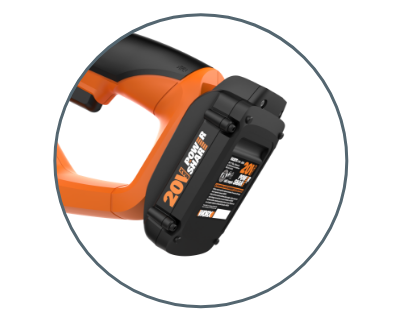 SHARE THE POWER
The 20V Max Lithium battery is compatible with every tool in the Power Share family, so you can swap batteries between power tools and garden tools with ease.