BladeRunner Cross Cut Sled
3 Year Warranty
30 Day Guarantee
Details
Crosscut sled to fit WORX BladeRunner (WX572L).
Made of plastic and easy to attach to the Bladerunner.
Easily attaches directly onto your BladeRunner X2 without the need for tools for precise crosscuts.
Fully supports your material throughout each cut.
Features an integrated, easy-to-read scale for accurate measurements.
Holds your material completely still & perfectly square for an exact 90° cut.
(1) - Bladerunner Cross Cut Sled
The Bladerunner Cross Cut Sled is an accessory that attaches directly to your Bladerunner X2 Table Saw (WX572) and allows you to fully support your material through each cut, hold it completely still and square for an exact 90 degree cut.
Yes. The Cross Cut Sled helps achieve precise cross cuts as well as providing additional support while using your Bladerunner.
Great news, it's very easy to install - and without tools! The Cross Cut Sled uses the rip fence guide on your Bladerunner table top. Install it on the table top, add your work piece, turn on your Bladerunner and make your cut. Getting a precise 90 degree cut has never been easier, even for beginners.
Carefully review the owner's manual for all safety information and guidelines. Follow safety precautions while using any power tools – including wearing safety eyewear, gloves, appropriate shoes & clothing, and keeping hair tied back. See the owner's manual for complete safety instructions and details.
If you decide the Bladerunner Cross Cut Sled isn't right for you, we offer a 30-day Money Back Guarantee from date of receipt (less shipping and handling). Please call our customer service center at 1-866-354-9679 (WORX) and we'll be happy to assist. View more information here.
Parts subject to normal wear and tear are not covered by the tool's warranty. View more information on our warranty here.
Need additional blades for your Bladerunner? Many replacement parts are available online under Accessories.
CALIFORNIA PROPOSITION 65 WARNING:
This product can expose you to chemicals including lead, phthalate or bisphenol A which are known to the State of California to cause cancer, birth defects or other reproductive harm. Wash your hands after use. For more information go to www.P65Warnings.ca.gov.
PROPOSITION 65 DE LA CALIFORNIE AVERTISSEMENT:
Ce produit peut vous exposer à des produits chimiques, incluant au plomb, au phtalate ou au bisphénol A, qui sont reconnus dans l'Ètait de Californie comme pouvant causer un cancer, des anomalies congénitales ou d'autres dommages à l'appareil reproducteur. Assures-vous de bien vous laver les mains après usage. Pour en savoir plus, veuillez consulter le site www.P65Warnings.ca.gov.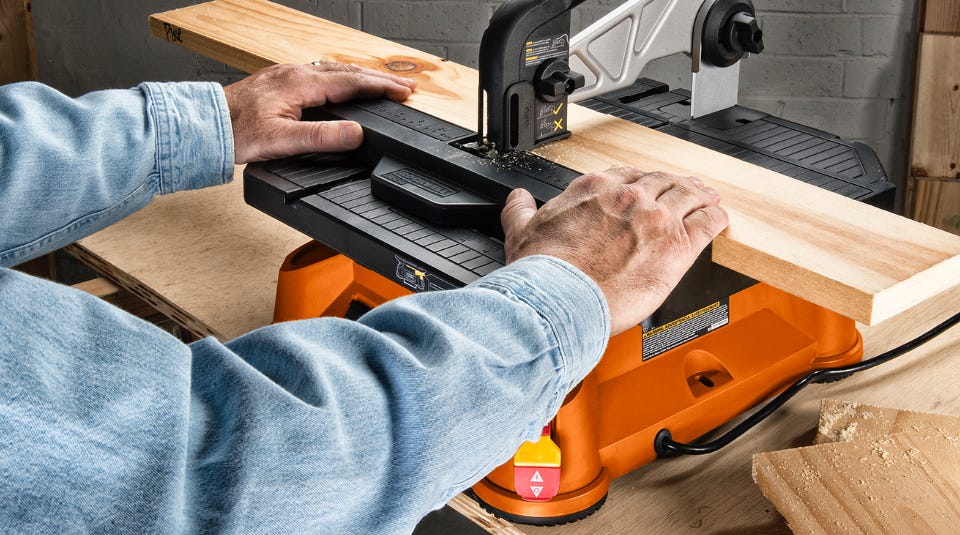 Precision Cutting
Get straighter, faster, safer cuts with the Cross Cut Sled made to fit your Bladerunner portable tabletop saw. It's easy to use, even for beginners.
FREQUENTLY PURCHASED TOGETHER