ZipSnip / Step Stool Combo Kit (Discontinued)
3 Year Warranty
30 Day Guarantee
Details
Combo kit includes 4V ZipSnip cordless scissors (WX081L) and 13 in. Storage Step Stool (WA4214).
4V Max-lithium battery on ZipSnip cordless scissors provides maximum run-time and holds charge for several months.
Self-sharpening blade on ZipSnip cordless electric scissors ensures a precise cut every time.
13 in. step stool features handle, deep storage area with metal lock, and pull out drawer for accessory storage.
Step stool and tool storage container features a standing weight capacity of 324 lbs. and holds up to 28 lbs. of tools onboard.
WX081L TECHNICAL SPECIFICATIONS
Max Cutting Thickness
1/4 in.
WA4214 TECHNICAL SPECIFICATIONS
Standing Weight Capacity
324 lbs.
(1) - 4V ZipSnip Cordless Electric Scissors
This model is battery operated, but the battery is inside the tool. One charger is included with your ZipSnip Cordless Electric Scissors.
The Worx ZipSnip Cordless Electric Scissors are a handheld tool that handles jobs traditional scissors can't. The rotating blade cuts paper, plastic packaging, cloth, carpet, leather, and more with ease. The self-sharpening blade insures a precise cut every time.
The 4V Cordless Electric Scissors can cut materials up to 1/4 in. thick. Your ZipSnip can handle a wide range of materials including paper, plastic packaging, cloth, cardboard, leather, canvas, carpet, wallpaper, wire net, flower stem and much more.
The ZipSnip includes one blade and uses a self-sharpening mechanism to ensure it's always ready to cut when you are. When you're ready for more blades, Worx offers Replacement Blades in a pack of 2.
The blades for your ZipSnip are made of quality materials and designed to offer optimum performance for as long as possible. Actual wear rate will depend on the application, materials and user technique. Always use the accessory for its intended purpose, and allow the ZipSnip to do the work without excessive force or pressure.
While there aren't any specific hazards related to the Worx 20V Cordless Electric Scissors, we recommend that all our customers follow standard safety precautions while using our tools – including wearing safety eyewear, gloves, appropriate shoes & clothing, and keeping hair tied back. See your owner's manual for complete details.
The WORX Storage Step Stool is 13 in. tall, and has a footprint of 14.5" x 10.5", making it big enough for use as a stable and steady step stool. The top is grooved for secure footing and traction during use, and the handle is inlaid to keep it out of the way when not needed for transportation.
At only about 7 lbs, the Storage Step Stool is suprisingly lightweight for its durability and sturdy construction.
The WORX Storage Step Stool has an external load capacity of 324lbs. It can carry up to 28 lbs of tools, making it an ideal place to stash those must-have tools you need in a pinch.
The internal storage compartment is 14.25" x 10.25" and 5.5" deep. This means you can fit a wide variety of hand tools, including any of the WORX Oscillating Tools, WORX Compact Circular Saw, Switchdriver and more! The pull out tray under the main storage compartment is 8.5" x 9" x 2.75" and is ideal for your tool accessories, or even small tools, like the WORX SD Driver. You can store up to 28 lbs of tools in your WORX Storage Step Stool between the two available compartments.
For durability and strength, the Storage Step Stool is made out of nylon resin. The latch to secure the internal storage compartment is metal.
While there aren't any specific concerns about using the Storage Step Stool, when using it as a step stool, it should only be used on the stable, level ground under dry conditions. WORX urges all our customers to follow standard safety guidelines when using any tool, including wearing proper safety gear and maintaining a clean, safe workspace.
This tool doesn't have a manual.
Frequently Purchased Together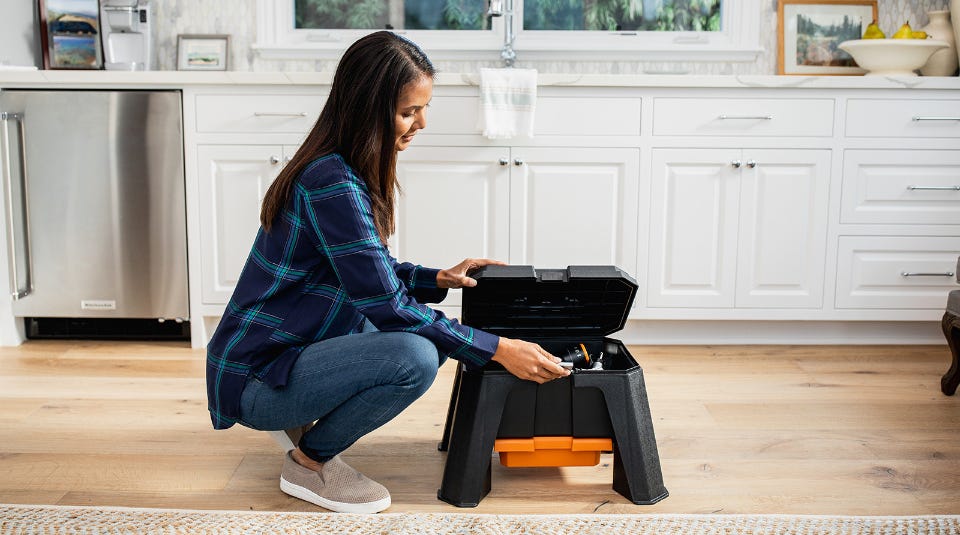 STEP IT UP
Add an extra 13 in. to your reach and store your tools right in the lid. The multi-functional Storage Step Stool has a spacious storage area as well as a pull out drawer to hold your accessories.