Popular Mechanics: Worx Mower "Easy To Push As a Vacuum"
Popular Mechanics Takes On The Worx 40V Power Share Mower
Spring is here and with it comes the question for many as to which lawn mower will work best for their lawn. Popular Mechanics puts the Worx 40V 17″ Cordless Power Share Mower W/ Mulcher to the test.
"…small-but-spunky, battery-powered Worx WG 743 is ideal for small yards."
Listing Pros like single lever height adjustment, lightweight, easy to push, and affordable, Popular Mechanics says they were "pleasantly surprised at the Worx work ethic" too, saying the mower was "nicely sized for small yards." Adding that after testing they realized why many homeowners were opting for the smaller spunkier mowers. 
"…As Easy To Push As A Vacuum"
The Worx 40V Cordless Power Share Mower W/Mulcher  (WG743) is indeed lightweight at only 35 pounds, and PM says it feels more like "a vacuum cleaner when you're walking behind it than it does a typical walk-behind lawn mower."  
The mower also offers mulching technology as well as you can see below. 
Popular Mechanics put the Worx mower through a series of tests while reviewing. To see the full article click here . Worx has many options to take care of your lawn for you to choose from. You can see them all by clicking the photo below.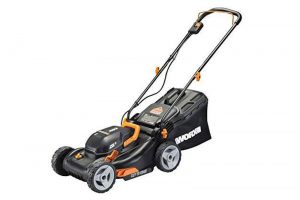 Worx offers an entire line of Power Share tools made for lawn and garden, and power tools too! Take a look at everything Power Share by Worx has to offer!