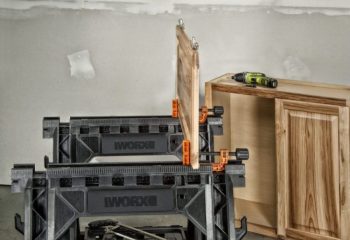 Shopping for new furniture can be a great time, but the fun can end quickly when you get home and start having trouble putting the furniture together. Once you start building furniture, it is not uncommon to find that the instructions are difficult to follow. You may also find that you do not have all of the necessary furniture building tools.
One way to make sure things go smoothly is to read up on tips for assembling furniture. If you still have trouble, companies like IKEA even post tutorial videos for building furniture. Another way to make this task easier is to have a good set of furniture assembly tools.
This post will look at some of the best DIY tools for building furniture. A good DIY toolkit should include a battery powered screwdriver and powered impact drill, diverse set of bits, lightweight hammer, level, and workstand.
Assemble Furniture With a Battery Powered Screwdriver
A screwdriver is one of the most commonly used furniture tools. While a regular hand screwdriver can get the job done, all of that turning can take a long time and make your wrists tired. If you want to speed things up, a battery powered screwdriver is one of the best furniture building tools.
The Switchdriver 2-in-1 Cordless Drill & Driver is a great tool for building furniture and a wide range of other DIY projects. The rotating dual chuck makes it easy to switch between two bits on the same project. It also has two speeds for tackling a wide range jobs and a 20V battery that gives you a lot of run time on a single charge.
A Battery Powered Impact Drill is a DIY Toolkit Essential
Your cordless screwdriver will be perfect for tasks like driving screws and drilling holes, but it can still take some effort to drive a larger screw or bolt into wood. For jobs like these, a battery powered impact drill like the 20V Cordless Impact Driver is ideal. It'll drive thick screws and bolts with no problem and has a quick-change hex chuck. Even better, the impact driver design puts less stress on your hands and wrist as you work on building furniture.
Make Building Furniture Easy With a Diverse Set of Bits
You never know what types of screws, nuts, or bolts you may need to drive, so no collection of furniture building tools is complete without a good set of drill bits. You are definitely going to need your standard screwdriver bits like flatheads and Phillips-head, but you also want some bits for driving nuts and hexagonal bits for things that require Allen wrenches.
A Lightweight Hammer You Can Use for the Smaller Stuff
No DIY toolkit is complete without a hammer, but you might not have one that is a good size for building furniture. With some furniture, you might need to tap in small tacks or work some tough joints together. For tasks like this, a smaller hammer is a better option. Try to go with one that is 10 ounces or less in weight to complete your set of furniture assembly tools.
A Level is Key for Assembling Furniture
You don't want to put your furniture together and have it uneven. That is why it is a good idea to include a torpedo level in with your furniture tools. If you are in the middle of building a piece of furniture and don't have a real level on hand, you could consider downloading an app that turns your phone into a level. It might not be as good as using a real level, but it will serve the purpose in a jam.
Use A Work Stand for Stability
A good work stand can also be a handy piece of equipment to have on hand for building furniture. Instead of working on the floor, you can set the furniture pieces up in the work stand while you connect pieces and drive screws.
If you are looking for a work stand that can make a wide range of jobs easier, you should consider the Jawhorse Portable Clamping Work Support Station. The clamps are great for holding a wide range of different materials, and the hands-free operation makes it easy to move pieces in and out of the clamps. Along with that, the portable design means you can take it anywhere you need to work, and it folds up nice and easy for convenient storage.
Having the right furniture assembly tools will certainly make the job faster and easier. As a final recommendation for your DIY toolkit, consider the 20V Max-Lithium Multi-Function LED Flashlight. This rechargeable flashlight has four different lighting functions and it can come in handy on a range of DIY home projects. Regardless of where you are working, this is the perfect tool for lighting up your workspace.
When it comes to finding the right furniture-building tools, Worx has everything you need to make assembly stress-free!
Summary
Article Name
6 of the Best DIY Tools for Assembling Your New Furniture
Description
A good DIY toolkit should include a battery powered screwdriver and powered impact drill, diverse set of bits, lightweight hammer, level, and workstand.
Author
Publisher Name
Publisher Logo