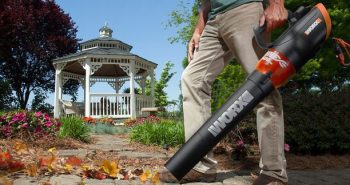 Cleaning up leaves is a reality of fall yard care. Maybe you rake your leaves or clean them up with a battery powered leaf blower. Either way, it is a job that has to be done. No matter what tools you use, one issue that comes with your fall yard cleanup is what to do with leaves after raking.
For some, it might seem easier to just leave them where they fall, but this is the wrong decision. When leaves are left on the ground, they can form a layer that will smother your grass and other plants. In addition to that, the sitting leaves can attract pests that may harm the plants in your yard.
Fortunately, if you're wondering what to do with the leaves on your lawn, there are plenty of uses of leaves that can be beneficial to your yard. This post will look at some of the best ways to dispose of leaves and share tips for leaf recycling like shredding your leaves with an electric leaf blower, lawn mower/mulcher, or string trimmer.
What to Do With Leaves
Leaves should not be viewed as something that needs to be cleaned up and carted off to a landfill. They contain valuable nutrients that can help your lawn and other plants stay healthy during winter. You don't want a layer of whole leaves left on the ground because they will block off water, air, and sunlight to the rest of your yard. You just need to make shredding your leaves a part of your fall yard care schedule.
When it comes to knowing what to do with leaves after raking, one option is to make a shredded leaf mulch to use as a winter yard fertilizer. This can be good for use in your flowerbeds and around trees and shrubs. You could also consider building a container to store the leaves for making leaf mold. With this, you simply compost the leaves and let them decompose for use in the future.
You could also add the leaves to a regular compost pile. The dead leaves can be a good source of carbon to add to your compost pile. With the carbon-rich dead leaves added to the nitrogen-rich waste in the compost pile, you will have a fertilizer that can be used for flowers and other plants.
If you have perennial plants and don't know what to do with leaves, you could use them to protect some of your plants during winter. Cold soil temperatures can be tough on some plants, and you also need to protect certain ones from rapid temperature fluctuations. One way to do this is to use shredded leaves to insulate the soil.
Shredding Your Leaves to Use as Winter Yard Fertilizer
You are going to have to shred your leaves before you can use them for any of these purposes. The following are a few of the options you have for shredding leaves.
Use An Electric Leaf Blower for Fall Yard Cleanup
The best option is to use an electric leaf blower that has mulching capabilities. With a leaf blower that can also shred mulch, you can do more of your fall yard cleanup with the same tool, saving you time and making the work easier.
The TURBINE Fusion Leaf Blower, Mulcher & Vacuum is ideal for this type of job. You can clean your leaves up easily with the leaf blower function and it can also mulch them right into a convenient collection bag. The dual-stage impeller also creates shredded leaf mulch at a 24:1 ratio, which is good for a wide range of purposes.
Lawn Mower Mulching Can Make Winter Yard Fertilizer
You could also use a lawn mower that has a mulching function for fall yard cleanup. If you plan to just leave shredded leaf mulch on the lawn, you could just run the lawn mower over the leaves and let the pieces come out of the side discharge. Another option is to bag them as you go.
If you are looking for a lawn mower for mulching, consider the 56V Cordless 20" Lawn Mower with Mulching Capabilities and Intellicut. The 56V battery will provide more than enough runtime for mowing most lawns and it is very easy to switch from mulching to side discharge or bagging.
A String Trimmer Can Help With Leaf Recycling
In a pinch, you could use a string trimmer to mulch your leaves. It won't necessarily be the best way to dispose of leaves because it's not as efficient as a machine that is designed for leaf recycling, but it is one way to create shredded leaf mulch. Just pile them up into a large bin or trash can, put the head of the string trimmer in the can, and then turn it on.
Sending your leaves off to the landfill is a waste, since it does not require a lot of work to add leaf shredding to your fall yard care checklist. Once you know what to do with leaves after raking, you can then use your shredded leaf mulch as a winter yard fertilizer that will be beneficial to grass, gardens, and other plants in your yard.
Find all the tools you need to make fall yard cleanup simple and easy at Worx!
Summary
Article Name
How to Recycle Your Fall Leaves for a Better Yard Next Year
Description
How to dispose of leaves and some tips for leaf recycling like shredding your leaves with an electric leaf blower, lawn mower/mulcher, or string trimmer.
Author
Publisher Name
Publisher Logo