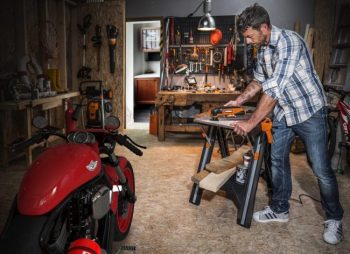 Do you have a woodworker on your holiday gift list? If so, there is no shortage of woodworking gift ideas that will make the perfect addition to their workshop.
Whether you are looking for woodworking gifts for dad or another DIY woodworker in your life, we have a range of great tools and accessories. Read on to see our selection of holiday gifts for woodworkers. These woodworking gifts include a cordless drill, folding workstation, cordless screwdriver, multi-sanders, and power saws.
Woodworking Gift Ideas Include Cordless Drill
A new cordless drill/driver could be one of the best DIY gifts for women or men. Cordless drills are often among the most tools DIYers and woodworkers own. If you see that your woodworker's cordless drill is old or in need of an upgrade, this could be the perfect woodworking gift idea this holiday season.
For a complete set, the 20V Switchdriver Cordless Drill & Driver with 67-piece kit can be one of the best woodworking gifts for her or for him. The rotating head makes it easy to switch between two bits and the expansive set of accessories has everything your DIYer will need to work on a wide range of projects. 
Put a Folding Workstation on Your List
Some projects take woodworkers out of the workshop. With a folding workstation, they will have a secure place to work on projects when they are away from their workshop. These items can even be ideal for workshop organization because they fold up for easy storage.
With the Pegasus Folding Work Table & Sawhorse, you have one of the best portable workstations available as a gift for woodworkers. It has built-in clamps to hold your workpiece securely and the 300 lbs capacity means that it can be good for heavy-duty projects. Along with that, the collapsible design is ideal for transportation and storage.
Multi-sanders are Great Gifts for Woodworkers
Woodworkers take on a lot of projects that require sanding wood. Having multiple sanders around can be useful, but they can also take up a lot of space. If you want to get a great woodworking gift for men, you could consider a versatile tool like a multi-sander. 
The 20V Sandeck 5-in-1 Multi-sander is a tool that can handle the work of different sanders. It can work as a random orbit sander, a finish sander, a detail sander, and it has a finger attachment and a contour attachment. All you need to do is switch out the sanding pad and change the function for it to handle a wide range of sanding jobs.
Give a Cordless Screwdriver
A cordless screwdriver can be a nice woodworking gift for dad or it can work if you need DIY gifts for women. These tools make it easier to drive screws, and they can be useful for a wide range of DIY tasks. 
If you are looking for something a little better than your average cordless screwdriver, consider the SD Driver with Screw Holder. This gift for woodworkers can store up to six bits for convenient bit changes and the slide action makes it easy to switch from one bit to the next. Along with that, it also has a built-in screw holder for one-handed operation.
Power Saws are Ideal DIY Gifts for Women and Men
For woodworking gift ideas, a new power saw should be a hit. With so many different types of cuts to make, woodworkers are always using their saws. If you are looking for something simple that will get a lot of use, you could consider getting the woodworker on your list a compact circular saw. 
As an alternative, the 20V Axis Cordless Reciprocating & Jigsaw offers two tools in one convenient package. This DIY gift for women and men can do all of the work of a reciprocating saw and then all the user has to do is pivot the head and change the blade to use it as a jigsaw. 
Any woodworker will be happy to unwrap these gifts this holiday season. Along with the items we mentioned here, you can find other woodworking gift ideas by shopping the full range of WORX tools and accessories.
Find the perfect gift for the woodworker in your life at WORX!
Summary
Article Name
Woodworking Gift-Giving Made Easy
Description
Woodworking gifts include a cordless drill, folding workstation, cordless screwdriver, multi-sanders, and power saws.
Author
Publisher Name
Publisher Logo